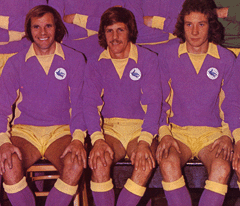 Although all of the attention is on tomorrow's derby showdown, a couple of Cardiff City teams were in action this lunchtime as the Under 16 and Under 18 teams took on their Coventry City counterparts at Leckwith and they both ended up victorious – albeit in completely contrasting ways.
I took in some of the action in both of the matches, but concentrated more on the Under 18's who, after having to wait so long for their first victory, have now recorded three of them in succession. In saying that, the best thing about today's game was definitely the result because, in truth, the performance wasn't much to write home about.
The match started ominously as Coventry strung together something like fifteen passes straight from the kick off and for most of the first half hour the visitors had the upper hand as City struggled to get into any sort of rhythm. However, the team had a very early lead courtesy of an Ibby Farah penalty awarded when the ref adjudged the foul committed by the Coventry keeper on Nat Jarvis to be in the penalty area to cling on to and I was just beginning to think that they were getting into the game when a some incisive passing enabled the Coventry number ten to equalise with a low shot from about twelve yards.
With a couple of goals scored in the first quarter of an hour or so, there was the chance for the game to go on to become a real thriller, but it didn't really happen. City edged their way back into things as the half wore on though and a couple of nice passes in quick succession by Joe Ralls (who, in my opinion, is developing nicely in midfield) created half chances for Farah and Jordan Carter which they couldn't take. Shortly after that a City corner was glanced just over by Alex Evans and City ended a first half in which they had been second best for long spells on top.
While the first half had been going on, I had been catching bits of action from the Under 16's game – I had seen them score twice and when I went to have  a closer look at things in the second half, I learned that the score was, indeed, 2-0 to City. The Under 16's have been getting some impressive results lately and when you consider that the majority of the Wales side which beat England 4-0 in the Victory Shield recently comes from the City team, it's not really surprising I suppose. However, it seemed to me that there were only three or four of the national side on the pitch when I started watching and, for a while, the City side seemed content to let Coventry have much of the possession content in the knowledge that they were pretty comfortably in front.
Every now and then though, they would up their game a little and show that they carried far more of a goal threat than the visitors – in a five minute spell midway through the half, there was a cross which flashed across the face of goal before being scrambled away for a corner from which Gethyn Hill (I think it was him anyway) hit the bar with a header and then Hill burst on to a through pass to dink the ball neatly over the keeper and into the net to make it 3-0.
To be fair to Coventry, they rallied after this and were awarded an obvious looking penalty shortly after only for Matthews to make a fine save diving away to his right to keep out the Coventry right back's spot kick. At this stage, I decided to go back to the Under 18's match, but, from a distance, saw City score a fourth and as the final whistle was blown virtually straight away after that, I presume the game finished 4-0.
Anyone who watched that win over England a few weeks back, will know that City have some gifted players on their books in the Under 16 age group, but, having watched them in the flesh a couple of times now, what strikes me is that there are some big lads in that team. Speaking as someone who has always thought that, if a player has talent it shouldn't matter if they are not the biggest, I have to say that for much of the time I have been watching our youngsters play they have been up against bigger players every week. However, it appears now that we have an Under 16 team that compares favourably in physical terms with their opponents and the best thing is that they have the ability to go with their size – it'll be interesting to see how this group of players fares in the next couple of years, but the early signs are encouraging.
Anyway, back to the Under 18's and I learned that they had gone 2-1 up courtesy of an Alex Evans goal while I was away. To be honest, the last fifteen minutes or so of the game was something of a backs to the wall struggle for the City team as they defended deeper and deeper against opponents who, based on what I saw at least, deserved something out of the game. To be fair to City, they survived fairly comfortably until the last two or three minutes when a shot flew just the wrong side of the post and into the side netting and then the Coventry left back hit the post with a shot after a long throw had not been cleared.
There were a few more scrambles in the City box after that and a series of dead ball situations to defend, but they held on for a very hard fought win – they certainly didn't play as well as I saw them do against Bristol City recently, but their confidence levels must be growing week by week and I'm sure they wouldn't have won a match like this if it had been played a month or two ago.