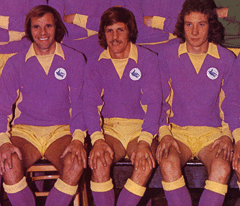 There were a few minor differences, but this afternoon's Under 23 Development team match with Barnsley at Leckwith was just like watching a typical Cardiff City first team home game this season – City lost, they didn't score and the opposition got their obligatory penalty (in fact they got two of them).
One of those differences was that while it's hard to find any excuses for the dross that's been provided across the way at Cardiff City Stadium this season, City did have one this time as they fielded the youngest team I've ever seen us put out at this level.
Captained by Robbie Patten, who it only seems five minutes ago was skippering our Under 18s, City had nobody with competitive first team experience in their squad and four players in the starting line up who have played for the Under 18s this season (Cameron Coxe, Jarred Welch, Mark Harris and Ibi So Sani), while three other members of this season's Academy team (Connor Young, Isaac Kelly and James Waite) came on as subs.
The lack of experience at this level showed as Barnsley started much the stronger and put City under a lot of pressure – I thought we were looking at a heavy defeat at this stage, but, as they did throughout really, Barnsley struggled to turn their possession into something that carried a real threat to our goal.
Indeed, when City were finally able to get a shot away, they came closer than Barnsley had as Marco Weymans forced visiting keeper Nick Townsend into a full length tip round the post with a well struck effort from twenty five yards.
It was beginning to look like City had put their rocky start behind them when the commodity which so many teams we play seem to have in far more quantity than us played a part in giving Barnsley the lead.
Right throughout the ninety minutes, Barnsley had that bit more attacking pace than us and much of that sprang from their right winger Dylan Mottley-Henry. City had two defenders back to deal with a long ball forward by Barnsley and there appeared to be no danger until Mottley-Henry burst between them to close in on goal only for him to be brought down by a heavy challenge by Rollin Menayese which left both players needing treatment.
The only doubt about whether it was a penalty or not concerned a question as to whether the offence had occurred outside the penalty area, but the ref was satisfied that the offence was deserving of a spot kick. City fans have had plenty of sights of our keepers being unable to keep penalties out this season, but Luke O'Reilly was able to do so for a while at least as he dived to his left to stop Josh Kay's shot only for the ball to go back to Kay who scored easily at the second attempt.
It was bad luck on O'Reilly who has shown himself to be an impressive shop stopper in his appearances for the Under 23s this season, but he and his team mates could have few complaints about finding themselves behind at the break.
The second half saw much more of City as an attacking force and right from the time that a Coxe cross forced Henderson into an urgent diving stop in the opening seconds, there was more drive and dynamism from the home team as they looked to get back on level terms.
Visiting centreback Julio Rodriguez was about a yard wide from equalising for us with what looked something like a shot from around the penalty spot area as Barnsley came under pressure for the first time in the match, but despite plenty of endeavour, City were unable to make themselves a clear cut chance – there were plenty of headers and shots from promising positions, but, credit to Townsend and the Barnsley defence, they always managed to get a save, tackle or block in to foil City.
As the match entered it's final ten minutes, it seemed like Barnsley had weathered the storm and they were given the chance to wrap up their win when they were awarded a second penalty. If the first one had probably been a correct decision, this one looked  a bit more dubious as the ball appeared to be played by the penalised City defender.
Once again, Kay opted to take the kick and, once again, his penalty failed to find the net as this time his low shot struck a post and rebounded clear.
This escape roused City into a strong finish in which Menayese twice came close to getting a decisive touch as the ball flew around close to the visitor's goal, but, despite much more in the way of pressure than the first team ever manages, the result was the same – another home defeat in which we failed to score.
All in all a scrappy affair, but one in which City probably deserved to draw on the balance of play over the ninety minutes, with Welch getting my vote as the best of the newcomers.