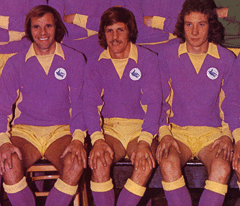 Cardiff City's Under 23 side (it's no longer Under 21 football in the competition they play in) scored nine minutes after the start and nine minutes before the final whistle to secure a hard fought 2-1 win over Leeds United at the Vale this afternoon.
City won an evenly contested match because they were able to score in the periods of the game when they played their best football – Leeds also had their dominant spells, but only had a penalty to show for the efforts and, although they probably felt that they deserved to have something to show for their efforts, I thought City just about deserved a victory which enables them to say they have a 100% winning record in competitive football this season.
Of course, that statement becomes less impressive when it becomes clear that we are only talking about two matches here, but, unlike in last week's 3-2 win at Crewe, there were no over age players in the side to help them out this time.
At Crewe, Adam LeFondre and Tom Adeyemi were among the scorers (Rhys Healey got the other one), but, with Adeyemi now departed to Rotherham on a season long loan deal, did the absence today of LeFondre and the likes of Federico Macheda and Kagisho Dikgacoi today mean that they too will soon be departing the club?
At a time when there is an expectation that we could be seeing some new players arriving in the senior squad in the next week or so, there was an unfamiliar name in the City line up.
Devarn Green was signed by Blackburn as a sixteen year old from Burton Albion's Academy on a two year contract with the Lancashire side paying an undisclosed fee for the striker. Green saw some action for Blackburn's senior team during their pre season programme for the 14/15 season, but, according to Soccerbase, he never played any competitive first team football for them and it seems he was released by the Ewood Park club during the summer.
Presumably, Green was on trial for City today, rather than playing his first match having been awarded a contract with us, but whatever the truth was on that score, he lined up as a right sided attacking midfielder in a what could best be described as a 4-1-4-1 formation I suppose.
City were out of the blocks quickly and forced the visitors back with a series of fluent attacks with Belgian Marco Weymans playing  a prominent part. Leeds keeper Peacock-Farrell was forced to turn a shot around the post for an unproductive corner after about five minutes, but when Tommy O'Sullivan swung the next one over from the same side, Rollin Meyanese was able to get a clean header on the ball – there seemed to be a deflection from someone as the ball found it's way into the net and fellow centreback Jordan Blaise appeared to claim that he had got the decisive touch as he turned away to celebrate, but I see the club's Twitter feed has given the goal to Menayese.
From where I was stood, it looked like the Leeds coaching staff were not happy with their centre forward Stokes for letting Menayese go from the corner, but the striker seemed to be fired up by what was said to him and, within seconds of the restart, he had forced his way into the penalty area and fired a shot high into the side netting from an acute angle.
This was the signal for the visitors to up their efforts and the rest of the first half saw them have slightly the better of things as many of the City players who had stood out early on faded out of the picture somewhat.
Leeds would have been level midway through the half, but for a brilliant point blank save by Luke O'Reilly in the City goal as an open and pretty entertaining game started to turn the way of the visitors as they played up the slope.
For all of their threatening play around City's penalty area, Leeds weren't doing a great deal to suggest an equaliser was imminent – the home back four of James, Menayese, Blaise and Tutonda generally coped well with the pressure and just in front of them, Robbie Patten was doing his usual diligent shielding job.
Rhys Healey did well to work himself into a threatening position in what was City's best attacking moment in the minutes leading up to half time, but, with Weymans unmarked to his left, opted to shoot and found his effort blocked by a defender.
Half time came with the drizzle which had started soon after kick off continuing, but, with one or two of the Leeds keeper's kicks making it all the way through to his opposite number, it seemed that City would have the blustery wind behind them in the second period.
The early stages of the second half saw City doing better territoriality, but there was little to make you think that the game's second goal was coming until O'Reilly blocked a shot from about twenty yards with the rebound heading towards a Leeds forward who looked set to score before being brought down by Menayese for what was a pretty clear penalty,
Mulhern confidently beat O'Reilly from the spot and Leeds were level as Cardiff responded by taking off Green, who, like so many of his team mates, had been unable to maintain the form he showed early on,  and bringing on a second striker in Eli Phipps.
The switch to 4-4-2 almost paid off within minutes when Healey powerfully headed towards goal from a corner, but his effort was cleared off the line with Peacock-Farrell beaten.
Slowly but surely, the game was swinging back in City's favour – Lloyd Humphries came on for Weymans and captain O'Sullivan made way for Jamie Bird as City sensed they could win the game.
Those hopes were shown to be well founded when Healey, such a consistent scorer at this level, but, seemingly, not highly thought of enough to be considered for a first team squad notably short of forward options, scored a goal that he made look deceptively simple.
I mentioned earlier that the ball was travelling a long way from the keeper's booy when the elements were behind them and the City striker read the situation perfectly as an O'Reilly clearance went over the Leeds central defenders heads, but not so far as to make it an easy situation for Peacock-Farrell to deal with. Healey reacted quickest of the four players involved and had the ball under control quickly before volleying his shot confidently past the keeper as he advanced.
There were one or two half chances for City to increase their lead, but the match ended with them exceedingly grateful for Healey's opportunism and cool finishing – it's become a familiar feeling at this level down the years, but still he waits for his second opportunity in the first team nearly two and a half years after making his debut against Chelsea of all sides.