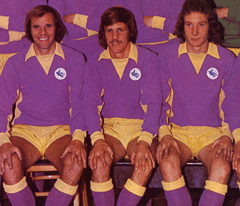 It's probably not really the case, but it's felt like Russell Slade has been saying Cardiff City was in a transitional phase since the day he joined the club – as dreadful performance followed dreadful performance and loss followed loss, it seemed that one thing you could guarantee was that a faintly bemused looking City manager would be there at his post match press conference telling us about that period of transition.
Now, speaking for myself, I think one of the main reasons we are in such a mess is that there have been so many of these transitional periods at the club  in recent years. I still maintain that, overall, Malky Mackay's record in the transfer market was a pretty good one, but every summer he was here saw a large number of new arrivals and departures so that there was always a feeling of "rip it up and start again" to proceedings at the club.
This policy continued under Ole during his very busy first month at the club and went on apace with the madcap recruitment up to September of last year – now we have the most mind boggling period of the lot as players who cost the club an awful lot in fees and wages are virtually given away and another seven brought in.
To be fair to Mr Slade, it seems pretty certain that there was a financial as well as footballing imperative behind his frantic transfer dealing last month, but the point remains that Cardiff City seem to be in a constant state of upheaval and the simple truth is that, Vincent Tan's £100 million or not, we are in a worse state on the pitch now than we were when Malky took over in June 2011.
This has probably been a, fairly small, contributory factor as to why so many, myself included, have been so unsympathetic to our manager's plea that our period of change was always going to see results suffer. However, there have been those who have made the perfectly reasonable observation in my view that during such phases it's normal to see at least the occasional reason for optimism as little signs appear here and there which suggest that there is the proverbial light at the end of the tunnel.
Well, after last night's 1-1 draw with Blackburn at Cardiff City Stadium, our manager finally, finally (!) has something to point to if he is asked to produce evidence that this latest transition is working. I'll come to just how good a performance it was a bit later, suffice it to say that for me it was far, far better than anything seen from a Cardiff side, in a home game at least, in the last three months – so, why the improvement?
One thing I'm fairly sure of is that our manager will not be given much credit for it. A survey held by Wales Online last week that drew more than 3,000 responses made truly grim reading for our manager. Given the size of the sample, this has to be seen as an accurate indicator of how Russell Slade is viewed by those who still attend games (19,000 officially last night, but I would have put the real figure at about 4,000 less).
I can't help thinking that, even if he was to take us to promotion back to the Premier League next season, there would be a fairly large proportion of City fans who would give him little or no credit for it. Slade is unique among recent City managers in that significant numbers of supporters were against his appointment right from day one and it must be said that there been very little that has happened since then to indicate that those early doubters were wrong.
Maybe I'm over estimating things a little there and it might be that Slade stays long enough to eventually win more supporters around than I would expect. but I think it's safe to say that those days, if they ever come,  are a long way off yet. Significantly, many preferred to place any credit that was going around last night for the coaching/management staff at the feet of newly appointed head coach Paul Trollope.
Now, this article shows Trollope has a pretty impressive CV since retiring as a player, but the former Welsh international has, apparently, only taken three sessions since being appointed and I find it hard to believe that he can have had much of an impact when it comes to tactics, style of play etc. However, I suppose it's possible that Trollope has made a good initial impression that influenced the team enough for them to go out and play with a better attitude than they have been doing. If this is the case, then it's a very encouraging sign – they certainly appeared more motivated than normal last night.
For me though, I'm going to place a lot of credit for last night's improvement in the morale stakes on the shoulders of the youngest player in the team. Matt Kennedy has slipped under the radar somewhat since arriving at the club on transfer deadline day with more attention being paid to Conor McAleny the temporary signing we made from Everton, than the permanent one we made from the same club.
Slightly worryingly, McAleny (who has had an awful lot of injuries for a 22 year old) was not fit for selection last night and so Kennedy came in for a first appearance in a Cardiff shirt. Many youngsters making a debut are nervous and so an early touch of the ball is probably beneficial  - Kennedy didn't have to wait for more than a few seconds for a first touch which set out the stall for what was to occur throughout the ninety minutes.
If there were any nerves from the twenty year old, then they didn't show as he took on and beat opposing left back Marcus Olsson (the Swedish international fouled Kennedy at least four times without referee Brendan Malone feeling the need to produce a yellow card). Kennedy saw a lot of the ball in the opening stages and it was soon obvious that confidence was one thing he didn't lack – this takes me on to the part I believe he played in setting the tone for what was a far more enjoyable night than I for one expected it to be.
Kennedy's faith in his own ability showed in the way he ran at, and mostly beat, opponents and it was soon clear that there was a Cardiff player who was playing well and knew it – when can we have last said that about a City player in the opening minutes of a game? Here was someone who was not weighed down by the great weight of negativity there has been at the club for too long now, here was someone who seemed to be enjoying themselves as they relished the opportunity they had been given.
In fact, there were times when Kennedy even looked cocky as you wondered if he was overdoing the fancy stuff, but one thing that really impressed me about him was that, unlike the widemen used by City recently, he always seemed aware of what was happening around him and retained an ability to take the right option. I got a close up view of this in the second half when he looked to be running down a blind alley and then produced the best City cross of the night to give Kenwyne Jones a headed chance he would have been disappointed not to take.
I think it needs to be said that anyone who is something of a stranger to the opposition benefits from this – players new to Championship level can make a big impact for a while before the bush telegraph starts working and sides get an idea of their weakness so that their effectiveness can be curtailed somewhat, but Kennedy could only do what he could last night and this was one of the better City debuts of recent times
Kennedy's team mates appeared to cotton on to how well he was doing  slightly quicker than the crowd and I believe this played a bit in the best opening we've had to a game in ages. Others looked to gain a bit of belief from this and long suffering City fans were actually able to see the odd flash of good football from their team. So, instead of the normal combination of inept footballers and apathetic spectators which combine to create an atmosphere totally unsuited to successful and winning football, we had the situation as it should be – supporters fed off the improved effort and play of the team and created something whereby both benefited (Fulham for the back to blue match was the only home game since early November where I could remember the crowd sticking with the team throughout, now there are two) .
Now, all of this sounds fine of course, but none of it actually resulted in Blackburn being blown away – in fact, although I thought we just shaded it over the ninety minutes, the stats tell a story of an even game in which a draw was probably the right outcome. However, when you start from a situation as low as Cardiff's has been for at least  a couple of months, steps forward are going to be small and hesitant ones.
So, while we did not get anything more in terms of points from last night than we did in last week's boreathon with Brighton, there was still a lot to be gained. For a start, both Peter Whittingham and Aron Gunnarsson played as well as they have done in weeks, both individually and as a pair. With Kennedy's impact on the right as well, it was only really Craig Noone on the left who showed the lack of confidence that has been at the heart of so much that wrong this season in our midfield four and even he could not be faulted for his effort.
With more of a midfield base to work off, City didn't lose in the possession stakes – they didn't win either, but 50/50 is heady stuff indeed by the standards of this season! Eoin Doyle's selfless running played a part in giving us a front two that looked like it could become a decent combination at this level, while at the back Lee Peltier continues to look a solid citizen at right back and Scott Malone, who had tended to mix promising performances with poor ones, had one of his best games so far.
It was also good to see City continuing along their recent path of trying to play a bit more football – they are still direct, but not to the exclusion of anything else as appeared to be the case a few weeks ago and I'd say that they are now getting close to a Malky Mackay City side in some ways in that they'll knock it long and rely on set pieces, but there is at least some "proper" football being played.
There needs to be realism shown though as well – there were still hardly any chances created from open play, our goal came from yet another set piece and Bruno Manga had a pretty uncomfortable second half as he found marking Josh King a struggle (to be fair, King must be one of, if not the quickest, players in the Championship and Bruno didn't always get as much help from his team mates as he might have), while on the managerial front, I thought Slade got at least one substitution wrong.
I've not seen all of the instances where Alex Revell and Kenwyne Jones have been partnered together up front, but I've watched most of them and it's not with the benefit of hindsight that I say I've not seen anything yet to suggest it's a partnership that can work – I said when Revell came on that I was unsure about the change as I would have preferred to see Doyle stay on the pitch. What we ended up with was Revell struggling to stay on his feet as he failed to make even one effective contribution and the previously influential Jones looking unsure of what his role now was.
I also said at the time that I would have looked to  shore things up as soon as we took the lead. With the amount of time that was left when Sean Morrison's header went in, we really should have held on to the three points, but, when you've won as few games as we have recently, a 1-0 lead with five minutes to go is a very precarious one. Kennedy was beginning to struggle and was unable to react effectively to Olsson's late run which set up Rudy Gestede's equaliser as the match went into added time – a win from an improved performance would have made such a difference and, although it might have been a bit negative, I would have got a Connolly or Ralls on there to stiffen things up a bit.
As it is, we have extended our unbeaten run to three matches, but the problem when you're just drawing matches, especially when you're winning as few as we are, is that the game that ends the sequence of draws really has to be a win because any slight sense of momentum in your  favour disappears when all that happens in the end is that you're extending your run of matches without a win.
* picture courtesy of https://www.flickr.com/photos/joncandy/
+ picture courtesy of  http://www.walesonline.co.uk/