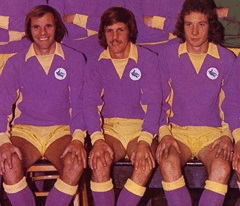 Last weekend Cardiff City's Under 18 Academy team opened their season with a long trip to Hull City and found themselves two nil down at half time. A second half fightback saw City's youngsters completing a fine recovery with a late equaliser that enabled them to take a point from a hard earned 2-2 scoreline home to South Wales.
However, giving your opponents a two goal start means only one outcome in the vast majority of cases – you lose! So it was that, after conceding twice in the opening sixteen minutes yesterday lunchtime at Treforest in their first home game of the campaign, our youngsters were unable to peg Burnley back like they did Hull and had to.settle for a 2-1 defeat.
I was late getting to the game and City were already a goal behind when I arrived with around ten minutes played, but, it didn't take more than a few minutes to deduce that City were struggling against opponents who were generally bigger than them and were adopting a pressing approach.
City players were therefore finding themselves with opponents in their faces almost as soon they received the ball – nevertheless, they struck me as too often being prepared to check back and pass  towards their own goal.
I've often spoke on here about the commitment to a patient passing approach from City age group sides and how this can get them into trouble at times, but, overall, it has to be a positive thing that is worth accepting the occasion goal it may cost them.
However, City's passing in all areas of the pitch was not good enough for much of the time yesterday and together with that feeling that, unlike in many other matches I've seen them play, their first instinct was to look backwards, it all led to a comfortable opening thirty minutes or so for Burnley.
This was illustrated when City were opened up so easily as a simple looking pass left Michael Fowler with an unchallenged run in on goal and he left the advancing George Ratcliffe helpless with a composed finish.
Within a minute or two, a Burnley player dribbled past three defenders on the sort of run which leaves you purring with delight if you are a supporter of his team and has you cursing weak defending if you a fan of the opposition, only to shoot wide after having engineered himself a great opportunity to put the visitors three up inside twenty minutes.
This incident proved to be something of a turning point as City began to show signs of improvement in their passing – it wasn't a coincidence that the previously anonymous Sion Spence began to see a little more of the ball at this stage.
City might have got themselves a foothold in the game, but this was only reflected in the fact that the area where play tended to be centred just inside the Burnley half as opposed to the well inside the Cardiff half it had been for much of the matches opening quarter.
Burnley were still virtually untested defensively when City suddenly discovered a cutting edge to telling effect just after the half hour mark. The visitors had operated an offside trap pretty successfully up to then, but this time, there was no flag as Henry Smith's neat flick sent Isaak Davies running in on goal from his right wing position. The angle was against him, but Davies, who always seems to score when I watch him play, stayed calm as he drilled a beautifully struck low shot into the corner of the net from about eighteen yards out.
It was by some distance the best piece of football City had produced up to then, but, buoyed by this unexpected boost, they were almost level three minutes later when captain Jack Bodenham got his head to Sam Bowen's free kick and forced a sharp save out of Burnley keeper Bruce.
A poor back pass by Alfie Madden almost restored Burnley's two goal lead, but the resultant shot was well kept out by Ratcliffe and City reached half time with a closer scoreline than had seemed likely for much of the opening forty five minutes.
Strangely, the second half proved more watchable as play tended to switch from end to end, but there weren't any more goals to enjoy. For their part, City offered more going forward than they had done earlier, most notably when Bowen forced a great save from Bruce with a well struck twenty five yard effort after he had been well set up by Spence.
With half time substitute Laurence Wooton adding some solidity to the midfield, City were now forcing corners and providing a test for a generally well organised Burnley rearguard, but their pursuit of an equaliser meant that there were always going to be chances up the other end and they had to rely increasingly on Ratcliffe to maintain their hopes of avoiding defeat.
The keeper had already impressed with his trademark very good use of the ball with his feet and it came as a shock when one of his kicks was blocked but he got lucky as the ball lobbed just over the bar. However, to counter that, three fine flying saves by City's shotstopper helped to ensure that no more goals were conceded.
Unfortunately, City were unable to come up with the equaliser that they probably didn't deserve on the balance of play – they did get the ball in the net twice, but I was in line with play both times and it seemed to me that, although close, the man with the flag had got his decision right both times.
There was one very good late chance, but Spence was unable to manage a repeat of his equaliser at Hull as, under pressure from a defender, he couldn't get enough on his shot to seriously trouble Bruce.
So, defeat for the Under 18s, but there was a win for the Under 16s. I only watched about five minutes of play from their game during the half time interval of the 18s match, but I did see a goal as City, 2-1 up at the time, were awarded a penalty when their speedy number eleven was fouled as he burst clear of a defender. The only decision the referee had really was as to whether the offence had occurred just outside or just inside the penalty area – he decided that it was the latter and City's number six had the nerve to score from the spot with a Panenka – Burnley did get a goal back, but they finished up on the wrong end of a 3-2 scoreline.