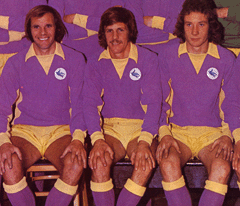 With many of the pre season pundits predicting a top six finish for us and a relegation scrap for Plymouth Argyle, it seems strange that City go to Home Park tonight for their their third league match of in the role of under dogs. This situation has nothing to with either sides results so far – Plymouth have respectable enough 1-1 draws with Crystal Palace and QPR and a 2-1 League Cup defeat at Gillingham to show for their season so far, but everything to do with City's lengthy injured list.
While Gyepes and McPhail have overcome their knocks, McCormack, McNaughton, Kennedy, Quinn, Scimeca and Feeney are all missing and other players, most notably Burke, are still probably not fully up to speed following the illness which has effected the squad in the last ten days or so.
You know things are bad on the injury front when Dave Jones talks about the possibility of switching from his beloved 4-4- f*cking 2 and yesterday in his press conference he mentioned that we could go into the game with three centre backs – he didn't say that all three of them would be playing at centre back mind, so be prepared to see Mark Hudson filling in at right back or Anthony Gerrard in the central midfield role that some message board contributors, bafflingly, want to see him used in!
The possibility of a couple of loan signings riding to the rescue cannot be ruled out I suppose. This report gives that impression, but, significantly for me, Peter Ridsdale says;
"We have been busy trying, checking out which players could be available and are working to bring in a player or two before the Plymouth match, if that isn't possible we would certainly hope to add to our squad before Sunday's home match against Bristol City."
Why the need for the qualification about adding to the squad by Sunday? If something was really on the cards for tonight's match, there would be no need to say that. Therefore, although I hope I am wrong, I don't see us having any new faces in the squad for tonight.
Although I still feel that we must start turning some of our away draws into wins (five wins and seven defeats from our twelve away draws last season would have seen us finish fifth), the way the Blackpool match went and the state of our squad for tonight's game has me thinking that a couple of draws to start with on our travels wouldn't be a bad return at all.
*Originally published on 18 August 2009.