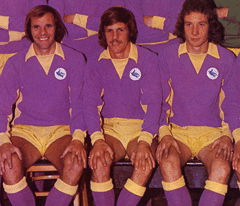 Because of who we were playing, it is easy to look at yesterday's match as a one off, but I am going to attempt to show that, given what we have been seeing from Cardiff City for some time now, it was anything but that – if you just take a step back from the furore which goes with a Swansea v Cardiff game, what happened yesterday shouldn't have been too much of a surprise at all.
Speaking as someone who has always viewed Bristol City as our biggest rivals, I can see the reasoning behind Dave Jones viewing matches with the jacks as "play the game and not the occasion" situations. The trouble with that approach in the games we have played against Swansea under his management though is that we have come up against opponents who play the game and the occasion better than us. If we played the game well enough then the occasion would take care of itself, but, apart from the match at Ninian Park, I would say that Swansea have been the better team throughout and so that, along with the greater desire their players show, means that City can have no complaints about a record of two draws and two defeats since hostilities resumed between the two teams.
However, as I mentioned earlier what happened yesterday cannot simply be put down as a case of the jacks wanting it more than us. To do that is to ignore faults that have been present for months or even years – sadly, I can't see them going away now that the "one off" against Swansea has come and gone.
Yesterday morning I did a piece on here about five things I thought City had to do this season if they were to become a promotion team and to paraphrase, I concluded that we were doing one of them well (keep on not losing games where we score first) and we won't find out about finishing the season better for a few months yet. However, in the other three things I mentioned, just as an in other seasons, we are coming up short. We are still useless when we concede first, we still have a poor record in games against promotion rivals and we are still conceding late equalisers and winners (particularly in matches against teams near the top of the league).
As an aside on conceding first, I know it sounds daft, but I bet if the scoring sequence in the first half yesterday had gone 1-0 to Cardiff, 3-1 to Swansea and then 3-3 we wouldn't have lost – having come back from 2-0 down to level the game, we should have been in the box seats at half time yesterday, but, ever since we got back to this division, our players appear to have a mental block about conceding first which means that Swansea's second half winner was almost inevitable.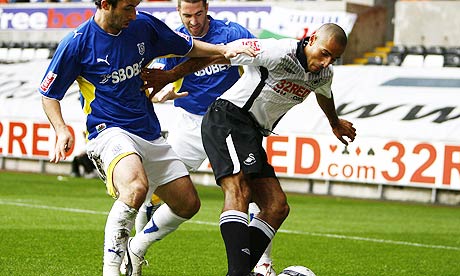 This season though something else which offers food for thought has been happening – we are very poor at starting games properly. After yesterday's defeat, Dave Jones said;
"It was an awful start for us and we didn't get close to their players, maybe nerves got to one or two of the players."
Perhaps our manager is right and the occasion did get to some of our players, but, by saying that, he is suggesting that our poor start came as a surprise to him when the truth is that it shouldn't have done. Having watched about two thirds of our games so far this season, it seems to me that we always start games, and restarts after half time, poorly.
The season was no more than ten seconds old when Scunthorpe sliced us apart and after twenty minutes they could and should have been 2-0 up, as should Newcastle, QPR and Forest. We have conceded in the first ten minutes of matches against Villa, Sheffield Wednesday, Palace and now Swansea and within a couple of minutes of the restart against Sheffield Wednesday and Derby. Even in games where we have won comfortably like Bristol City, Derby and Coventry our opponents were out of the traps better than us with the last named team waltzing through us to force a corner within about fifteen seconds of the match starting.
Let's not forget either that we were 2-0 down at Doncaster in seventeen minutes – if Dave Jones really didn't see what happened in the first fifteen minutes yesterday coming then he isn't the manager that I think he is. Someone was always going to really punish us eventually for the shoddy way we start games and it so happened that it was Swansea. Based on the evidence of this season, I am coming around to the view that our manager and coaching staff need to have a long, hard look at how we prepare for games in the hour or so before kick off – just because something worked in the past, there is no reason to stick with it ad infinitum.
Because I am concentrating on the team as a whole here, I am not going to go into much detail about individual performances yesterday, but I can't help thinking that it might be time to give Adam Matthews a rest for a little while. For all the quality he shows when in possession, the last few matches have seen him start to struggle when he doesn't have the ball – although others have to share the blame here, the second and third goals yesterday came from crosses delivered from his side of the pitch, he was caught out with the first goal when the three foot six Nathan Dyer was allowed to score with a header from six yards out and he has started to mirror the team in that he needs twenty minutes or so to get going.
It's harsh to single out Matthews when we are not defending well as a unit, but we really do need Kevin McNaughton (who, mysteriously appears to be fit enough to feature for the reserves but not the first team) back in there as soon as possible and, in the short term at least I would play him at right back before switching him to left back when Matthews, inevitably, returns.
Apart from Jay Bothroyd who scored a classy goal (it really was an excellent piece of finishing) and, to his credit, backed up his, stupid, pre match words with a performance and, possibly, David Marshall, which members of the Cardiff side would have got into a team consisting of the best eleven players on view yesterday? I can't think of one and that says all you need to know really about the individual performances of those in the blue shirt.
It's not all doom and gloom. When you have the sort of goalscoring power that sees you score twice and hit the bar with your only three serious goalscoring efforts of a match, you have always got a chance. Indeed, in some aspects of the game I reckon we are as good as anyone in the Championship, but the fact that we have been as high in the table as we have been has meant that fundamental flaws in the team as a whole which were present last season and have not gone away have been, largely, ignored by supporters (myself included) and, apparently, by our manager and his coaching staff..