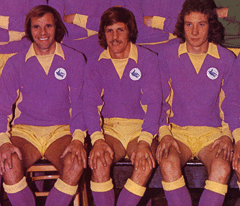 After Cardiff City had given their worst display so far of this miserable season in losing 3-0 at Preston last night, the home team's manager, Simon Grayson, said that such a performance had been coming from his team – my first thought on reading that was "Paul Trollope could say exactly the same thing".
However, as I touched on in my piece on the loss at Norwich on Saturday, the view coming out of the club, backed up by many in the media I would say, was that we have been playing well and not getting the results we deserved.
This baffled me at the time and, after last night's feeble showing, it baffles me even more - if you count the Bristol Rovers Cup game, two decent halves of football in seven (now eight) matches, plus thirty minutes of extra time, doesn't represent playing well – far from it.
We've played three home matches and it's been clear that we struggle to impose ourselves when the onus is on us to force the issue – we've been woeful so far at Cardiff City Stadium in my opinion. Away from home, things have been mildly more encouraging with those two decent halves I mentioned coming in the first period at Birmingham and the second forty five minutes at Fulham. I suppose as well that there was no disgrace in losing like we did at Norwich, but there are no excuses for a defeat as conclusive as last night's was on the ground of a team that had not won at home in seven months.
Paul Trollope made no excuses in his after match press conference, saying when asked if the game had been the lowpoint of the season so far;-
"Yes, absolutely. Especially the first period where we lacked a lot of things with and without the ball.
We didn't get anywhere near the level we want or expect. Sometimes you can accept it if you don't function with the ball or get your attacking play going in certain spells or even games, but you have to have the basics in place and we didn't have that.
We didn't have that in terms of defensive responsibility or defensive desire and for those two things to not be there in the first period was very disappointing and there are apologies to the travelling supporters who came a long way and saw a performance that was unacceptable.
We can talk about systems and ways of playing, but there are basics requirements to do well in games and they were lacking.
That was the message to the players. We can talk all day about system, what works and doesn't. but there are basic requirements in football that are needed in terms of desire, hunger and to show a drive with and without the ball, a bit of heart.
It was unacceptable and we have a lot of work to do to put a lot of things right before Saturday."
We didn't deserve to be going home with anything. The one win in the first group of games is not what we've worked hard for and we have to turn things around quickly.
We will have to regroup, show a lot of strength of character and personality. We need to show the strength of the group to bounce back."
While it's good to see him being so honest, the truth is, surely, that he had little option but to be.
I want to talk about one thing in particular that the Head Coach brought up.  Having introduced a completely new system for this season, it's inevitable that questions are going to be asked about it now we find ourselves only outside the relegation places on goal difference – is our worst start to a season in twelve years solely down to the new 3-5-2/5-3-2 approach?
If you want a decisive answer to that question from me I cannot really provide it because my answer would be it is and it isn't – I'll try to explain what I mean in the next few paragraphs.
It's often said that every successful team has a strong spine running through it and, with that in mind, it's very interesting to examine the make up of the team which started last night's match.
Back in those summer days when there were none of those pesky competitive games being played that have a tendency to ruin a manager's best laid plans, there was much talk in the press about how important three players were going to be if the new three centreback system was to be a success.
Matt Connolly's ability to pass constructively from the back was going to be vital, because this would help Peter Whittingham show his range of passing from the "quarterback" position he would fill just in front of the back three. Whitts could hit long passes into areas where the strikers could soon be joined by Lex Immers in his more advanced central midfield role and the Dutchman could become as influential a figure in the team as he was back in the spring when he was a central part of why we had a spell around March when we probably played our most effective football of last season.
Now, it should be said here that allowance should be made for the possibility that Paul Trollope did not see things in the same way as those writing for Wales Online did – it may be that the three players I talked about were not considered to be that important by our Head Coach. However, what the pressmen said all made sense to me and Trollope thought enough of the three of them to include them all in the starting line up for our first five league fixtures.
So, I think it's reasonable to assume that the local hacks were right in their thinking as to the importance of Messrs Connolly, Whittingham and Immers to the new Cardiff approach. Therefore, what does it say about how effective our new way if playing has been up to now that, after just six league matches, they were all to be found on the substitute's bench last night?
I must say as well that, based on their recent performances Connolly and Immers could have no complaints regarding their axing. In Connolly's case, I would have thought that the new system would be made for him because it played to his strengths, but I feel he's struggled more defensively than he usually does lately. The only reason I can think of for that is that his weakest performances for City before now have tended to come when he has been used as a left back, so maybe he is finding being the left sided defender in a back three harder to adjust to than expected?
Meanwhile, of course, left sided specialist Ben Turner has featured in every game for his new club, Burton Albion. I wonder if any thought was given by the club to offering Turner a new deal last spring, possibly on a pay as you play basis? My instinct is that, at this club where the financial imperative is given so much more importance than the footballing one, it wasn't.
As for Immers, I don't know if he reads City messageboards or sites like this or not. He probably doesn't, but, if he does, I daresay he may be getting somewhat annoyed at the increasingly common suggestion that he is "coasting" now he has the security of a new contract behind him as opposed to when he was trying to earn one during his loan spell. Perhaps this perception is wrong, but I don't think he can blame supporters for thinking it because he's gone from being our best outfield player over the final third of last season (in my opinion at least) to someone who, lately, has became the main candidate for being subbed early in the team – always assuming he was in the starting eleven of course.
It's a bit different with Whitts, he wasn't great against Reading, but it still came as something of a surprise to see him left out of the side for Norwich, but all his omission in the last two matches has really done is bring into focus that we don't have enough quality in the areas he's good at when he isn't there.
Following the talk of "the Cardiff Way" in recent days, it's ironic that we have seen another example of the classic "Cardiff Dilemma" whereby our last four managers (probably five actually) have all had to make the decision as to whether the facets of the game in which Whittingham is, manifestly, the best we have at the club are enough to overcome his obvious weaknesses, that become more pronounced with each passing season, and make him undroppable.
In many ways it's an indictment of the other central midfield players we have at the club that, in one of the highest rated leagues in Europe, we have one player who is so much better at passing with vision and accuracy and dead ball delivery than the rest of them. Joe Ralls has his moments when it comes to pinging long range passes and can hit the occasional great long shot and it would be unfair to put Emyr Huws in with the rest at the moment, but, for now, the biggest argument for keeping Whitts in the team is how plain. laboured and predictable we look in the middle of the park when he isn't there.
The trouble is, that Whitts is really bad at the things he's bad at and this is at the heart of the problem I have about that question of whether 3-5-2/-5-3-2 is to blame for our poor start.
One of Whitts' biggest weaknesses is his lack of pace (I'm convinced he would have had a decade or more in the Premier League and, probably, a full international cap or two by now if he been able to cover the ground quicker), but, just as the others cannot cover for him when he isn't there in terms of the more technical aspects of the game, they also cannot provide the pace we lose when he is in the team.
It's an indictment of the last three Cardiff managers that we have been a team that has, fundamentally, lacked pace ever since we returned to the Championship. Although Paul Trollope has tried to distance himself from Wales comparisons when it comes to the system they use, it's hard to ignore the part that pace and accurate, brisk passing plays in the way Wales have made a success of the three at the back system.
If a side generally lacking pace (it's a source of frustration to me that we played two wing backs last night, who are, probably, quicker than the two who play in that position most often for Wales are and are less likely to be seen as full backs than Gunter and Taylor are, yet they were still unable to provide the attacking outlets you would have thought they could in our new system), uses the same formation Wales do, then they need to place a premium on good movement and incisive passing if they are to provide an attacking threat, but, unfortunately, City also come up short in this department.
With Whitts in there you might get some of the incisive passing needed and Immers can provide clever movement, while Stuart O'Keefe has the stamina to get from one end of the pitch to the other on a consistent basis over ninety minutes, but, with that proviso that there might be a lot to come from Huws yet, City just don't cover all of the bases to a quality needed in the middle of the park to make the system work.
So, even without addressing the huge loss of David Marshall and the significant loss of Simon Moore, the spine of the team Paul Trollope has to work with looks a lot less strong than he would have expected it to be as the Championship season kicked off.
To the extent that the new system, basically, sees us playing with two wide players as opposed to the three or four we'd have under Russell Slade, there is more of an emphasis on what's happening through the middle than on the flanks. Therefore, the fact that we are not strong through the spine of the team means that the new system can be blamed to an extent for our poor start.
There is a lack of the sort of qualities that can make 3-5-2/5-3-2 (I still need to put the two different descriptions there because we are a side that talks like it wants to play with three defenders, but, more often than not, ends up having five of them!) work effectively, so it seems to me that we have reached a stage where we should be looking at alternative formations.
The trouble with that though is that Paul Trollope is right when he talks about forgetting about formations, there first needs basics to be attained before any team can become truly competitive and, I believe, that so far this season, we are being shown that, for whatever reason, there are going to be problems with this group of players whatever formation we use.
Yes, Trollope can be criticised for the introduction of three centrebacks and there have to be questions about some of the players that have been brought to the club while he was a member of the transfer committee, but I also believe that he had a right to expect better than he is getting from a squad full of experience at this level.
The fact that important individuals within the team are not playing to their normal levels may have something to do with the new system, but, perhaps, it's finally time for a general admission of something I've thought to be the case ever since we got relegated – our squad isn't as good as many would have you believe.
The trouble our players are having adapting to a new way of playing is proof of this, but what has taken me by surprise is how bad we've looked in the process – with confidence down, I don't think it's going to be as simple as change of formation = change of fortunes.
*pictures courtesy of http://www.walesonline.co.uk/