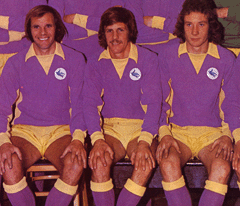 It always seemed best to me that, once the news broke that he was going, there was no point in John Toshack hanging about for the two matches Wales play next month. In saying that though, it certainly appears from his comments at yesterday's press conference called to announce his departure, that Wales' former manager was minded to do that even after the story about his imminent departure broke, with this story in this morning's Western Mail doing a good job of summarising what sprang into my mind when I heard Toshack's comments.
Whether one game into a qualifying process is the right time for a change at the top to be made is certainly arguable, but, if it is going to happen, then there seems little point in delaying the inevitable for a bit longer. What all of this means is that, unless a permanent manager is appointed in the meantime (something I can't see happening as things stand), then we will have a caretaker in charge when we face Bulgaria and then Switzerland in four weeks time. Overwhelming favourite for that job must be Brian Flynn surely and a couple of good results next month could see an unstoppable momentum created in his favour.
If that wasn't to happen though, then, with Tony Pulis and Kenny Jackett both ruling themselves out of contention yesterday, the list of credible domestic candidates (and I don't just mean Welsh there) looks a pretty short one – there's Flynn of course and Chris Coleman and John Hartson, but, with Ryan Giggs very unlikely to be tempted while he is still so close to Manchester United's first team, it's hard to come up with many other names.
Yesterday, FAW President Phil Pritchard said;
"It's an old statement, but it is the new statement, we will appoint the best man for the job. irrespective of where they come from. We have discussions to take and the No 1 priority over the next couple of days is deciding where we go from here. I've not got one name in my head, I've got 10 or 12. But there's no need to rush an appointment. Indeed, the speed of an appointment is not the be all and end all. The main thing we've got to do is to do things right and end up with the best result, not only for the side, but for the fans too"
This suggests that the FAW are prepared to broaden their search beyond the British isles and this has to be a good thing in my opinion. In saying that though, there is no point in looking for a foreign coach unless the FAW are prepared to pay the going rate for someone of the quality that Wales require – to look for the cheapest option will, surely, only make a bad situation worse.