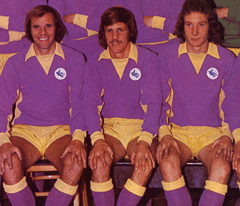 17 November 1993 was a watershed moment in Welsh football – it signaled a sea change in the fortunes of the round ball game in a land where it is forever fighting an unequal battle against it's "national sport", rugby union. Of course, it was hardly a case of success all the way before then, but, after Romania beat us 2-1 at the old National Stadium twenty one years ago, we went from being an outfit good enough to beat the World Champions Germany in 1991 to one that was losing 3-2 in Moldova and 5-0 in Georgia in qualifying matches within a year.
It seemed that the psychological impact of another near qualifying miss where penalties had played a significant part (possibly a second occasion where there had been a death at one of these very important nights in less than a decade had an effect as well), but the departure of coach Terry Yorath didn't help either. Also, although they'd play on for a while yet, Wales' best players were going over the top (Southall, Saunders, Rush and Hughes were all in the team hammered in Tbilisi) and, hardly surprisingly, there weren't the players coming through to seamlessly replace them.
The truth is that Wales have only had one decent tilt at qualification for a major tournament since then – the Play Off defeat by Russia for Euro 2004 when a team that also contained  a lot of players coming towards the end of their international effectiveness won the first four matches in their qualifying group.
However, and not before time, a second serious Welsh bid for qualification since Paul Bodin's penalty miss all those years ago looks on the cards after last night's excellent 0-0 draw in Brussels against Belgium (rated the fourth best team in the world in the latest FIFA rankings). Wales may have lost top spot in the group as Israel continued their excellent start to their campaign with a 3-0 home win over Bosnia, but I believe their chances of being at the 2016 European Championship Finals have to be rated higher than they were before the latest round of fixtures.
I've only watched the game once and so may think a bit differently when I have a second look at it, but, although Belgium had the majority of the possession and pressure, I didn't think they had that many chances to score because Wales were pretty effective at blunting them. In my opinion, the outstanding Joe Allen and, to a lesser extent, Joe Ledley did such a good job in screening the centrebacks that the hosts were unable to get to see the whites of Wayne Hennessey's eyes too often.
When they did though, the keeper was in fine form with his best save being the one quite early on which denied Chadli after a very neat one two with Origi and his handling in the closing stages as the home team resorted to knocking more crosses in was assured. Without the injuries which have caused him so many problems, I believe Hennessey would only have the peerless Neville Southall in front of him as the best Welsh keeper of the past fifty years, but he's still young for that position and, if he can stay fit (with Boaz Myhill having retired from international football, an injury to Hennessey could be almost as serious for us as one to Gareth Bale), he can still fulfill the promise of his early days in the national team.
Even the best keepers need some luck though and Hennessey certainly had it when Lombaert's beautifully struck shot smacked off the inside of the post and bounced out not long after Chadli's effort, but, although the irrepressible Eden Hazard always threatened to do something special which would unlock the Welsh defence, the last hour or so saw few real threats on the Welsh goal until the dying seconds when Benteke's header was kept out by what seemed to be a combination of Hennessey and the covering Bale.
Thinking about it, that was the most expensive player in the world's most important contribution of the ninety minutes and, if there was a down side to Wales' night, it was that for long periods of the first half especially, Bale was reduced to something of a spectator who sometimes had to close down Belgian defenders when the ball was in their half.
I can understand why Chris Coleman (who had another good night and was vindicated in his selection of  a flat back four when many, myself included, were calling for three centre backs) used Bale as a striker given the injuries to Simon Church and Sam Vokes, but I'm not entirely convinced we are getting the best out of our most influential player when he is not involved for such long periods of a game.
If the Welsh midfield as a whole did a good defensive job, they were not as successful in providing the pass which would give Bale, and others, the chance to get the goal which could have got us three points not one – the only time Bale was a threat in open play was when he shot narrowly wide from an opportunity he virtually created on his own.
If we had an Aaron Ramsey operating at somewhere near his best, then I'm sure Bale would have seen more of the ball in areas where he could have hurt Belgium, but, like a lot of players at Arsenal this season, the playmaker is not looking too confident at the moment (a recent injury is probably not helping matters either). I didn't think Ramsey was poor last night, but, for a player with such a good technique, the ball is taking a fraction of a second longer to "stick" with him than it normally does and so he is playing passes under that bit more pressure, hence the accuracy isn't quite there.
Even with Ramsey firing on all cylinders, this Wales side has the same weakness that all better ones I've seen have had – they all had one department of the team where they were significantly weaker than the rest of it. In the seventies, we were let down by what was a threadbare strike force on the frequent occasions when John Toshack was out injured, while, the early eighties saw the advent of Rush and Hughes cure our striking problem, only for us to have a decade where the midfield no longer had the creators needed to feed them (if only Builth Wells born Kevin Sheedy had opted to play for the land of his birth!). Ten years later, we had a nice balance in midfield and Bellamy and Hartson up front, but we were weak at full back (especially if Mark Delaney wasn't available) and short of depth at  centreback.
Four goals scored from four matches tends to tell a story and even with our injured strikers available, this is a barren era for Wales qualified senior players who play up front, with no obvious candidates to improve things coming up through the youth ranks as far as I can tell. Therefore, it would appear that, with the probable exception of the the final match at home to Andorra, all of the remaining games will be tight and tense affairs where wins after conceding two or more goals will be thin on the ground.
If things come down to goal difference (unlikely in the current format which shows goal difference in matches between the sides who finish on the same number of points applies before all other games are considered), then the signs already are that Israel and Belgium will pip us, but if we keep on playing with the discipline and organisation which has seen us concede only from a penalty and  a goalkeeping error so far, then we can make the top two in this group-.
Cyprus shouldn't be ruled out yet after their 5-0 win over Andorra, but I don't see them sustaining a challenge through to the end of the campaign and, unlike some, I view Israel's win over Bosnia as a good thing. I say this because if it means that with just two points from four matches, the number one seeds in the group cannot afford to lose another game if they are to reach the eighteen point mark that is taken by many to be the number needed to make sure of automatic qualification and with Bosnia still to go to Belgium, they are going to find that difficult.
The decision to expand the Finals competition to twenty four teams had already given us our best chance of qualification for a major tournament in a decade. My suspicion always was that, if we were going to make it to Euro 2016, we would do so through a third place finish and victory in the Play Offs, but, lack of quality strikers notwithstanding, I'm quite a bit more optimistic of a top two finish now because it's looking increasingly likely that it will be Israel who'll be our main rival for automatic qualification. Israel have done very well up to now and, historically, they don't lose too many qualifying group matches, but there's a solidity, star quality and depth to this Welsh squad that we've not seen for a generation or more.
That might seem a bold claim, but, when you look at the team that faced Belgium, besides Bale, we had five players who are, arguably, first choices in the strongest team their Premier League side can field (Ashley Williams, Taylor, Allen, Ledley and Ramsey), a couple of Premier League players who are not regular starters at their clubs, but are proving themselves on the international stage (Hennessey and Chester) and three Championship players, two of whom have played quite a bit of Premier League football in their careers. You look at the teams the other nations in the British Isles have put out over the past few days and only England are stronger in my book – the Republic and Scotland have that bit more depth than us, but with Premier League regulars Dummett and Collins on the bench last night, we have real strength in depth in some areas of the pitch at least.
I know FIFA rankings can be baffling at times, but with twenty four European teams taking part in the tournament in France in 2016, shouldn't the country whose football team is currently rated the twenty first best in the continent have real grounds for believing they will be one of them – our biggest guns have not really fired yet either.
* pictures courtesy of http://www.walesonline.co.uk/