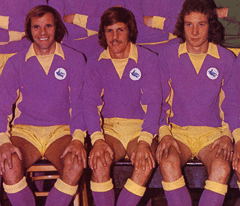 As the wins have piled up during October (traditionally a good month for Dave Jones' City teams), there have been increasing comparisons with the 2006/07 side which went storming away at the top of the table over the first third of that season. The side from four years ago's record had consistently been better than the current one when you compared how they were doing after every match, but, despite this, I don't think I am the only City fan who had been more optimistic about this side's prospects for the months ahead when compared to the 06/07 one at a similar stage.
Yesterday, for the first time, the current team moved ahead of the Scimeca inspired side of four years ago. In 2006/07 City had thirty points from fourteen matches after Giles Barnes' superb stoppage time goal had snatched a point for Derby in a 2-2 draw at Ninian Park. That result, following on from a 1-0 defeat at Norwich, offered the first suggestions that the side would not be able to maintain their great form, but with yesterday's 3-1 win over Norwich in a hugely entertaining match at the Cardiff City Stadium, the current team took their tally to thirty two points from fourteen matches and you get the feeling that they will stay ahead now for the rest of the campaign.
As always, there is a need for some caution – if October tends to be a good month for Dave Jones' sides, then November has always seen a stutter from City in the five previous seasons under him and, with matches against Swansea, Reading, Forest and QPR to come next month, there is certainly the potential there for history to repeat itself. However, as City hit the top of the table for the first time yesterday, it's hard to avoid the feeling that this side has got players in it who have a belief in themselves that the other Dave Jones sides have lacked. For example, the talk in previous seasons has always been of going for a top six place, this time around top two is all we hear about – whereas in previous seasons, there was a feeling that the confidence shown in public was only skin deep, at the moment the players know the bar has been raised at Cardiff and they are taking everything in their stride because they are proving that the increased expectation is justified.
As for yesterday's match, the first thing to say is what great entertainment it provided and the part played by our opponents in contributing to the enjoyment needs to be recognised.
City had already twice come close to scoring before Jay Bothroyd surely clinched the Championship player of the month award for himself with his fifth goal in five games during October as he headed in from close range after Gabor Gyepes had nodded on a Whittingham corner in the ninth minute. When Michael Chopra's calm finish from Jay's flick doubled that lead three minutes later, I remarked that we all knew what happened to the last side that went 2-0 up early on at our ground, but, in truth, I was expecting us to go on to steamroller Norwich in a repeat of the Leeds massacre.
Instead though, we saw a very impressive response from the visitors as they piled on the pressure for the next twenty minutes. Although the circumstances were different, what happened in that period reminded me of the Doncaster match in which Craig Bellamy had made his only previous home appearance. For much of the first half of that match, Doncaster were dominant in the middle of the park, but, whereas they never really provided much of a goal threat, Norwich looked dangerous on a number of occasions and they really should have scored before the impressive Wes Hoolahan netted with a brave diving header from a lovely cross by visiting left back Steve Smith who was the pantomime villain of the afternoon following an awful looking challenge on Chopra which earned him a yellow card.
Although still 2-1 down, all of the momentum was with Norwich at that stage and I believe that period of dominance for them showed the down side of having only one player in our front six for whom defensive duties come naturally (and, even then, Seyi Olofinjani can't resist bombing forward every now and then – I still don't really see him as your Makele type defensive midfielder). In many ways, the team Dave Jones has picked for the past three matches is a throwback to the days that only old fogeys like me can remember when sides used to have five attacking players.
Such an approach is potentially a dangerous one as Norwich showed yesterday – Peter Whittingham has done pretty well when not in possession during the last three matches, but, understandably, he has his weaknesses in that department and that puts more of a strain on Olofinjana who struggled during that period of Norwich dominance. However, I can't help thinking that Dave Jones has picked the side he has in the last three matches content in the knowledge that, player for player, we are better than most sides we face while the front five we have fielded lately have no equal in this league. Therefore, as long as our defence doesn't have one of it's off days (and to be fair to Hudson and co, they have been defending well lately), our manager is backing his team to come through these dodgy spells we have (like in the first twenty minutes at Leeds) because we have too much quality and firepower to be second best for too long.
That's what happened yesterday – Hoolahan's goal was as good as it got for Norwich. Okay, the penalty we got within a couple of minutes was fortunate as the ball hit Ward's arm when there wasn't a City player close to him, but, from then on, we were never in serious trouble. The comparison with the Doncaster match continued after the break as I thought we were comfortably on top for the whole of the second period, but whereas the goals came with a rush against Donny, some fine saves from goalkeeper Ruddy and the intervention of the crossbar on a couple of occasions prevented us scoring this time (a score of, say, 5-1 would have been very harsh on Norwich though).
Much of the post match comment centred on Jay Bothroyd's suspension from the Swansea game next Sunday. Speaking after the game, Jay said that he thought all of the controversy over his bad tackle in the Leeds match had made him something of a marked man yesterday and that he didn't deserve his yellow card. I've got to say that I don't agree with him there – from where I was sat, it looked the correct decision by the referee, but, even if I am wrong and Jay was hard done by, it doesn't alter the fact that three of his previous bookings have been completely avoidable. That apart, Jay was superb again yesterday and, forget about the Championship, you have to ask whether there are players of his type in the Premiership who are playing better than him at the moment? However, he wasn't my man of the match yesterday, that went to Kevin McNaughton who turned in a performance that was a throwback to those first few games he played for us back in 2006/07 – he got done once out by the corner flag in the first half, but, apart from that, I thought he had a tremendous match and he looked a real threat going forward in the second half.
To finish, I'd just like to add my thanks to those Norwich fans who applauded Craig Bellamy (who was quieter than he was at Leeds, but still showed a few examples of quality and quick thinking which marked him out as being too good for this division) as he went to take that corner in the first half – their generosity and the general good support they gave their team was another factor which added to yesterday being one of the most enjoyable matches I have been to for some time.