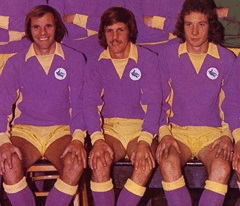 I had how I was going to start this piece all worked out beforehand – we had begun our season unable to score anything else but own goals and "worldies" (the only goals we scored in our first half a dozen matches were Shane Duffy's pair of "ogs" against Blackburn and Joe Ralls' and Anthony Pilkington's screamers at Fulham) and we ended it by only managing to find the net with the latter.
Aron Gunnarson's long range winner against Forest was the only goal we had managed in our previous four games and there had only been four of them in the seven matches played during April – there was absolutely nothing to indicate that we would complete the Championship marathon putting on something of a sprint as we reached the finishing line by scoring three unanswered goals at Play Offs bound Huddersfield Town.
After a spell where the goals had flowed freely, twenty one in the ten matches starting with the 2-0 win over Preston in late January, City had hit the "wall" with their goalscoring and, for me it was no coincidence whatsoever that this period had come during a time when Kenneth Zohore was going through a quiet spell.
If the Dane had not exactly gone back to the days of late 15/16 when those of us who thought there was definitely something there to work on had to rely on brief, and very occasional, cameos off the bench where he caused good quality Championship defenders all sorts of problems to base our arguments on, there was a sense that Zohore, like the team he was playing for, was winding down with the task for the season (staying up) having effectively been completed around about the time Ipswich were beaten 3-1 here in late March.
Zohore's last goal before yesterday had come in the defeat at Wolves on 1 April and there had been three away matches played since then without us managing to score. However,  although these highlights are very brief ones, there's enough to suggest that Huddersfield's should be added to the list, which consists of Preston, Rotherham, Fulham, Ipswich and a fair few others, of defences that just couldn't handle our top scorer during the second half of this season.
Another calm finish to offer further proof that my doubts as to whether Zohore was ruthless enough in front of goal to become a consistent scorer at this level may well have been misguided, was a good way to end a period which has transformed his career. However, more impressive still for me were the two assists provided for Joe Bennett – even a few weeks ago, I think Zohore would have been looking to shoot in the sort of positions he found himself in, but, instead, there was a look up and a pass played to a colleague in a better position to score.
While it was encouraging to see a return to goalscoring form for the team, it did also tend to emphasise how reliant we've become on Zohore when it comes to effective attacking play, but, by scoring his second and third goals in his last eight games, Bennett at least showed that, for the first time in ages, City have a full back capable of finding the net for us in open play.
Given the licence to play to his strengths in a way he never had at Cardiff, Scott Malone has prospered this season at Fulham in a manner which suggests that those claims that he had been on Borussia Dortmund's radar at the time we signed him, were not as outlandish as they seemed at the time. However, while it has been tempting to look at Malone's part in Fulham's success and think about what we've missed out on, lately Bennett has been giving us things that we're not used to seeing from Cardiff full backs.
Although the feeling persists that, just like Malone, Bennett is not so impressive when he is forced to go backwards, we do now have what I would call a proper modern full back within our ranks. With someone like Neil Warnock in charge, our full backs are always going to have to be able to get the job done defensively, but there have been signs in recent weeks that Bennett has improved in that side of his game and, if he can keep that going into next season, then we will have someone who is at ease in forward positions, while also being very well suited to the three centrebacks and wing backs formation we used yesterday.
The irony of us ending the season using the same formation as the one Paul Trollope was so determined to see us play back in August has been remarked upon elsewhere. Of course, just because a system works well in one match, there's no guarantee that it would do over a period of weeks and months, but I would say that there are a few reasons why the 3-5-2/5-3-2 used yesterday was so much more effective than the one seen nine months ago.
Firstly, it has to be accepted that our opponents had their minds firmly upon other things. Whereas City will not play any more football for a couple of months, Huddersfield still have at least two, hugely important, games left to play. Second, Huddersfield's cause was hardly helped by the sending off of their Welsh international goalkeeper Darren Ward for handling the ball outside of his penalty area – it's easier to look good when your opponents are a man short for seventy minutes, but we were already a goal up and playing well when Ward was dismissed.
Thirdly, Neil Warnock's Cardiff City is a completely different animal from Paul Trollope's Cardiff City when it comes to things like belief, spirit and confidence and, fourthly, even though Kadeem Harris was absent yesterday with the injury that forced him off early in the Newcastle match last week, we have so much more attacking pace now than we had then.
We began the season looking to play what was essentially a counter attacking game with no significant pace going forward in the starting line up – it's easy to say now of course, but it was a plan that was doomed to failure.
There was a "Warnock effect" right from the first day the man walked into the club (you only had to watch that first game against a Bristol City team that was flying at the time to recognise that) and so much of the optimism that next season can see us being realistic contenders for a top six place stems from our manager.
Put simply, we have a manager who knows this league like the back of his hand and although a dose of realism is also required when assessing our chances next season, the fact of the matter is that a repeat of our results from mid October onwards would see us thinking in terms of having a chance of leaving the division in the right direction for most, if not all, of 2017/18.
With four wins, four draws and four defeats, our form was distinctly mid table during the period from Neil Warnock taking over to the end of 2016, but 2017 has seen us win eleven, draw five and lose seven. That's twenty three matches, half a season, and a return of thirty eight points, if carried over into a full forty six match campaign would see us on seventy six – four points short of what was needed for sixth place this year, but often enough to get into the Play Offs.
So, the step up in results doesn't need to be a huge one compared to what we've seen for more than three quarters of the season, but I also believe the stats show that the top half finish (we scraped into twelfth place thanks the number of goals we scored when compared to Villa, who had the same -1 goal difference as us) we managed is about as good as we could have, realistically, hoped for after those first eleven games under Trollope's management.
Our finishing total of sixty two points was identical to our tally in the yawnathon that was 2014/15 and six below what we managed in the promotion challenge which never felt like one that was 15/16. It's not much of a claim when you consider the competition I suppose, but 16/17 was the most enjoyable campaign since we got relegated in my book, because there was a feeling that, once we got going under Warnock, we were a club and team that was finally heading in the right direction again.
Most of the stats point to our finishing position being a reflection of our capabilities over the season – we were distinctly mid table in terms of goals scored and goals conceded (I still think sixty one is a lot to let in with the centrebacks we have mind), but, despite that run when the goals dried up before yesterday, our twenty nine goals scored on our travels was better than getting on for three quarters of the division managed and offers further proof that we do have the attacking pace now that we've lacked for so long.
We were also up near the top in one department which impresses me, but I daresay will disappoint some others – only Derby had less yellow cards than us and there were only six teams who had less dismissals than our three.
As has been the case for some time now, City were one of the best behaved teams in the division and it's another sign that it's easy to fall into the trap, which I certainly have done myself down the years, of automatically labeling Warnock teams in a certain way. Yes, we were direct most of the time and I believe our manager would like a bit more "devil" in his players, but watching Neil Warnock's Cardiff play was a great deal more enjoyable and entertaining than I expected it to be – that's not just because we were winning more than we lost, we only got one point from the two best games I saw us involved in live (Barnsley and Fulham at home).
Finally, I'd like to wish all City fans a a good summer and remind readers that I'll writing weekly reviews of goings on at the club during the close season which, as always, I hope will prompt the sort of replies we've seen throughout the last nine months as City found themselves left on the starting line, only to recover in a manner which offers the hope that they can do a lot better next time.