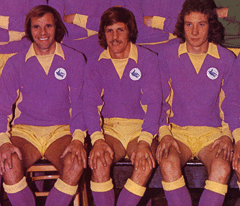 QPR goalkeeper Alex Smithies' fairly routine save from a header by Emyr Huws I think it was from a Peter Whittingham corner drew a prolonged round of applause from the home crowd completely out of line with the quality of the incident they had just watched, why was that?
Well, here are a couple of clues as to why for anyone who wasn't at Cardiff City's first home match of the season yesterday – the corner was City's first of the second half and within seconds of Smithies clearing upfield, the referee blew his whistle to end the match. You see, the applause was ironic because that gentle header from City's newest recruit represented his side's only on target effort of the game and it came in the ninety fifth minute of a forgettable encounter deservedly won by the visitors, who were nothing special themselves (but then they didn't need to be), by 2-0.
While the sensible line to take at this stage of the season is that any new manager/head coach must be given a reasonable amount of time to allow his methods to work (particularly when the system he is using is so radically different to what went before it), I can't help thinking that Wednesday's visit of Blackburn Rovers has become a very important game for Paul Trollope.
Blackburn have lost their two games by 4-1 and 3-0 and, frankly, they looked all over the shop in the brief highlights of their defeat at Wigan I watched on Saturday night – if we still haven't scored a goal this season and are still winless after Wednesday's game, then it wouldn't surprise me at all to hear calls for Trollope to go.
Let me say straight away that I believe that would be ridiculous, but such has been the almost complete lack of a goal threat in our last two matches in particular that, just one week into the new season, nearly all of the traditional sense of optimism felt at this time of the year has been replaced by a plaintive ask of "will we ever score again?"
In my piece on the Bristol Rovers match I said that, in basic terms, a side struggles to score goals because either their strikers aren't good enough or the service to them isn't up to the required standard. I concluded that on Thursday our lack of a cutting edge was more down to the first of these reasons than the second, but, after yesterday I must say that it's not as simple as that at all.
For a start, although our strikers hardly ran their markers ragged with their pace, intelligent movement and teamwork, it seemed to me that the main problem this time was that the service to them was just not good enough. So, when a side isn't scoring because the strikers aren't good enough and (rather than or) the service to them isn't good enough, then you have to conclude that the problem is both severe and deep seated.
It doesn't end there though, because the question also has to be asked as to whether the new 3-5-2 system is contributing to the complete lack of goals, and almost complete lack of goal attempts, in 16/17 so far?
Speaking for myself, I would answer that by saying that the system in itself is not the problem, it's more to do with the way it is being applied by CIty.
To explain what I mean, I would say that, put in the most simple terms, managers and coaches look at the ten outfield players in their team and think of six of them as being essentially defensive players and four of them attackers. However, based on our last two matches in particular, it seems to me that we are operating with just three players who could be classed as attackers.
We played like an away team yesterday. Although they had edged the first seventy five minutes in terms of being likely scorers of the game's first goal, the truth was that we were holding QPR with few problems until Steven Caulker marked his return to Cardiff CIty Stadium with the sort of crisp scoring header from a dead ball situation that he managed for us on a few occasions in our all too brief acquaintance with the Premier League.
Until then we were heading for the sort of point from a 0-0 stalemate which would have been regarded as a satisfactory outcome if the match had been taking place at Loftus Road, but it wasn't and, even if we had held on for that goalless draw, it wouldn't have been regarded as good enough by me because it didn't look as if we were trying to win the game.
Our best spell came in the first twenty minutes when we were able to work ourselves a few promising positions, but Anthony PIlkington took a touch too many before getting his shot away and Jazz RIchards (twice) and Declan John were unable to come up with good enough crosses when they had the time and space to do better.
After that though our wing backs were symptomatic of that lack of attacking intent which I feel is a key reason why 3-5-2 is manifestly not working at the top end of the pitch for us. If we only have three attacking players, then they are Pilkington, Frederic Gounongbe and Lex Immers (who, because he is being asked to play a little deeper than last year, is taking longer to arrive in the penalty area than he did previously). With Joe Ralls and Peter Whittingham more preoccupied with covering roles in front of our three centrebacks these days, they aren't going to be becoming that fourth attacker for us any time soon. Emyr Huws described himself as a box to box player in his introductory interview on the club website, so maybe he could be the man to aid the front trio once he has established himself, but, for now, our wing backs should be providing that help.
If we are attacking down the right, then the left wing back should be busting a gut to arrive on the far post if or when the cross comes over and vice versa when we are going forward on the other side of the pitch, but, yesterday, that first twenty minutes apart, they played like full backs.
I look at yesterday's line up and see only three potential scorers in open play and one of those is unproven at this level, That's not down to the system, it's down to the attitude of mind of those playing it – barring truly extreme examples like, say, a rigid 7-2-1, systems are not completely defensive, all of the most common formations used by professional sides currently can be attacking ones if the desire is there.
At half time a friend who I hadn't seen for around ten years came over for a chat (sorry it took me a little while to recognise you Chris), he stayed for the opening half an hour or so of the second half and during that time asked an interesting question – who did I think was having a poor match for City?
His answer was Jazz Richards, mine was that Joe Ralls was some way below his usual standard, but, like him, I didn't think anyone was having an absolute stinker, they were all playing okay, no one was standing out because of their good or terrible play.
Now, you may think that I was being generous there, but my point for now is that I find it very concerning that a team where the outfield players are all turning in performances which could be graded around the five out of ten level (I find it impossible to rate Marshall's performance because apart from pick the ball out of the net twice for goals he had no chance of saving, he had nothing to do) never really threatened to score in ninety five minutes of football.
If that is going to happen when almost everyone is playing individually to a level where they could be said to be performing okay, then what's it going to be like when, as will definitely happen at times in the coming months, three or four of them are having "mares"?
Of course we'll score eventually, but a comic own goal and a penalty in almost five hundred and sixty minutes of football tells it's own story. We can all go on about us needing a striker who offers more than our current ones do, but, increasingly, it's difficult to avoid a feeling that the problems run much deeper than that – the deckchairs on the Titanic have been rearranged, but the outcome is going to be the same.
Paul Trollope inherited a team that scored fewer goals last season than any other of our sides bar one have managed in a season at this level since 2003. We are very weak in an attacking sense for a club that is targeting a top six finish and one of the main reasons for this is that we lack pace going forward – it's something we've suffered from ever since we got relegated three seasons ago.
I make it that I've seen twelve of this season's twenty four Championship teams either in the flesh, on live television or in a video recording of a game and only Leeds have looked as totally unconvincing when given a counter attacking opportunity as Cardiff have.
It's as if we lack the confidence to really go for it when we are presented with a, mostly unoccupied, space of seventy yards or so of green grass in front of us.
On Thursday in particular, counter attacking opportunities were passed up as players turned back and looked for support behind them rather than drive on and trust that team mates would be arriving within seconds to provide the passing alternatives that are needed for effective counter attacking, but I accept that it is very difficult to do this if there is a general feeling that there is not sufficient pace in your side to exploit the chance you have been given.
So, apart from having strikers who aren't good enough, a lack of the sort of service that might see attacking players prosper and less attacking pace in the side than most teams we will face, we are okay then are we?
My answer to that is that, despite these not inconsiderable drawbacks, we have a squad that should be delivering more than they have done so far. It's been interesting to see the reaction in the local press to yesterday's game because, having spent the past few weeks making enthusiastic noises about what Paul Trollope and his new system can do for City this season, they are duty bound really to ask for patience if and when the whole project hits teething problems.
Essentially, I agree with that viewpoint, our players are basically good enough to make more of a fist of 3-5-2 than they have done in our last two matches and the new formation should be given more time to succeed before it is consigned to the dustbin.
Hopefully, as players become more familiar with it, those strikers might start to look more convincing than they do now, some of our better passers of the ball will find the creativity that they are not showing currently and it will look as if the team has faith in the way they are being told to play.
At the moment, we look and play as if we are not sure about the new approach and, unless we make the quality of signings which are almost impossible to find with the sort of budget Paul Trollope has to work with or start to include one or two younger players like Kadeem Harris and David Tutonda who are unproven at this level, that lack of pace is still going to be there.
The last few matches have shown the size of the task facing City this season, but it is important, that we show more attacking intent and belief than we have done so far when we face a team we really should be beating on Wednesday – even a side struggling as much as Blackburn are defensively at the moment will be able to cope if we continue to have only three potential scorers from open play.
*picture courtesy of http://www.walesonline.co.uk/all-about/cardiff-city-fc
+picture courtesy of https://www.flickr.com/photos/joncandy/