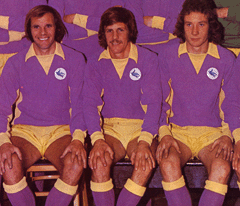 Cardiff City Academy team's pre season programme was notable for the amazing number of goals scored and conceded – I make it that the five games produced thirty seven of them, sixteen of them ending up in the opposition net, but twenty one of them were conceded.
Yesterday lunchtime's 2-1 loss to Colchester at Treforest gave the clue as to why we let in more than four goals a game in pre season – the system used, if continued with in the manner it was yesterday, should see us score plenty, but I would venture we'll let in more.
City lined up with an unchanged team from last week's 3-1 win over Barnsley and there was also the same 3-5-2 formation.
Like nearly every system you could think of, the way a 3-5-2 is implemented depends entirely on the attitude of mind of the team using it. For example, you only need to look at the way the wide midfield players are used to get a good idea as to whether the manager/coach has set his team up with an attacking or defensive mindset.
To someone of my age, the word "wingback" is a contradiction in terms – "wing(er)s" are attackers and "backs" are defenders. Things have changed a bit in recent years though as a wingback can be deployed anywhere from alongside the right or left sided centreback to beyond the central midfield three.
So, a defensive 3-5-2 would be akin to a 5-3-2 in reality, while an attacking version of the system could be something like a 3-3-2-2 – City's version of 3-5-2 yesterday was even more attacking than that!
While City's right sided centreback (I think his surname was Young) could look up and usually see one of two midfielders (the number two Mark Harris or the number seven Welch) quite close in front of him, on the other side of the pitch, Baldwin on the left was in glorious isolation as Keiron Proctor, nominally the left wing back, was playing almost as a winger in a front three.
I'm pretty certain that Proctor wasn't just not bothering with the defensive side of his game either, because when he went off at half time, his replacement off the bench played in exactly the same way, so I think they were playing to the orders they'd been given.
Fair enough, if that's the way CIty wanted to play, then fine, but when there doesn't appear to be a defensive central midfield player either, then the back three is in danger of becoming isolated, both individually and as a unit.
With the height and power of a centreback, a role he often appears in, Sam Williams seemed the obvious candidate to sit in front of the back three, but he was as attack minded as the others in the middle five.
Therefore, with Colchester playing what was virtually a front three, City's back three often found themselves in one v one confrontations which would have given their opponents a clear run on goal or a man over r if they were lost.
With Colchester's number nine proving himself to be a very speedy customer, City were somewhat fortunate not to concede an early goal as he fell over under a challenge from keeper Wakeman amid visiting claims for a penalty and then wriggled past a couple of defenders only for the goalkeeper to get off his line to claim the ball confidently.
Up the other end, it was centre forward Rabbi Matonda (apparently he's still young enough to play for our Under 15s and has been selected in a Wales Under 17 squad) who took the eye as he fired in a couple of shots that forced the visiting keeper into saves.
With Colchester's early attacking threat dissipating and City playing some nice stuff through the middle of the pitch, the balance of power was changing and City probably deserved the lead they gained with about half an hour played when a fluent move freed Harris down the right, his low cross eluded his team mates, but they got a bit lucky when an attempted clearance bounced of a defender and into the path of Ibby Sosani who made no mistake from about six yards out.
At this stage, a second City goal was looking more likely than a Colchester equaliser, but suddenly it was all square when, seemingly without having to do a great deal that was inventive, Colchester opened up City's undermanned defence and their number ten Diaz Wright finished confidently and well.
CIty's reaction to conceding an equaliser was impressive and they would have had the half time lead they deserved if it were not for good saves from long range efforts by Sosani, Proctor and Harris and a clearance off the line after Williams had got free following a throw in.
Still, CIty had played better so far than they had done in winning last week and there was every reason to believe they would go on and win the game in the second half, but, in the event, they never really got going after the break and ended up beaten by a more streetwise team who definitely had the better of things in the second forty five minutes.
There had already been one or two instances of the one onto one or two onto two attacks which Colchester had opened the game with when another forward raid ended with them being given a free kick about ten yard from the corner flag which resulted in centreback Joe Tennent nodding his side into the lead with about forty minutes left.
I mentioned earlier that City's response to conceding a goal in the first half was impressive, but I'm afraid the same could not be said this time around. Whereas Colchester's keeper had to save impressively three times within minutes of his side scoring first time around, he only had one fairly difficult moment in the rest of the game when he had to block a Welch header at the end of one of the few second half passages of play City put together which had the patient and purposeful passing which typified some of their earlier moves.
Too often, City tried the more difficult and spectacular pass and generally pressed too hard. Now, speaking as someone who was never anywhere near as good as any of those on the pitch in blue yesterday and as someone who, at eighteen, would generally look for the flashy pass at the expense of an easier, but more effective, one, I'm not going to knock our youngsters for doing that, but one thing you learn as you make the transformation to old git is that football really is a simple game!
As for Colchester, they did a good job of frustrating City while also looking to hit their front men early to exploit our lack of numbers at the back. That's not to say Colchester just whacked it forward into the channels, because they also put together the two best moves of the half as their number nine held up the ball really well and laid it into the path of an oncoming midfielder who fired a tremendous twenty five yard effort on to the post and then when Diaz (a lovely striker of the ball) forced the save of the match from Wakeman.
City switched to a 4-4-2 in the closing minutes, but it made no difference – this is a particularly young side this year and nearly all of them will still be eligible for the Under 18s next season, so I suppose games like yesterday's are to be expected.
There was better news for the Under 16s however as they came back from 2-1 down to score four second half goals to beat their Colchester counterparts.