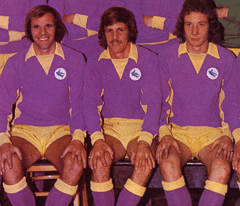 The 1973/74 season was a fairly typical one by Cardiff City standards of that time – three managers, a nine month battle against relegation and early exits from all of the major cup competitions with only the consolation of the Welsh Cup to lift spirits (we beat the mighty Stourbridge Town by winning both legs of the Final by 1-0!).
Strangely enough, City did not suffer a defeat in the league until late September but once they did, they didn't stop losing – five losses in seven matches did for long serving manager Jimmy Scoular in November and City did not wait long before appointing Irishman Frank O'Farrell in his place. Given that his last job was at Manchester United,  O'Farrell was seen as something of a capture by City, but, after the usual boost (including a first away win in the league for two and a quarter years!) in results that a change at the top seems to bring, City continued to struggle and the suspicion that the manager's heart wasn't really in the job was given credence when he left us in the lurch in April by accepting an offer to manage the Iranian national team with his assistant, Jimmy Andrews appointed in his place, initially in a caretaker capacity.
One thing City fans had cause to be grateful to O'Farrell for though was that he brought Willie Carlin to the club. I had first seen Carlin play against us for Carlisle in 1965/66 and took an instant dislike to the five foot four inch niggly midfield player who seemed to spend the whole game arguing with the ref while winding all the adults stood around me up into a state where their blood pressure must have gone through the roof! Carlin was a regular visitor to Ninian Park in the late sixties and early seventies as his nomadic career took him to a variety of clubs, but the thing was that, for a player who I always classed as an argumentative clogger with not much ability, he always cost his new team decent money and that club always tended to get promoted to the First Division!
Carlin's latest club, Notts County, were up there challenging for a place in the top flight when he joined us in November 1973, but the difference this time was that we didn't have to pay anything for him and he had only figured in one league game for County so far. At 33, Carlin was increasingly hindered by a chronic hip injury, but Frank O'Farrell still believed that the player he had signed when he was in charge at Leicester could play a part as much through his influence as what he did with the ball and, after saying that keeping City up was his last goal as a professional footballer, Carlin's spirit and leadership proved to be very important over the six months that he spent with us.
It was so typical of Carlin that, in the last match he played in his career, the hip injury was causing him so many problems that he had to be carried from the field at half time, but he was there again after the break, cajoling his team mates before finally having to admit defeat and come off with about twenty minutes to go. Perhaps under different circumstances, Carlin would have not returned for the second half, but the fact was that, whereas many clubs' last match of the season were often meaningless kickabouts, they had a habit of being crucial at Cardiff in those days and this one was about  as crucial as you could get!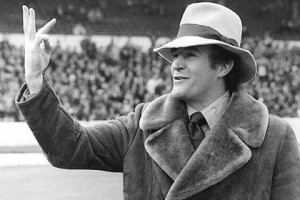 City were involved in a game in which they needed to avoid defeat to stay up, but what made this match such an occasion was that it was their opponents who would go down if they didn't win. Crystal Palace had been many people's pre season pick to win the Second Division that year following their relegation from the top flight at the end of the 72/73 campaign and, seemingly, with money to burn and stars aplenty it was hard to argue with that opinion – besides that they had one of the biggest personalities in the game at that time in Malcolm Allison as their manager. Anyone not old enough to know about the charismatic Mr Allison only needs to look at the above photo to get an idea of what he was about – although the usual fat cigar is missing, the picture speaks volumes about a flamboyant man whose media persona was of a showman who craved the publicity his gambling, birds and booze lifestyle attracted.
Beneath it all though, Malcolm Allison was an original and enterprising football thinker and, having guided Manchester City to the League title and success in Europe as Joe Mercer's assistant, he was widely recognised as one of the best coaches in the game. However, I think it's fair to say that the additional duties and responsibilities Allison took on when he made the transition from coach to manager found him out in many respects – although he would win a league title with Sporting Lisbon, I would say that there were more lows than highs in his managerial career.
Palace's predicament certainly kept Allison and his team in the headlines all season, but a run of just two defeats in thirteen games in the new year had lifted them from the bottom of the table to a position of relative safety at Easter, only for three successive defeats to plunge them right back into trouble again and their collection of past and future stars such as Don Rogers, Alan Whittle, Derek Possee, Paddy Mulligan and Peter Taylor came to Ninian Park knowing that nothing but a win would keep them up.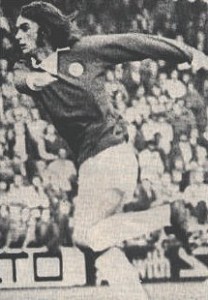 Anyway, having got so far without mentioning Tony Villars, it really is time that I talked about the man who was to be the main player in this drama. Villars was a skilful if erratic performer whose main strength was his dribbling skills which, more often than not, produced some great mazy runs which the crowd would lap up but not enough in the way of an end product. I think I have mentioned before on here that the word "enigma" could have been invented with Tony Villars in mind because he had talent to burn yet hardly ever applied it properly. However, Villars was probably in the best run of form of his career going into this game – although still a source of great frustration to fans at times, he had become that bit more consistent and had been a regular starter for much of the campaign,  now, when City needed him to use his special talents most, he responded superbly.
Villars had given the big crowd a few signs of what was to come early on as City made a pretty confident start considering the tension of the occasion – that was to count for nothing though when defender Stewart Jump scrambled in a goal following a corner to put Palace ahead. With still more than an hour to go though, City at least had time on their side as they sought the goal that would re-establish their hold on Second division status and around ten minutes after falling behind, they got it and what a goal it was!
Receiving the ball inside his own half, Tony Villars immediately started to run at the opposition and burst past a couple of players. Showing great control of the ball on a pitch which would have been quite similar to the one at Cardiff City Stadium currently except that there was less grass on it, Villars took the ball on as the crowd began to realise that City's unpredictable dribbler might be about to produce something special. The passing of the years clouds the memory a bit, but I seem to recall a one two played with Gil Reece before Villars found himself in on goal and he went on to beat keeper Paul Hammond with a low shot into the Grange End net from the edge of the penalty area having left about half of the Palace team in his wake.
There was pandemonium around the ground after a goal which would have been a cracker under normal circumstances but when you considered the pressure of the occasion, it has to be up there amongst the best I have seen us score and from then on Palace were at panic stations every time Villars got the ball. Perhaps others who were there might recall things differently, but my feeling was that, unlike when we entertained Carlisle under the same circumstances three years later, City were always going to be okay – Palace did a lot of attacking but, understandably, there was an air of desperation about it and, to me at least, Villars' brilliance had knocked much of the stuffing out of them.
The game finished 1-1 amid great celebration amongst the crowd of nearly 27,000, but with gates dipping as low as 5,800 during the season, that night didn't represent the real Cardiff City at that time. More than half of those present on the night were not regulars at Ninian Park (the next highest gate that season was 14,799 for the Christmas visit of FA Cup holders Sunderland) – the club were always going to struggle with the sub 10,000 gates they were getting for half of their games and a year later there would be no dramatic escape from the drop.
Still, at least Willie Carlin (dodgy hip and all) was able to retire having completed the task he had set himself, but Tony Villars was never to hit the same heights again – his display against Palace got him three Wales caps at the end of that season, but he spent more time out of the City team than it during the relegation season which followed. A couple of goals, including the winner in a great 1-0 win at Brighton, at the start of the 75/76 promotion campaign offered hope that he could still fulfil all of that potential, but persistent injuries restricted him to just ten league appearances and he was released at the end of the season. A short stay at Newport County followed but then he left them to play local non league football having never been able to recapture the magic that so terrorised Palace thirty six years ago.
30 April 1974
Cardiff City 1 (Villars) Crystal Palace 1 (Jump)
City Healey; Dwyer, Morgan, Phillips, Pethard; Villars, Vincent, Carlin (Showers) Charles; Anderson; Reece
Palace; Hammond; Mulligan, Barry, Blyth, Jump; Taylor, Jeffries, Johnson, Rogers; Possee, Whittle
HT 1-1
Att. 26,781