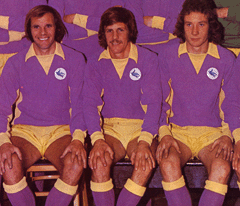 I received a sad e-mail this morning from Adrian Pickrell, the son of former City winger Tony, saying that his father had peacefully passed away in his sleep yesterday morning.
Regular readers of this blog will probably know that Tony was an occasional contributor on here over the past three years or so, but, for those who weren't aware of this, they may like to have a look at the following;-
http://mauveandyellowarmy.net/playing-for-cardiff-city-1960-62/
http://mauveandyellowarmy.net/the-talented-tony-pickrell/
Tony's career was over virtually as soon as it had begun as tuberculosis forced his retirement at the age of just nineteen after he had scored four times in twenty appearances in all competitions for the club. Therefore, I missed being able to see him play for us by about eighteen months, but it is a measure of the man that he went on to play rugby to a good standard in the decade following his departure from football.
I never met Tony, so I cannot really say that I've lost a friend, but the fact that this blog has lost a friend was made clear in the message I got from Adrian today – a message he has given me permission to use here;-
"Dear Paul,
I deeply regret to inform you that my father, and avid reader of your blog,  Tony Pickrell sadly passed away in the early hours of Monday morning. He had been in pain for several months and had a short stay in Swansea hospital but they could find nothing.
My wife and I returned home from Spain on Saturday and I called Tony to chat about City's win and he was getting ready to enjoy the Wales/England rugby game in the evening. He sounded quite chirpy on the phone.
On Sunday he was in a lot of pain and watched a further rugby game before retiring to bed. He died in the early hours of Monday morning peacefully in his sleep.
As you can imagine we are all very, very sad. He really was, as everyone said, a lovely bloke and a wonderful father.
 I am now in Germany waiting for further details concerning the funeral and I will plan to fly over accordingly. My mother wishes to drape his blue and white City scarf over the coffin.
He enjoyed your blog and always said "This fellow Paul Evans knows what he's talking about. It all makes good sense"! He even appreciated the regular commenters by saying "there's not a single idiot amongst them, they all know their stuff"!
Sorry about this sad news, but I thought it would be right to would let you know. After all, Tony's career was short, but he still actually achieved something so many of us dream of but never achieve.. to play top flight football for the club he  always loved. He was a great bloke and will be sorely missed.
 Take care and keep safe.
 My very best wishes.
 Adrian"
Rest in peace Tony and my commiserations to all of his family and friends.