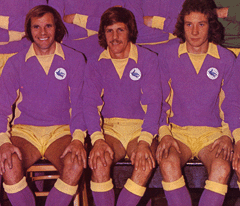 I'll say straight away that I enjoyed last night's match, I thought it was an absorbing battle between one team that, despite it's injury and suspension problems, were still able to field a high quality side by Championship standards and another team that, because of injury and general fatigue problems, were only able to field a side which, despite having some high quality players in it's ranks, would probably finish nearer the bottom than the top of the league if the season was starting today.
Through a combination of grit, spirit, hard work and no little skill, the weaker team were able to get a draw from the match despite long periods of territorial domination by their opponents in the first half especially and this is why I see last night as being very much a case of a point gained by City rather than two lost.
Others will disagree with that view though. For example, the anonymous hack who penned this match report was not very impressed it seems and there were plenty sat around by me last night who weren't too enamoured with what they were seeing as well, but I would say that, in terms of Cardiff City at least, they are not recognising the new reality at the club – we are currently a pretty limited side and have to cut our cloth accordingly.
I have been setting my sights as to what the current squad can achieve in the short term and for the rest of the season lower than they had been before we were hit by the illness outbreak which went through the club last month. Now, with a number of senior squad members out with injuries that look like keeping them out for months rather than weeks, the sides we have been putting out over the past six weeks or so have had a threadbare look to them in the central midfield area in particular. However, as far as I am concerned at least, a group of players which I had been very critical of previously for their lack of "bottle" have responded to the on and off field problems at the club in marvellous style .
When you look at the respective teams last night, West Brom looked stronger to me at full back, centreback, central midfield and in goal while I wouldn't have swapped their wide midfield players (especially while Whittingham was on) or our strikers for theirs. Our front players, consisting of four out of the five of Burke, Whittingham, McCormack, Bothroyd and Chopra, are as good as, if not better than, virtually any combination they will face in the League this season and the same would more or less apply to David Marshall in goal, but in other areas, most of our opponents will be our equals or betters.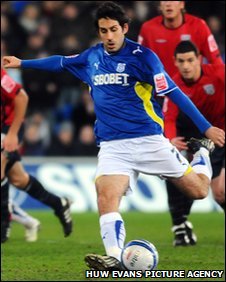 Nowhere is this more true than in central midfield. I am sorry if I sound like a broken record here but we were not too convincing in that area when we had the likes of Ledley, McPhail, and Scimeca available, now, though I think it is inevitable that we are going to see spells of dominance of the ball by the opposition of the type that West Brom enjoyed at times in virtually every game we play. This isn't helped of course when the opposition play three in that area compared to our two and, apart from the first ten minutes or so I thought West Brom enjoyed almost total domination in that department before the break.
Having said that, I think it would be harsh to be too critical of Gavin Rae and Aaron Wildig in particular – for a start, I would question quite how fit they both are. For me, although Rae did alright when he was defending, he struggled when he tried to expand on that by trying to run forward with the ball, shoot or try more ambitious passes. As for Wildig, I thought he made an excellent start to the game and, in the absence of Steve McPhail and Joe Ledley, looks our best option in central midfield as far as vision and range of passing is concerned, but at the moment I would say his lack of body strength is often exposed as he struggles to make an impact in the physical aspects of the game – if, as hopefully he will, Wildig "fills out" as he continues to grow over the next few years then I think he is showing that he has the basic ability to be a good player at Championship level and, possibly, higher.
With Dave Jones pointing out that Darcy Blake, who I thought did well when he came on last night, offers much the same as Rae does and Soloman Taiwo, apparently, not trusted enough yet by our manager, we don't have the players to offer anything different in central midfield to what we saw last night until McPhail returns so, increasingly, I find myself thinking that we will have to play to our current strengths by giving up any pretence of a passing game and concentrate on getting the ball forward to Jay Bothroyd as soon as possible. While I don't like this type of football and I would say that we are wasting Bothroyd's talents to some degree by using him as just a target man, I would also say that needs must – as things stand it seems to me that our best chance of maintaining a top six place lies with us playing a long ball game.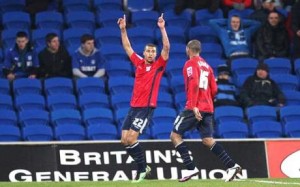 However we end up playing though, it is not going to help matters at all if the division's leading scorer is going to be out for some time (I've seen "several weeks" mentioned in one of the reports in this morning's papers). The funny thing with Peter Whittingham this season is that recently I have been taking his goals a little bit for granted and  have been appreciating his long range passing and dead ball delivery more. Much of the long stuff we hit last night were basically just hoofs forward but with Whittingham it is often a perfectly delivered pass which results in a goalscoring opportunity – I don't see anyone else currently available who is capable of doing that and the same applies to the ability to provide a quality left footed delivery at set peices.