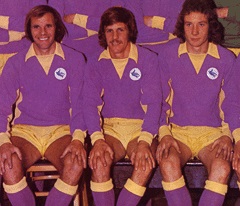 A look at the Championship table will tell you that Cardiff City's fortunes at first team level are probably as good as at any time since the opening weeks of the 13/14 season when it looked like we may have been able to handle the transition to Premier League level successfully.
However, yesterday lunchtime's 2-2 Development team draw with Bristol City at Leckwith left me wondering what the plan is at the levels below the first team – indeed, given what has been happening at Development team and Under 18 level this season, I'm tempted to ask is there one?
When I first started supporting the club, there were three teams that senior players could play in – first team, a reserve team which played in the Football Combination and a third team that competed in the Welsh League – there was also a youth structure which was not as extensive as the current Academy system.
It's hard to remember when it happened, but sometime in the seventies I believe, we dropped out of the Welsh League and since then, despite lots of rebrands and changes of league structure etc. things have, essentially, stayed the same in that we've had a first team, second team and youth team.
This has brought a clear line of progression for promising young local players into the first team – there was always the odd player like Aaron Ramsey, Chris Gunter and Joe Ledley who would, largely, bypass the second team because it soon became clear that they were ready to play first team football while still qualified to play for the Under 18s, but, mostly, youngsters would progress via the stepping stone of the reserves as they gained an introduction to playing with and against men.
For me the current structure at national level, whereby the emphasis is on limiting the number of senior players who can turn out at reserve team level is not working as it was intended to – or, at least, it's not working at Cardiff City. With Joe Ralls already a member of the first team squad at the time when the current Development team structure was introduced at the start of the 12/13 season, there has only been Declan John, with his limited impact at first team level, who can be said to have been a youth team product who has been trusted to perform in a senior league game with something tangible riding on it.
More than that though, the line of progression into the first team has become blurred and, on yesterday's evidence is becoming less clear by the week.
How can a City line up yesterday which had five trialists and no outfield substitutes be explained? Well, I know Neil Warnock has hinted at wanting to get more players in what I presume is the twenty to twenty two age range into the Under 23 team – I imagine the sort of player he is thinking of is someone like Ibrahim Meite, now on loan at Crawley, who was first played as a trialist for us at around this time last year.
So, the constant stream of players being given trials in Under 23 games this season can be understood, but five of them in one game?
For the record, the trialists who played against Bristol City were former Swansea Academy member Sean Hanbury, Nathan Mavilla who was once with West Ham and has recently moved from Conference side Maidstone to Wealdstone, Kyle Spence (for my money the best of the bunch on yesterday's evidence) who made one appearance for Coventry and is currently with East Grinstead, Keegan Woolley, who had a trial with Manchester United in 2014 and Sam Phillips once of Wolves' Academy.
I felt sorry for all of them as I watched them trying to impress in a poor game played on an unreliable surface and I also felt sorry for Jamie Veale, Ben Margetson, Connor Young, Mark Harris and James Waite, the five outfield City contracted players involved.
Hardly surprisingly when so many members of their team were strangers to each other, City played like a bunch of individuals with little evidence of teamwork or cohesion. The result was that, instead of the attractive and entertaining brand of football you often used to get at these games up to last season, we got what my esteemed co watcher of Development team games called a morass of mediocrity from which it was hard to see what anybody involved in the City team gained.
Now, it's only fair to repeat that the system whereby a team made up of players who came through the system together at Cardiff that was occasionally supplemented by a trialist or two, has not been producing first team footballers for the club – they may have been enjoyable to watch at times, but you only have to mention the names Tommy O'Sullivan and Theo Wharton for evidence that, far from developing promising players, the system being used was causing some of them to stagnate.
So, the old system wasn't working, but what really baffles me is the almost complete absence of current Academy members in the Development team this season. For example, of the five City contracted players I mentioned earlier, only Margetson is young enough to play Academy team football and, like a few other Under 18s who have played Development team football this season, he is not a regular starter for our youth team.
I make no apologies for bringing up Sion Spence again. Last season, at sixteen, he became a regular member of the Development squad and was starting most games by the end of the campaign – indeed, only "insurance reasons" prevented him from being named as one of the substitutes for the first team's final game at Huddersfield. This season, at 17, Spence has been confined almost wholly to the Academy team and this is despite having scored his second hat trick of the season in Saturday's 4-3 defeat at Millwall – he must be into double figures for goals now in the very influential number ten role he has been used in this season.
There are others who have impressed me when I see them play for the youth team, but, where do they go from there if their performances suggest they could step up a level? Not into the Development team it seems and the days when 17 and 18 year olds jumped straight into the first team from youth football are long gone apparently.
I'll not go into any great detail about the game. Suffice it to say that City were lucky to get a draw from a match where they led 2-0 at half time. The goals came from Harris who took advantage of the Bristol defence's occasional habit of parting like the Red Sea to score impressively from long range as the keeper advanced off his line and visiting captain Harvey Smith (no, not the V signing show jumper!) who turned a good, low cross from Waite into his own net.
The wurzels had hit the crossbar and Young had done well to clear off the line after keeper Oliver Byrne had made a hash of a clearance during an opening forty five minutes in which they generally looked the better team. However, apart from another Harris effort which hit the crossbar, they were even more dominant after the break. Byrne was unlucky when, after making two fine saves, he saw Kel Akpobire nudge in from close range at the third attempt and he had no chance with the impressive Antoine Semenyo's leveler.