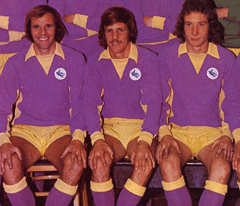 So, while Wales (population 3,000,000) almost certainly bids farewell to any hopes of proceeding past the group stages for Euro 2012 with the qualification process barely a month old, Montenegro (population 650,000) sit proudly on top of our group thanks to a trio of 1-0 wins. Meanwhile, much closer to home, Northern Ireland whose population is just over a half as big as ours, continue to take points off the giants of the European game at Windsor Park while also proving to be very competitive in their recent qualifying groups – all this with a team which includes Warren Feeney as a regular starter!
People looking for reasons for Wales' very poor form (the close miss in 2003 apart, our record in qualification groups since the one for the 1994 World Cup is pathetic) often cite our relatively small population as a reason for our miserable results in competitive games. However, the examples of Montenegro and Northern Ireland (Armenia with a very slightly bigger population than us and Estonia with about 40% of our population, both had notable wins last night as well) show that, even though Welsh supporters should never expect qualification as of right, we are entitled to expect a lot better than we have been getting for the majority of the last sixteen years.
Of course, you hardly ever get to hear of an  international retirement from at least one of the Montenegro and Northern Irish squads whenever they gather for games, whereas that sort of thing is compulsory now in Wales apparently. I'm pretty sure that when Montenegro and Northern Ireland play, there is not a better team from those countries to be made up of players who have called time on their International careers that are sat on their backsides at home watching the game, but we aren't far short of that situation now in Wales.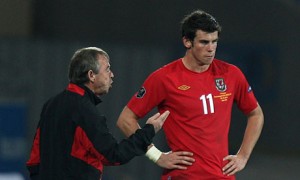 To be fair to those who bothered to turn out for their country last night, there was nothing to complain about as far as their attitude went. Brian Flynn exuded positive thoughts in the days before the game and that was mirrored in a more positive and enthusiastic approach from the team when compared to what we saw in the final throes of the Toshack era, but, sadly, although the commitment was there, the quality wasn't.
Although I thought Bulgaria deserved their win, there wasn't a great deal between the two sides, but, when it came to the technical aspects of the game, they were definitely superior. While you had the feeling that the ball was the Bulgarian's friend, I lost count of the number of times that it flew a yard or more away from many of the Welsh players when they first received it. Sometimes the player concerned had the excuse that a pass which should have been played to him along the floor was actually a yard or more off the ground when he received it, but this just backs up the point I am making about the lack of technique amongst many of the Welsh players (six of last night's outfield players are regular starters for Premiership sides)  when compared to their opponents.
I am not just singling out Danny Collins for criticism here because I didn't think he was any better or worse than most of his team mates (Wayne Hennessey apart, I don't think any Welsh player can be satisfied with his performance last night), but after about half an hour as he launched his umpteenth long ball towards Steve Morison, I said "you can tell the Stoke player here". If you are playing a target man, there's nothing wrong with hitting him with long balls, but if the target of those passes is also a lone striker, then they have to played when there are team mates close enough to him to get on the end of his knock downs – if those players aren't there, then, apart from winning the occasional free kick, you are doing nothing more than giving possession back to opponents who, invariably in International football, are capable of keeping possession for long periods.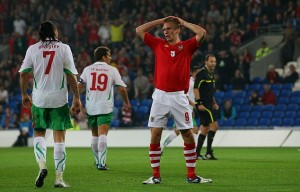 Danny Collins was the main culprit when it came to this, but he wasn't the only one and the way that the ball was often played in the general direction of Morison was indicative of what I thought was a lack of precision in the Welsh play. This manifested itself in other ways such as the poor passing and first touch I mentioned earlier, but also in the quality of the finishing on the, very rare, occasions when the Welsh team got to see the whites of visiting keeper Mihaylov's eyes. Although Chris Gunter (who, surely, can have few complaints with the decision to give him a red card in added time at the end of the game) has just the one goal in his senior career, he really should have done better with that early chance which came after what was probably Wales' best move of the game. Similarly, Gareth Bale should have done better from a fine cross by Joe Ledley and Morison and sub Hal Robson-Kanu were close enough to goal to have scored with their headed chances at the end of either half.
Apart from when Morison saw his second half shot rather luckily turned around the post by Mihaylov, that was it really as far as the Welsh goalscoring threat went and with us doing very little as an attacking force in Montenegro either, the return of Aaron Ramsey cannot come soon enough. However, even if we do get Ramsey, Jack Collison and, maybe, Craig Bellamy back for the England match in March, we do look short of a cutting edge in front of goal – with the possible exception of Bellamy, I don't see any strikers currently available to us who could have scored the goal Popov did.
There's still a chance for Brian Flynn to get something tangible from the two matches in this international break – Switzerland's 1-0 defeat in Montenegro offers further proof, if it were needed, that they are by no means the finished article in front of goal either. Perhaps keeping a clean sheet may not be beyond Wales in Basle, but, Swiss defensive solidity and our goalscoring problems has me thinking that the only result that will see Wales avoid defeat is 0-0 and that will not be good enough as far as our very faint hopes of qualifying go.
On the subject of Brian Flynn, I heard Kit Symonds say on the radio as I was driving home from the game that it would not be fair to assess his claims for the Welsh manager's job on a permanent basis on just these two games. I take that point, but all of the signals coming out of the FAW over the last month or so have tended to confirm that, essentially, Brian Flynn had two matches to prove himself worthy of the job and I think to extend his caretaker management of the team beyond that now would look weak – Wales need a new manager in place when we face the Republic of Ireland in February. If that man is to be Brian Flynn then fair enough – there's a part of me that says we need someone new and, perhaps more flexible tactically, who has experience of coaching and managing in other parts of the world with Flynn keeping his place in charge of the youngsters, but I wouldn't be too upset with him getting the job – let the man know one way or another soon though.