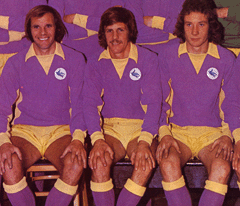 With my interest in the Rugby World Cup receding as New Zealand (not my favourite sporting team) made their predictable way to the title, yesterday seemed as good a time as any to make my first visit of the season to Rodney Parade to watch a Newport County match.
With a big reduction in their football budget this year, it's been a tough start to the season for County as an almost completely new squad assembled by manager Terry Butcher has spent much of the last three months at the bottom of the league.
However, Butcher's departure and replacement by John Sheridan has brought about an improvement which culminated last week in two away wins in which they scored six goals – just imagine that City fans, County scored as many goals in two matches as it'll take us until the game at Reading on 19 March if we maintain our scoring rate over our last four matches (that's always assuming we can find six opposition defenders to do what Middlesbrough's George Friend did of course!).
There were another two reasons to go to Newport – City youngsters Jazzi Barnum-Bobb and Tommy O'Sullivan are in the middle of loan spells with the Gwent club and they both starred in those two victories which had lifted County out of the relegation places, with the latter getting the first goal of his senior career in the 4-1 triumph at Bristol Rovers.
As I approached the ground ahead of the match with Northampton Town, I was greeted by the sound of the Benny Hill tune coming from within. If nothing else, that drew a smile from me, but it did make me wonder if the County's DJ knew something about the quality of what I was about to witness that I didn't!
As it turned out, it took just forty five minutes on a beautiful late autumn day to convince me that I'd made the right decision, as a breathless first half ended with the scores level at 2-2.
Northampton are having a good season on the pitch, they went into the match in the Play Off places on the back of a run of one defeat in ten league games, with five of the last six of them having been won.
However, off the pitch, it's an entirely different matter. They are the latest club to be taken to court by HMRC – this time it's for an unpaid bill of £166,000, but, whereas financially stricken clubs can rely, to varying degrees, on the support of their local council, Northampton owe theirs around £10 million for a loan towards the building of a new stand which has not been completed yet (when City played Coventry in the League Cup at Northampton back in August last year, the foundations of the new stand were in place, but, apparently, it's no nearer completion than it was then).
Invariably, a way is found around the financial problems when a club is threatened with closure, but, on the face of it, the scope for a way out at Northampton is limited and, with their players and staff not being paid their monthly wages on Friday, there had to be the real possibility that any points County may pick up from the match may turn out to be deducted from them at some future date.
For a while, it looked like that wouldn't be a consideration. County started like a side high on confidence and a good early passing move ended with striker Lenell John-Lewis heading narrowly wide with visiting keeper Adam Smith rooted to the spot.
Gradually though, the visitors, impressively putting their off field problems behind them, took control – although when they did score in the tenth minute, they needed some considerable help from their hosts.
From the snippets of radio commentary I've heard of previous County home matches, they have conceded quite a few goals by losing possession in dangerous areas of the pitch and this failing came back to haunt them again.
John Sheridan was a fine passer of the ball as a player and so, hardly surprisingly, he sets his sides out to play in the same manner, but I have to say that so many of the defensive problems County had during the afternoon came as a result of them getting into trouble as their defenders tried to play out from the back – it always seemed to be flying by the seat of their pants stuff when they attempted it.
It wasn't so much poor passing which led to the opening goal, more bad decision and passing that was too slow. Left sided midfielder Scott Barrow seemed to have a counter attacking chance, but, instead, opted to double back and pass infield to his skipper Mark Byrne and when the ball was eventually returned to Barrow he was surrounded by three Northampton players. Predictably, he was robbed of possession and, although keeper Joe Day made a great save from the initial effort from the resultant right wing cross, the ball fell to Sam Hoskins who scored easily.
County responded pretty well to this setback, but it was Northampton who were edging things at this stage and midfielder Joel Byrom was only inches wide with a well struck effort from twenty five yards. Having had one scare with a shot from distance, County were less fortunate on the half hour mark when a free kick about thirty yards out was tapped to the visitor's impressive captain Marc Richards whose powerful shot appeared to beat Day for pace as much as anything else.
John Sheridan was right when he said after the game that his team had gifted Northampton both goals, but he must have been impressed by the way they immediately responded to the sort of deficit that would have signalled an inevitable defeat a few weeks ago.
Within a minute, Barrow crashed home a fine shot from twenty yards to halve the deficit. Keeper Smith was beaten on his near post by the shot, but I thought it's quality meant that he couldn't be blamed for the goal – I'm not sure the same could apply to the equaliser seven minutes later when John-Lewis' more scuffed effort from just inside the penalty area found it's way in at the same near post mind.
County were buzzing now and, a minute later, a thrilling counter attack in which O'Sullivan featured prominently ended with a Northampton defender desperately putting the ball behind for a corner. However, you had to admire the way the visitors came back in the minutes before half time to do most of the attacking as both sides chased further goals.
At half time I found myself wondering when was the last time I'd seen four goals scored in a half of football I'd watched live – in fact, when was the last time I'd seen four goals in the whole of a match I'd been present at?
It turns out, I'd only seen one league match in 2015 that has had four or more goals in it before yesterday and, even then, City needed two penalties to see off already relegated Blackpool 3-2 – as for four goals in a half, that happened a year ago to the day when all of the goals in our 3-1 win over Leeds came after the interval.
That half time break came at the worst possible time for yesterday's match, because what had been an end to end thriller turned into much ado about nothing in the second period. To be fair, the attacking intent was still there from both teams, but the quality was lacking and, apart from another free kick by Richards which flew not far wide, there was little to make you think the match would have a fifth goal – my feeling was that, if one did arrive though, the slightly more assured play of the visitors meant it was more likely to come from them. So, County are still without a home win, but a defeat for York meant they did move up another place to twenty first.
As for the two City boys, Barnum-Bobb was pretty comfortable throughout and managed to get forward quite a lot – he coped well defensively in what I'd rate as a seven out of ten performance.
No disrespect to Jazzi, but I must say that my main interest was in his colleague O'Sullivan because he epitomises the young locally produced players already at the club when Russell Slade took charge who I maintain are not being encouraged by our manager.
Well, I'd rate Tommy's performance at six out of ten. Whereas Barnum-Bobb looked like someone who was used to playing at this level, O'Sullivan's inexperience showed occasionally and he did gave away two free kicks (one of which Northampton scored from) just outside the penalty area – also, playing out on the right, his crossing wasn't always as good as I would expect it to be.
However, there were positives to his game which I will return to later as part of what I have to say about City's game at Ipswich yesterday.
Throughout the match I was regularly checking my phone for news of a goal at Portman Road. To no great surprise at all, it resolutely failed to arrive and, just as the final whistle blew at Rodney Parade, I had the confirmation of another goalless stalemate.
Now, the first thing to say is that we should not lose sight of what we are doing right at one of the pitch. David Marshall has not conceded a goal since returning from his latest suspension and yesterday he made good first half saves from Daryl Murphy (a couple of things about this player while I mention him – first, the fact he's not scored yet this campaign tends to back those who felt during our pursuit of him last summer that we were chasing a one season wonder and, second, given how much money we spent in the summer, was there ever really a pursuit?) and his own defender Sean Morrison.
In the main however, it seems that the players in front of him ensured it was a pretty quiet afternoon for Scotland's number one and after the game Russell Slade mentioned that he had been told that the current run of four games without conceding a goal was the club's best since 2005.
Actually, that's only half true. That side did go four league matches without conceding a goal in Dave Jones' first season in charge, but stuck in the middle of them was a 2-1 League Cup win over Macclesfield. You have to go back to the 98/99 promotion season for the last time we went four consecutive matches without conceding and that run was stretched to five with the 6-0 FA Cup win over Chester which featured that fantastic Mark Delaney goal (somehow, I can't see Lee Peltier going past six opponents in a seventy yards run before netting at Leeds on Tuesday!).
So, our run without conceding is even better than our manager thought it was. Russell Slade is a great man for stats apparently and I think I'm right in saying that he recently spoke of teams who keep fifteen clean sheets over the course of a season tending to make the Play Offs. Well, that's six in fourteen matches for us now, so we are well on course to hit that target, but the league table is increasingly telling us that the sides in the top positions are getting clear of us.
Birmingham's defeat yesterday means that we are still only two points adrift of sixth place, but we are now five off the top five (four of whom were among the pre season favourites for the title who, on the face of it, seem unlikely to come back to us because of bad results).
So, if the aim for the season is to finish in the top six, as our manager keeps on telling us it is, two bleeding obvious things strike me  – first, you can get your fifteen clean sheets, but their impact is going to be diluted if you're not finding the net at the other end in these matches when you opponents don't score and second, we really do need to start finding the net soon because, increasingly, draws are no good to us.
A record of one win and five draws from seven away games was fine in the days of two points for a win, but it does a top six hunting side little good under the current points system – we have just played the first of two consecutive away matches against sides in poor form and we really do need more than yet more draws from them.
Seemingly, yesterday was an improvement in an attacking sense because we did at least have a few efforts on target (I see Russell Slade maintains we had two of them last Monday, but I must have have blinked and missed them both) – however, our, admittedly injury hit, strikeforce were hardly battering away at the Ipswich goal.
I use the word "strikeforce" purposely there because, unless it's from a deal ball situation, there's hardly candidates outside that area queuing up to be goalscorers in the current squad are there! If you're the one winger permitted in our lopsided 4-4-2 and you're in a crossing position, you are only ever likely to see two players in the penalty area to aim at.
What you won't see is a midfield runner trying to join Revell and Mason, or whoever else it may be, – we've not had them since Aron Gunnarsson lost the ability (or, possibly, the desire?)  to make such runs or since Jordon Mutch was on our books.
Mutch was the complete midfielder who, when fit, had most aspects of that role in the modern day game covered – while I'd like to see Joe Ledley come back to us some time in  the future. I'm sometimes not sure if he is the ex City midfield player at Palace that we need most.
There is an established Championship midfield player with the stamina levels to get himself in the penalty area to get on the end of one of those crosses on our books mind – trouble is, he's currently on loan to another Championship side.
Tom Adiyemi was deemed not good enough by the manager who signed him, the two who did the caretaker job for a while and by the current boss. I must admit that I've always thought of him as more of defensive midfield man, but, given a more attacking role by new Leeds boss Steve Evans, I notice he has hit the woodwork three times in his last two games – it just strikes me as odd that we were so keen to loan out a player who has attributes which we completely lack currently for the whole season.
All of this brings me, somewhat tortuously, back to Tommy O'Sullivan! Now, I'm not saying that he's got the stamina to be a genuine box to box player, but I was struck yesterday by how he has more pace than I'd previously credited him with. What O'Sullivan has always had though is the ability to go past players and the vision needed to shine in a number ten role and, although it never quite happened for him yesterday, Northampton couldn't really handle him when he got the chance to run at their defenders.
It seems to me that a combination of that pace to make late runs for a cross to be aimed at and his ability with the ball at his feet makes him someone who should be closer to our first team than he is. I'm not saying that we don't have other candidates to play such a role or that he doesn't have weaknesses in his game that would be exploited at Championship level, but all of our possible number 10s are lacking in one of that position's components or another (e.g. pace, vision and composure) and I just wonder if a confident O'Sullivan coming off the bench when we need a goal would represent the most complete number 10 available to us this season.
*pictures courtesy of http://www.walesonline.co.uk/