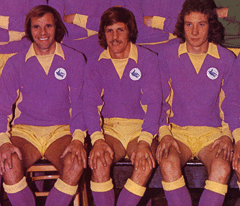 I'll start with the good news. Anthony Pilkington has signed a two year extension on his contract, keeping him here until the summer of 2019. Even at this miserable time for City fans, this has to be seen as a positive because I for one had become convinced that one of our best players would be leaving for nothing next summer when his current deal expired.
As for last night's awful 2-0 loss to Derby County, let's get the possible excuses out of the way first. It cannot be denied that Cardiff City are having a rough time of it with injuries at the moment – who knows when (or if!) Joe Bennett will make his City debut, Lee Peltier was missing with presumably the same injury that has troubled him on and off all season, Aron Gunnarsson and Pilkington had not recovered from the knocks that kept them out against Rotherham on Saturday and Frederic Gounongbe was still missing as well.
So, that was arguably four members of what Paul Trollope would consider his best eleven unavailable and the situation was made worse by the early injury that forced Rickie Lambert off before a quarter of an hour had been played. Lex Immers needed treatment inside the first two minutes and eventually had to be replaced and with Matt Connolly now about to start a suspension which will keep him out of Saturday's trip to Burton (and possibly a couple more games after that as well) after his straight red card, the make up of the team for that game is anyone's guess – the fortnight international break which starts after the Burton fixture cannot come soon enough for City for all sorts of reasons.
I'd also say that the suspension of Derby manager Nigel Pearson just a few hours before kick was probably bad news for City because there was a likelihood that a talented, but hugely under achieving, group of players could be coaxed into the sort of siege mentality that would see them produce the type of performance which went some way to justifying the astronomical, by the standards of a Championship side which does not receive parachute payments anyway, spending on players at that club since the end of the 14/15 season.
Nevertheless, these things can only go some way towards explaining why last night was a thoroughly miserable one on the pitch for City (later on in this piece, I'll talk about why it was hardly any better off the pitch either).
Derby were probably the best of the four sides who have come to Cardiff City Stadium and won without the season being a couple of months old yet, but, for what it's worth, I'd caution all associated with that club against thinking that some sort of corner has been turned on the back of last night's win.
The truth is that, surely, Derby have not faced, and will not face, another such inept and limited team as Cardiff were last night this season. City turned in a display which had relegation written all over it and, although Craig Noone's work ethic in defence, a third competent showing by Ben Amos and another steady display from Jazz Richards offered a few small crumbs of comfort, it showed that the early argument about the three centreback formation being responsible for our poor play was just a red herring. When you are as bad as Cardiff were last night, the formation you play makes little difference – ineptitude is ineptitude, pure and simple.
Overnight, I've seen comments like "the worst display I've watched in ………. years of supporting Cardiff City" from some on the messageboards. That's some statement to make and I don't really see how anyone who was there at Ninian Park during those four or five dreadful seasons we had in the bottom two tiers during the late eighties and through the nineties can say that they have not seen worse than last night.
However, what I will say is that I'm struggling to remember an occasion since we returned to this level in 2003 when we have passed the ball as poorly as we did last night. We went through that awful phase when we were just booting the ball up the pitch in the middle of the 14/15 season, but we had absolutely no pretence of being  a passing side at that time – that didn't come until the man who is now our Head Coach arrived in February 2015.
So, based on how the team changed their way of playing after Paul Trollope joined us and the general impression he has given about how he wants to play now he is in charge, we are a side that wants to get the ball down and play under this Head Coach. Certainly, that seemed to be the intention last night as the team were not intent on wellying it up to the big man like they were for a while under Russell Slade, but the truth is they were just incapable of passing the ball well enough.
Yes, we all know about the lack of pace and creativity in our central midfield, but that was only one of several contributory factors as to why we were so awful last night.
Around the time that Derby scored their increasingly inevitable first goal, I asked if the fact that we could get absolutely nothing going in terms of retaining possession as we attempted to pass the ball up the field was down to our target man being so raw and naive that he was just not offering any options to our players further back, who were trying to develop the game and get us on the front foot.
The general consensus was that, while Kenneth Zohore was certainly not helping things, we were making such a mess of simple passes when the intention was not to look for our targetman, that it would be giving those responsible an excuse they didn't deserve by pinning all of the blame on our young Danish striker.
However, while everyone was looking at and discussing our potential problems over the coming months in the goalkeeping department, the fact that we have real issues when it comes to strikers has been brushed to one side somewhat.
Yes, there are hopeful signs as far as Rickie Lambert is concerned and I must admit that I was saying that the best we can hope for now is a 0-0 when he went off, but, essentially, all we have currently to choose from up front are three targetmen and a converted winger who, despite not making a bad fist of the job, still often shows he is not, and probably never will be, a "proper" striker.
No doubt there are those at the club who will say that Lambert, Gounongbe and Zohore have strengths which offer Trollope different options and that would be true to an extent. For example, Zohore has more pace and movement than Lambert, whose main assets lie in other directions, while Gounongbe offers something in between as something of an all rounder. Yet, essentially, all three of them are target man type strikers and I make no apologies for once again mentioning that we are sorely lacking an Earnie, Chopra, McCormack, Mason type of striker who would offer us a lot more of one or more of the following qualities than we have now – pace, movement, instinctive intelligence and positioning and finishing ability.
Based on what we've seen so far, only Lambert out of our targetmen could be offered up as an argument against what I say in that last sentence – that's why he was a real loss last night, but, given how the team played throughout, can we really say that the result would have been different if he had been on the pitch for the whole ninety minutes?
I'm sure Gounongbe would have been brought on for Lambert if he had been fit and I'm sure he would have been able to do a bit better job than Zohore (who, I'm afraid, appears to be going backwards at Cardiff because he's shown none of the qualities which caused Burnley, Brentford and Middlesbrough such problems when he was introduced from the bench last season this time around) did, but the truth of the matter is that two out of those three targetmen are coming up with little or nothing at the moment to suggest that they can do anything to get us out of the rut we are in – especially when we play at home.
Last night, Paul Trollope stated in his post match press conference that Zohore was seen as "one for the future". City fans who went through the whole Andreas Cornelius experience must have winced when they heard that – of course, Zohore is not costing the club anywhere near as much as Cornelius did, but we were told in January that, in the convoluted transfer deal which managed to get him to Cardiff while we had a transfer embargo on us, KV Kortrijk paid Odense in the region of £1 million so that they could loan him to us.
Now, whilst appreciating that things may not be as simple as this when the same man owns both clubs, shouldn't it follow that we must have paid the Belgian club something similar once he moved here on a permanent basis after our embargo was lifted?
Speaking as someone who was pretty supportive of Zohore while he was here on loan last season, the decision to sign him, especially on a three year contract, quite surprised me at the time and, now, when you see the budget Paul Trollope was given and the way the squad is, it has to be seen as a very questionable decision – I think anyone who saw Zohore struggling so much last night has to be thinking that the £1 million we, presumably, paid for him could have been far better spent.
Mention of KV Kortrijk brings me on to the player who is currently the leading goalscorer in the top flight of Belgian domestic football. The player concerned is one Idriss Saadi whose has netted an impressive seven times (that's three more than anyone else in the league) for Vincent Tan's Belgian team in the opening weeks of the season and, when you contrast that with what our pair of summer imports from Belgian football have done so far, questions have to be asked, yet again, about the whole recruitment and player evaluation procedure at Cardiff City.
Saadi is the latest in a series of strikers we have signed in recent years who the club have decided are not good enough for our first team. Often, this decision has been arrived at after the player concerned has been given very few chances to prove themselves, but, in almost every instance, letting them leave the club, either permanently or on loan, could have been justified to some extent by the club on the grounds of finance. This time though this, surely, cannot be true of Saadi who, reportedly, did not cost us a great deal and cannot be on anything like the sort of wages that someone like, say, Rickie Lambert is?
To be fair, I didn't see much from Saadi in the first team or the Development side to suggest that he could score goals for us at the rate he is currently doing for Kortrijk and I suppose the decision to let him return to mainland Europe could have been forced by a degree of home sickness. However, when I look at how one dimensional our specialist strikers are and when I think of one or two of the flashes I saw from Saadi when playing for the Under 21s, while also remembering some of the goals I saw him score on video, it's hard not to think that he is a player who may be able to give us some of those qualities which I listed earlier in the striking department that we are seriously short of currently .
Getting back to last night, has it really got that bad that we have to play Bruno Manga as a striker? Not for the first time, I was left confused by, first, the selection and, second, the use of our substitutes. Picking Semi Ajayi (who I don't believe has played a single game for a month or more) as one of the seven subs seemed a pointless exercise to me when you already have Manga as cover at centreback, wouldn't it have been better to have had a young pro like, say, Jamie Bird, David Tutonda or Eli Phipps there who would at least have given the suggestion that this Head Coach is prepared to look outside the "tried and trusted" to give us some sort of forward impetus?
On a similar note, can anyone understand what is going on with Emyr Huws? Here is a player who has shown when turning out for his country that he can, potentially, offer things that our current central midfield plodders cannot, so why doesn't he get used?
The only answer I can suggest is that his lack of a pre season with Wigan has left him well under par in the fitness stakes and he is not showing anything in training yet to justify his inclusion. However, Chris Coleman was perfectly happy to use Huws for almost half an hour against Moldova after watching him in training for a few days, so shouldn't he be worth a try now for twenty minutes in a midfield that was failing so poorly, yet again, last night – if Trollope still doesn't think Huws is ready, then we are getting into Zohore territory with him where you have to start wondering if the £1 million or so we paid for the player could have been better spent.
If things weren't bad enough already, I got home last night to read this piece about the loan signing of Ravel Morrison from West Ham virtually two years ago to the day. As shown by this story, there was no full time manager in place when we signed Morrison –  it was reported that we were interested in the player when Ole was here, but, judging by how little he used him, Russell Slade would, presumably, have been against the deal if he had been at the club at the time.
Also, I cannot see that the Scott Young/Danny Gabbidon caretaker manager combination that was in charge at the time were drivers behind the move, so who was? It would appear then that Morrison had to be a signing authorised by the other three members of the transfer committee (i.e. Vincent Tan, or his representative, Mehmet Dalman and Ken Choo - this article shows that Mr Choo was working for the club when Morrison was signed).
I had a quiet laugh when I read the club's response to the allegations because it seems that even they realise that they cannot blame Malky Mackay (who had been sacked ten months earlier) this time, but, besides that, it would appear that City reacted as they should have done by investigating the allegations themselves and then through an outside source – the problem appears to be that they did not let the relevant authorities know what they knew.
For myself, I don't see that there was some sinister motive behind City's failure to inform the FA of the agent's (who has what could be called a chequered past) claims. I realise I could be guilty of suggesting something just to try and add credence to a pet theory of mine here, but, if I had to guess, I would say City have, once again, suffered for not having sufficient football knowledge among their off field decision makers here and it may well be that there was no one involved with the deal at the club who knew that the FA needed to be informed of such allegations as soon as they were made.
Whatever the truth, it cannot be a good thing that the club have found themselves involved in the whole controversy which has seen Sam Allardyce (who leaves the England job with a 100% winning record!) go from the man who was going to guide England to the World Cup one day to ex England manager with a series of very awkward questions to answer the next.
With dreadful defeats on the pitch and possible rule breaches off it, Cardiff City are doing a very convincing impression of a club in crisis at the moment. Indeed, I would argue that if you presented a neutral with an analysis of how the City had been run, the way it had been managed, the way they have gone about their recruitment has been handled and their youth development record  in the last few years, they would conclude that this is a club that is heading for an inevitable relegation unless dramatic changes are made.
Would those dramatic changes include the sacking of Paul Trollope? Well, I like what I've seen and heard of the man and still believe that he could eventually lead us to a much more enjoyable brand of tactically flexible football, but can the vague promise of better things to come be enough to overcome the obvious present day problems?
Governments tend to get rejected at the ballot box when they run on such platforms and, for the first time, I find myself thinking that we may need to make another change of manager/coach sooner rather than later. Besides what's happening on the pitch, what's not helping our Head Coach is that three out of the four outfield players I would identify as "Trollope signings" are, for different reasons, playing so little part in our games – many managers have been sacked at other clubs when there was more evidence that their methods were working than there is that Trollope's are at Cardiff and where there were less question marks against their transfer dealings than there are with Trollope's at Cardiff.
*pictures courtesy of http://www.walesonline.co.uk/