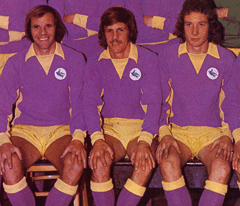 Although we conceded seven in losing to Cambridge United in 1994, the biggest thrashing I have ever seen us take has to be the 6-1 defeat at Ninian Park against Sheffield United on 3 December 1977 – I can clearly remember being completely stunned by the result mainly because there was nothing beforehand to indicate that anything like it was going to happen.
The 1977/78 season was an odd one even by Cardiff City standards. As usual, we were skint and, as was normal at that time, we ended up struggling against relegation from the old Second Division, but it was the very strict interpretation of the Safety of Sports Grounds Act by the local Council which created most of the early season headlines. In April 1976 35,000 had packed into Ninian Park to watch us beat Hereford United and the following month 30,000 had watched the infamous Wales v Yugoslavia European Championship Quarter Final. The capacity of Ninian Park was quoted as 46,000 in Rothmans Football Yearbook for 1876/77, but, fifteen months or so after those two 30,000 plus crowds, City were told that the capacity for the ground had to be cut to 10,000 with the fire trap that was the very atmospheric old Grange End closed down (it was eventually demolished and replaced by the uncovered concrete terrace that stayed in place until a roof was added for the 2001/02 season) and, last but by no means least, the floodlights could not be used during games.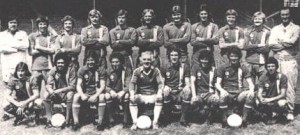 This led to all sorts of weird and wonderful kick off times on a Saturday afternoon (from memory, half past one was the earliest one) and I can also recall rushing from work at five o'clock to get to an early season League Cup match with Torquay which kicked off half an hour later. Hardly surprisingly, gates suffered – there were just 1,711 there for that Torquay game, less than 9,000 turned up for the very attractive game with Spurs early in early September and generally they fell within the six to eight thousand range that season.
However, the strange circumstances and, relative lack of atmosphere seemed to have more of an effect on visiting sides than it did on the City – if you were someone who only went to home matches at that time, you must have been baffled as to why a team which a record of won four and drawn two at Ninian Park against that year's top six were down in the bottom four for virtually all of the season.
So it was, that City went into that match with Sheffield United surely confident that they could add to an impressive home record which had seen them beaten just the once at Ninian Park (by 4-1 against Luton – when we did lose at home that year, we certainly lost big!) in eleven matches in all competitions so far that season. After all, although they had recovered from an awful start by losing just one of their last ten matches, Sheffield United still hadn't won away in the league and City had won their last three at home – surely nothing could go wrong?
Well it soon did as, after a start which gave no hint of the carnage to come, the visitors discovered that a City defence which, that Luton defeat apart, had been very solid at home was having what could politely be described as an off day. Sadly there was no polite way to describe keeper Bill Irwin's performance – he was having a mare! Once left back Cliff Calvert had put Sheffield ahead after City had failed to clear a routine cross, the goals came at regular intervals with Northern Ireland international striker Bobby Campbell and midfielder Tony Kenworthy scoring to send them in 3-0 up at the break.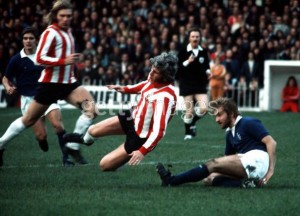 Often when a team has a big lead at half time, the second half sees them ease off content that their job is done, but, with City looking so jittery, a Sheffield United team which, judging by it's record that season, was a pretty ordinary one, didn't have to do too much to get the chance to add more goals as one of the few remaining links with the far better Blades team which had denied us promotion in 1970/71 began to take control. Alan Woodward was a stylish right sided player who made over 500 appearances for Sheffield United in a fifteen year career with them and those old enough to remember him will surely recall his tremendous long range shooting from free kicks and open play which, for me, rivalled that of Peter Lorimer of Leeds. Woodward, aided a little by the hapless Irwin, scored a typical goal that afternoon to put Sheffield United 5-0 up and the crowd, many of whom by now had gone past the getting angry stage to one of taking the piss out of their team responded by applauding the grey haired veteran who must have come very close to getting an England cap a few years earlier.
City caved in twice more either side of Woodward's goal to allow Chico Hamilton and Campbell again to take the score to 6-0 and I can remember watching from the corner of the Bob Bank and Grange End as I made my way out when John Buchanan scored to ironic cheers from the home support in the dying minutes. As I mentioned earlier, there was nothing to indicate that such a trouncing was coming – the City team were missing a few players who might have been in the starting eleven (e.g. Ron Healey and Tony Evans), but they were out with long term injuries and the team responded to this home humiliation by winning six and drawing two of their next eight league games at Ninian Park.
By now, you don't need to be a genius to work out that we must have been pretty awful on our travels in 1977/78 and the week after the Sheffield United nightmare, City had to face league leaders and eventual Champions Bolton Wanderers at Burnden Park- with just two draws to show from their eight away games, it was fair to say team and supporters travelled north with a sense of trepidation and sure enough, although City competed well to score three themselves, they shipped another six goals in what turned out to be Robin Friday's last game in professional football.
Although it didn't happen immediately after us conceding twelve in two games, a decision by Jimmy Andrews to move centre half Paul Went up front and bring in Keith Pontin at the back, together with the recovery from injury of Ron Healey, helped shore things up a bit defensively. The trend of good results at home and shocking ones on our travels continued though and by the time they went into their final away match, City were still looking for their first win after losing fourteen of their twenty games on the road. However, a last minute goal by Tony Evans helped secure a priceless win which meant that one more victory from our final two matches would keep us up and when goals from Buchanan and Went enabled us to turn around a 1-0 half time deficit against Notts County, supporters were able to celebrate another late escape from the drop before seeing out the campaign with a notorious and somewhat dodgy (allegedly!) 1-0 defeat by Orient which kept the London team up at Blackpool's expense – oh and guess who we beat in that last away game, yes, Sheffield United!
3 December 1977
Cardiff City 1 Sheffield United 6
City Irwin; Attley, Thomas, Went, Pethard; Giles, Campbell, Dwyer, Buchanan (1); Robson, Sayer sub. Bishop
Sheffield United Brown; Cutbush, Colquhoun, Flynn, Calvert (1); Woodward (1), Kenworthy (1), Hamson, Hamilton (1); Campbell (2), Stainrod
HT 0-3
Att. 6,409