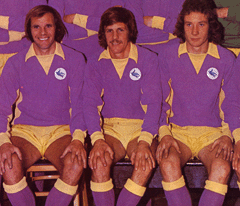 Time was when you could make a fairly educated guess as to how your team would do over the coming season on the day before their first game, but then along came transfer windows! In many cases now you get sides muddling through with what they have got until the last week in August when you start to see something closer to the squad that you will spend the next eight months and more praising, abusing, defending and attacking in equal measure taking shape.
That's the situation at Cardiff City where it is very much "work in progress" going into the 2009/10 season. Dave Jones has made no secret of his wish to bring in three more new players and this was before the departure of Paul Parry – with at least one more high profile departure likely before the end of the month, our manager might be looking for double that number of new recruits soon.
Therefore, rather than speculate on who might be coming here, let's have a look at those who have become City players this summer. We have signed four new players whose main duty is to stop the ball going into our net and I have seen three of them (Marshall, Quinn and Gerrard) play twice and Mark Hudson just the once. So far at least, their impact has been a positive one – Marshall made some fine saves against Valencia and looks like an improvement on what we had in that position last season. Quinn has done a solid job at right back, Gerrard looks an assured performer (although I wish people would stop comparing him to Roger Johnson all the time) and Hudson was nowhere near as bad as many of his messageboard critics say he is.
I know it's too early to come to any definite conclusions yet, but so far at least, there's not one of those four who looks like a dud. No, if there is a player causing concern amongst our newcomers at the moment it is the returning hero Michael Chopra. His increasingly anonymous displays last season could be put down to a heal injury which had been troubling him for months, but, although he is, apparently, over it now, the Celtic and Valencia matches saw no improvement on what we were seeing from him in April. Chopra showed in 2006/07 that he has it in him to be a force at this level and he really needs to step up his performances to those sorts of levels in the coming weeks – I am hopeful he can do that.
With the seemingly imminent departure of the split personality that is Ross McCormack, Chopra really does need to hit the ground running this season because we are very short of options amongst those players who are charged with putting the ball into the net.
With all or virtually all of the Roger Johnson money spent on new players, I don't think Messrs Jones and Ridsdale can be criticised for being indecisive in the transfer market this summer, but maybe they could have concentrated more on trying to refresh (to use a Peter Ridsdale type word!) all areas of the team rather than just it's defence – was another full back really a higher priority for them than doing something about our misfiring midfield?
As things stand our squad has an unbalanced look to it and this will only become worse if and when McCormack (and maybe Ledley) leaves – we need to act quickly to rectify that situation because, whilst our fixtures this month don't look too daunting on paper, the Championship is predictable only in it's unpredictability! The Scunthorpe's, Blackpool's and Doncaster's of this world are just as capable of beating us as the Newcastle's, West Brom's and Middlesbrough's are so what we don't want to happen is for the reinforcements to turn up on 30 August with us in the bottom six.
I made a promise to myself when I decided to create this blog that I would try not to mention those last four matches too often, but it's impossible not to include them in any preview for the coming season. As our Play Off place was slipping away last April you would get players saying in the days in between games that lessons had been learned after the Preston, Ipswich etc. matches and everything would turn out fine, but they weren't and it didn't. So, why should we believe those same players when they now say that they have learned from what happened in our nightmare finish to last season?
I'd love to be proved wrong, but when you consider that the current midfield consists of players who, with the possible exception of Chris Burke, all went missing in those last four matches, it's hard to be confident that those lessons they keep on talking about have finally been learned. That's another reason why more new players are required – at the moment something like six of our likely starting line up tomorrow still have that aura of failure about them, we need to get it so that they are in the minority in our team.
Given that, hopefully, our squad for most of this season will look very different to the current one, it's hard, as well as fairly pointless, to try and predict what the coming months will hold for us, However, in the very unlikely event that we have to get by with the current lot over the next nine months, I would say that, while they have the ability to secure a top eight place again, the fallout from what happened at Preston in particular would see us finish in the lower mid table area – say something like fifteenth and I think we would have a different manager by then as well.
*Originally published on 7 August 2009.