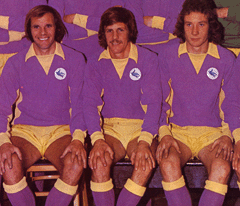 So far so good then for Cardiff City – without a goal in their last three pre season matches, they got seven in two wins when the competitive stuff started that ensured that the switch to their new stadium was a seamless one.
However, despite that winning start, I think it is fair at this stage to ask whether the good results are down to the strength of the City team or the weakness of the opposition? Scunthorpe looked a decent side for twenty minutes last Saturday but reacted so poorly to going 1-0 down in unlucky circumstances that some people are already writing them off and, although Dagenham and Redbridge provided a sterner test, they are, after all, two leagues below us.
That lingering doubt as to whether City have just been lucky to face two poor sides in their opening to the 2009/10 season should be resolved over the next four days though as successive away matches at the type of grounds where any sort of genuine promotion candidate should come away with something will tell us so much more about them.
Mind you, maybe I should have changed the term "come away with something" there, because coming away with something has not been the problem on our travels over the past two seasons. Forty six away matches in that time have seen us beaten only thirteen times, so in something like 70% of our away games we have "come away with a something" – the problem has been how few times that something has been three points!
That low number of away defeats is more than counter balanced by a pretty miserable nine away wins over the same period (mid table Ipswich managed that many last season!) and, for a club that keeps on telling us that their aim is promotion or, at worst, a top six place, that is just not good enough.
Ever since the three points for a win system was brought in, the old attitude that a draw away from home was always a good result has had to be reassessed – yes, of course, an away draw is a fine result at certain grounds, but at others it means that you are, in all likelihood, losing ground on the teams you are competing with. With that in mind, a total of twenty four away draws in the last two seasons sends a confused message – do they prove that we are a resilient bunch of travellers who just do not accept defeat without a real fight or do we go away from home with the attitude that not getting beat equals job done?
Actually, let me throw in a third possibility here that might apply to us – do we go into each away match with a positive attitude, but do not quite have the belief to see the job through to the end? I think there is a good chance that this could apply to last season's side in particular.
Although it is sometimes forgotten in the light of those last four matches, we spent forty two games proving that we were one of the best four teams in last year's Championship. As if to prove that, we went into the last quarter of an hour at Wolves, Birmingham and Burnley in the lead and we were drawing at Reading and Sheffield United. When you consider that we also took the lead at Reading very late on, that is a potential thirteen points we are talking about there and yet all we ended up with was five!
Now, going back to what I said about a draw at certain grounds being a good result, you can argue that not losing at any of last seasons top five is an outstanding achievement, but the truth is that it could and should have been so much better. In the four matches where we surrendered a lead, it was almost as if the team went into the dying stages of these matches thinking "Christ, what a result this will be, but even if they score we have still got a point" – maybe one reason that six sides finished above us is that they had the self belief that we lacked to see things through in similar situations?
Going back to the two upcoming matches. Blackpool away last season represented more of what I am talking about. We finally got something to show for our dominance when Paul Parry scored with seven minutes to go, but we then allowed a side who lost ten home matches last year to snatch a point deep into added time – would a Wolves, Birmingham or Sheffield United have done that? Only one side lost more home matches than Blackpool last season and that was Plymouth, but we were one of only seven sides to lose there with a display that was right up there amongst our worst of the campaign – in that respect, our performance at Home Park wasn't really typical of our last two seasons because we are, almost always, competitive on our travels.
At other clubs it is usually just the new players that are on trial with supporters at the start of a season because, basically, you know what you are going to get from the players who have been at the club for a while. However, given our end to last season and that slight question mark as to whether the team quite had the level of self belief needed for a top six team in away matches prior to going to Preston, Charlton and Sheffield Wednesday, the established players have plenty to prove as well.
Hopefully, the good start can continue, but the likelihood is that the team will come under much more pressure in their next two matches than they had to endure in the first two and it is then that we will get the first signs as to whether the players who failed so badly in the run in will have learned lessons from what happened not just then, but throughout the whole of last season.
*Originally published on 15 August 2009.