I think it would be fair to say that, for City fans of a certain age, the 1975/76 campaign is one of their favourite seasons. Speaking for myself it was the first time I had seen us promoted after thirteen years of supporting the club and the good football we played much of the time along with memories of tremendous games like Peterborough, Palace and Hereford will always live with me.
However, it needed the signing of Adrian Alston to galvanise us into a side challenging at the top and that was a little way off yet when Sheffield Wednesday came visiting on 18 October 1975. Wednesday, who had been relegated from the Second Division along with City at the end of the previous season and had appointed Len Ashurst as their new manager two days earlier, were a poor side who would need a win on the last day of the season to avoid a second successive relegation, but they were a point above us going into the game which only went to show what a mediocre start City had made.
With three wins and five defeats in their first ten games, City were down in seventeenth place in the old Third Division and, although big wins at Mansfield and at home to Wrexham had hinted at better things to come, the truth was that supporters would have been more concerned with the bottom four of the league than the top three at this stage.
With City bringing in Wales great Mike England during the summer, the arrival of Tony Evans on a free from Blackpool where he had not managed a goal in his six first team appearances hardly registered with the local media and supporters. Furthermore, it appears that manager Jimmy Andrews wasn't fully aware of what a gem he had got us as Evans was not in the starting eleven for the first couple of games and then was used, briefly, as a winger when he did break into the team.
Evans' early appearances in a City shirt didn't hint as to what was to come, but, two goals in the three matches leading up to Wednesday's visit had put him just a single goal behind Phil Dwyer in the club's scoring stakes as the likes of Brian Clark, Gil Reece and Derek Showers toiled away with just one goal between them.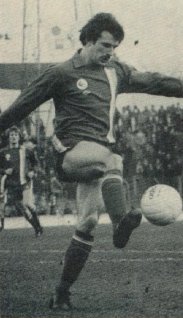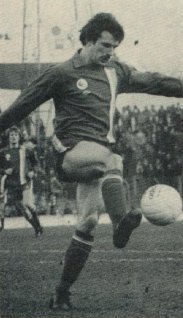 As it turned out, City were the better team throughout against Wednesday, but they spent more than three quarters of the game failing to make their superiority count until Evans fired in from close range in front of the Grange End and, within a few minutes of that, the points were in the bag when visiting defender Jim Quinn turned a cross into his own net. City's win lifted then a couple of places up the table, but a fourth successive away defeat, at Aldershot, followed by a draw at lowly Chester (courtesy of another goal from Evans) meant that no corners had been turned just yet – that was to happen in the following game when a couple of goals from debutant Alston and another from Evans helped City to a nail biting 4-3 win over Chesterfield.
However, my main reason for remembering this particular game came in the early hours of the following day. Myself and a few friends had been invited to some function or other in the old Bluebirds club and as we staggered out of there in the early hours of Sunday morning, we were greeted by the sight of Tony Evans  making his way very unsteadily along the walkway behind the Canton Stand towards us.
Our ace striker had obviously been out celebrating his goal. You know the thought you sometimes get when you know you are drunk but then someone else comes along in a fair worse state and you suddenly start thinking you must be sober? Well Tony Evans was the someone else that morning and he was now intent on having a few more in the Bluebirds Club! When we told him that it had shut, he decided that he would show us just how he had scored his goal and so had us playing the role of Wednesday defenders (I was Jim Quinn!) or City team mates as he provided the running commentary as to what had happened!
I was never there to see them, but I wouldn't be surprised if there were more action replays of Tony Evans goals somewhere in Cardiff early on Sunday mornings over the following months because he managed twenty four of them that year. City finished as runners up to Hereford United to return to the Second Division where Evans coped easily with the step up in class as the goals flowed on a regular basis until a serious injury led to him missing much of the 77/78 campaign.
There are many former City players who you never hear of again once they finish playing the game, so it was great to see Tony Evans featuring in the national press a few years ago especially in such a worthwhile way.
However, I have to take issue with the writer of that article when he describes Tony Evans as an "ordinary footballer". Okay, I don't think he was quite the same player again after his injury and I suppose his career does look pretty mundane when compared to some today, but he is right up there with my favourite ever City players.
At his best, Tony Evans was a very quick, bright, brave and skilful player who could also finish well – I think he had it in him to have been a good First Division player if it wasn't for his injury. As it was, Evans did play in the top division with Birmingham after they had been promoted in his first season with them after leaving us for a fee of £120,000 in 1979 – he scored twice for them in the first ten minutes on his return to Ninian Park! He also managed a hat trick in the top flight against Manchester City at St. Andrews but couldn't maintain his first team place there and went on to have spells with Crystal Palace, Wolves and Swindon before retiring in 1986.
18 October 1975
City 2 Sheffield Wednesday 0
City Healey; Attley, England, Larmour, Charles; Buchanan, Dwyer, Livermore, Anderson; Reece (Clark), Evans (1)
Wednesday Ramsbottom; Quinn (OG), Cusack, Dowd, Shaw; Potts, Harvey, Mullen, Henson; Proudlove, Joicey (Knighton)
HT 0-0
Att. 7,939