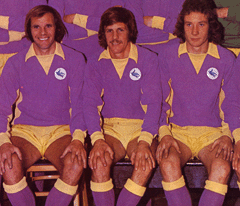 This section was intended to give reports and views on games that I had seen Cardiff City teams play at this level, but this message, reproduced below, that I posted on the Cardiff City Mad messageboard this morning explains why it might well be one of the least used parts of this blog!
"Last week Peter Ridsdale was crowing about how well the club had done to secure a shirt sponsorship deal a month or so later than virtually every other club in our league. Our Chairman also took the opportunity to have a dig at critics, many of whom are posters on this site, of the club's marketing, ticket and media staff amongst others as he praised the "unsung heroes" that are employed at Cardiff City.
Judging by what I have read, many of the criticisms that have, seemingly, upset Mr Ridsdale are completely justified, but, leaving that aside, I thought I would give another example of the work that these "unsung heroes" do.
A week ago last Saturday I posted the following thread on here
http://www.ccmb.co.uk/fudforum/index.php?t=msg&goto=1504 662&rid=19&S=6a4797c9daaddf7c0db0a44404a74ac6#msg_15 04662
concerning the Academy game with Portsmouth which was played that day and, as mentioned in the thread, I sent a short message through the "feedback" section of the official site which said that, surely, it was not too much trouble to just put a couple of sentences on there informing supporters of any change of time, date, venue etc. of Academy games in the future – I have not even had an acknowledgement of that message from the club up to now.
Last Saturday the Academy Under 18s played Charlton in a game which the club programme had been saying would kick off at 12.30pm as opposed to the normal 11.00 am. When I checked the relevant page on the official site, I found that, apart from having been updated to include the result of the Portsmouth match, it was unchanged from the link I posted in my original thread i.e.
http://www.cardiffcityfc.co.uk/page/Academy/0,,10335~1711348 ,00.html
and there, at the bottom of the page, was the same line "U18 home fixtures will be played at Cardiff Athletic Stadium," that had been proved to be totally inaccurate the previous week. Therefore, I decided this time around to take Tonteg Bluebird's advice and use the club's contact point for confirmation of where and when the Charlton match was taking place. At around 8 o clock on Saturday morning (some four and a half hours before the advertised kick off time) I sent Anthony Redwood an e-mail saying;-
Having been caught out by the change of venue for last week's match, can you confirm that the game against Charlton is at the Athletics Stadium (kick off 12.30pm) please.
Thanks.
Paul Evans"
I did not get a reply before midday on Saturday (not really blaming the individual concerned for that because he may well have been too busy on match day morning to answer e-mails from people who were not related in any way to any of our Under 18 team – he also should never be put in that position either). So, for the second successive week I drove a mate of mine to the venue the club were telling me the game was being played at and arrived at the time that the club were telling me the game would start.
The previous week I had arrived at Leckwith to find an Athletics meeting going on and was told by stewards that the game had been switched to Treforest. This time around, I arrived to find the stadium completely empty and not a steward in site – I learned later that afternoon that the game had once again been switched to Treforest.
I am still waiting for a reply to the e-mail I sent on Saturday morning and have this morning sent a further mail commenting that "customer care really does seem to be an alien concept at Cardiff City these days".
In my original thread I also commented that the club seem to discourage supporter attendance at reserve matches on the very rare occasions that we actually have a second team fixture and what happened last week could be taken as further evidence of this.
I was surprised to learn from Dave Jones' pre Newcastle match press conference that there had been a reserve game played against Hereford last week (we won 3-0 apparently), but you try finding details of it on the official site (it's useless trying the section headed "reserves" because the last entry in there is dated 12/01/09!)! I still don't know where the game was played so it may well be that I would not have gone anyway, but, that's not the point – interest in the club is as high now as it has been for decades, but so much of what goes on at the club just does not reflect this.
Although many will doubtless feel that the reserves and Academy teams are relatively trivial matters compared to the first team, there are quite a few of us who enjoy watching our younger players in action. I got a buzz out of watching the early performances and seeing the development of players such as Ledley, Jerome, Blake, Gunter, Ramsey and Matthews before they got their first team chance, but nowadays it seems as if the club are going out of their way to make it harder for us to watch non first team action – I'm sure there is nothing sinister behind this, but a little bit of communication with and thought for those genuine fans of the club who will be watching reserve and youth football long after the relatives of the players involved today will have stopped doing so wouldn't go amiss.