Compared to the average for this division, Dave Jones was in charge at Cardiff City for a very long time. Six years is about four times more than managers tend to get in the Championship, so I suppose it's only natural that his way of going about things has had some sort of influence on how we, as supporters, tend to think about things. An example of this came early in yesterday's 3-1 win over Bristol City, when Aron Gunnarsson suffered an injury which, pretty obviously, was going to lead to him being substituted. I immediately notified the people that I was with that this would mean that Paul Quinn would replace Gunnarsson with Andrew Taylor moving forward into midfield – after all, that's what Dave Jones would have done in the same situation, but I was soon to learn that our new manager thinks differently!
The substitution I was on about was, essentially, a defensive one – Taylor has proved himself as a left sided midfield player at this level, but, by his own admission, prefers to play left back and it's only logical that this, albeit unconsciously, effects his thinking at times if he is being used in midfield. However, our new manager decided to go with bringing another attacking player on and wasn't he proved to be right in his thinking over the next eighty minutes!  Joe Mason bettered his impressive showing against Parma in the final pre season match with one that had Bristol City not knowing how to cope with him during that first half when City played their local rivals off the park. Mason was involved in virtually every move of significance that City produced – he showed a turn of pace that came as a surprise to me and, more importantly, our opponents while looking a natural for that position in "the hole" at the tip of a four man diamond midfield.
On that form, it's going to be hard to keep Mason out even when Gunnarsson, Kiss and McPhail are fit enough to be considered and when we have brought in the new players that we still need despite our very good start.  Joe was my City man of the match yesterday on a day when there were so many candidates for that award (e.g. Cowie, Whittingham and McNaughton), but it was also very pleasing to see Craig Conway giving a demonstration as to why he may well become a very important member of the team over the next nine months. When you talk about wide midfield players, most supporters, myself included, automatically think "winger" and they also have a mental picture of the sort of player a winger should be – quick, tricky and skilful like Chris Burke was at his best.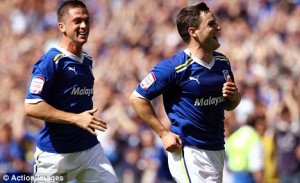 Based on the evidence so far, Conway does not have these crowd pleasing qualities in abundance, but there is more than one way to be an effective winger/wide midfield player and if there is one player from the past who he puts me in mind of at the moment it is Steve Guppy the former Leicester and England winger. Guppy was never one for the electrifying burst past his marker or the dazzling bit of skill which left a full back flat on his backside, but he worked very hard for the team and created no end of goals with his crossing ability. All Guppy needed was a yard or so of space to get his cross in and in it would come – invariably accurate and delivered to strikers who knew it was coming and were able to time their runs accordingly, rather having to start all over again as their supply line chose to check back and try to beat his man again. Maybe the coming weeks and months will show this opinion to be wrong, but at the moment Conway looks like someone who our strikers will love because they know, more often than not, a good cross is coming in – besides this, Conway appears to be able to cross off either foot (for someone listed as being right footed, it wasn't a bad finish with his "weaker" foot for his goal) as well as work tremendously hard for the team.
Conway wasn't the only City player working hard though, far from it and, after the hardest working of the lot, Don Cowie, had been denied a deserved goal by David James after a superb passage of play also involving McNaughton and Mason, Earnie made it 3-0 with just over half an hour played for the moment that got the biggest single cheer in an afternoon full of them. Earnie's last goal for us in his first spell was on 24 August 2004 at Kidderminster in the League Cup and, almost seven years later, he got off the mark second time around with a tap in from all of three yards to, effectively, kill the game off.
When a team is well in front at the interval, the second half often tends to be an anti climax and this proved to be the case yesterday. In saying that though, City's work rate was still impressive and you got the impression that there was another gear to be found if it was needed. It's in the nature of things that there will always be criticism from some quarters even after the most comprehensive of wins, but I do find that some of the stuff said about our defending for their goal was just having a go for the sake of having a go. Yes, the wurzels were poor – their patched up central defence creaked and groaned all afternoon and McAllister had a nightmare before joining Jay Lloyd Samuel in the left backs subbed at half time club, but, every team in this league has players with the ability to hurt us and Campbell-Rice and Maynard did that with their consolation goal. When the performance and victory are as good as they were yesterday, I prefer to celebrate the things that we did well rather than dwell on the, very few, occasions when we didn't get it right.  Let those who are paid to do it by the club carry out the inquests if they are needed – there aren't going to be many games when we can effectively declare after 36 minutes this season, so I'm just going to savour the fact that we could yesterday.
If one incident epitomised what the team is about at the moment it came in the dying minutes when the game was, to all intents and purposes, over and done with. We had a free kick in the corner where the Canton Stand meets the Ninian Stand and Whittingham and Cowie were stood over the ball which the latter played short to Kenny Miller who almost scored. Within seconds though the wurzels were breaking clear through Campbell-Rice in a position diagonally opposite where the free kick was taken from and there was Whittingham (yes, that's Peter Whittingham!) busting a gut to get back and help the defence out – I thought Whitts put a great, and often unglamorous, shift in for the team yesterday and, although he may not always look like a natural athlete, his work rate so far, allied to his performance in pre season fitness and stamina tests, rather suggests that he is. Anyway, I suppose the real test for Whittingham and the rest will come when we have lost a few games and it's a cold winter's day somewhere up north – if Malky Mackay can get the same response from his players then that he is now (and gets the new players he says we still need), then forget talk about consolidation, we can start looking at the top six again.