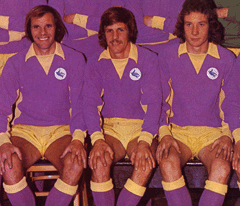 I should think that any City supporter will choose the Play Off Final goal as their main memory of Andy Campbell's three and a half years with us. The composure he showed in putting away what was a difficult chance in a very high pressure game serves as a reminder that this was a player who was scoring goals to put Manchester United out of the FA Cup less than eighteen months earlier and who had made a goalscoring impact with England Under 21s in his four appearances for them.
What Campbell definitely had was pace, but, certainly during his initial loan spell with us, he showed that he had enough finishing ability to prove that his lob against QPR was no fluke. Campbell had just turned twenty four when he scored what was, arguably, our most important goal of the last decade and, although it's probably fair to say that by then he wasn't fulfilling the promise he had shown two or three years earlier, there was little to suggest that he would go into the sharp decline which saw him playing Conference football at the age of twenty seven.
If the Play Off Final goal is my number one memory of Campbell's time with us, then the second most powerful one I have is of that absolutely awful penalty he took against Leeds some seventeen months after his Millennium Stadium high. That scuffed spot kick, which barely had the strength to have made it over the line if Neil Sullivan haven't had saved it, was the effort of a player totally devoid of confidence and I am sure I was not the only person in the Ninian Park crowd who expected him to miss that day. Many of our supporters had already turned against him by then and the penalty miss only accelerated that process – Campbell's City career effectively ended that afternoon and I have heard rumours of off field problems which led to his rapid demise, but always having to be in competition for a place with the goalscoring machine that was Robert Earnshaw in those days couldn't have helped his cause either.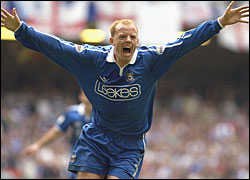 With the benefit of hindsight, I don't think Lennie Lawrence did Campbell any favours by selecting him in front of the very popular Earnie at the start of the 2002/03 season. Through no fault of his own, Campbell found himself cast by some as the villain of the piece and when Earnie's hat trick in a League Cup tie at Boston United, effectively, forced the manager's hand into making him the regular starter out of the two then Campbell began to be seen by some as something of a liability as, like every other player in that league that season, he simply couldn't compete with Earnie's rate of scoring. However, even though his shortcomings were becoming more apparent, Andy Campbell still had enough going for him at that time to be one of the best back up strikers around at the level in which we were playing at the time. Indeed, in the FA Cup Third Round tie against Coventry at Ninian Park in January 2003, Campbell showed he was still capable of causing plenty of problems to teams from the higher divisions.
Coventry were in the same sort of position in the Championship table as they find themselves in going into tonight's match and they owed their place just outside the Play Off places to an unbeaten run of six matches going into the tie. However, after what they had done to Leeds at the same stage of the competition a year earlier, City had good reason to fancy their chances prior to a game which attracted Ninian Park's second largest attendance of that promotion season.
Perhaps it was Coventry Player/Manager Gary McAllister's Leeds connections which led him to whinge about Ninian Park's pitch, it's showers…….. it's Clark's Pies after the match – you name it and McAllister wasn't happy about it, but, then again, it might have been because his side had seen what had looked like a comfortable victory taken away from them by an Andy Campbell inspired comeback!
After the sort of fast start from City that lower division sides are expected to make in such Cup ties had Coventry wobbling in the opening stages, the visitors struck in their first serious attack when Leigh Mills received a McAllister free kick with his back to goal, swivelled and clinically fired home at the Grange End. After that, City looked to be set in the role of plucky underdogs as they continued to push forward with enthusiasm but Coventry always appeared to know that bit too much for them.
Three minutes into the second half, Andy Campbell was brought on to replace the injured Andy Legg, but, although he looked pretty lively straight away, things got worse for City five minutes later when celebrity referee Graham Poll awarded a penalty to the visitors after a trip by Gary Croft on Dean Holdsworth. Neil Alexander again showed the incredible knack he had throughout his City career for diving the wrong way for penalties as McAllister rolled the ball into the opposite corner and Coventry looked home and hosed.
Andy Campbell wasn't the only City forward who came in for criticism in the light of Earnie's amazing goalscoring that season and it is an indication of the levels of supporter expectation at the time that Peter Thorne, who finished the campaign with a perfectly respectable fifteen goals, also had his share of terrace critics as well. Thorne was not at this best in this match and his withdrawal for Leo Fortune-West's more basic attributes saw City put the Coventry defence under increased pressure with a more direct approach which gained it's reward when Jason Bowen skinned former City loanee Dean Gordon on the right hand touchline before putting over a fine cross which was glanced in by Earnie from about eight yards out.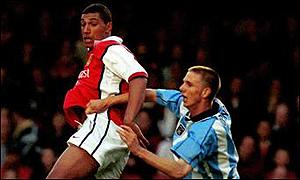 With Bowen and Campbell causing Coventry plenty of problems down the flanks, they were now hanging on and Bowen had a great chance to equalise when he was put through only for keeper Hyldegaard to respond with a fine save. However, City's two wide players were to combine in the nintieth minute to force the equaliser as Bowen lobbed the keeper and then chased after the ball as it bounced slowly towards the empty goal, The trouble was that Coventry defender Callum Davenport was after it as well and it looked like he might get there before Bowen, but Campbell's pace took him clear of both of them and he crashed the ball in from no more than a yard out to prompt scenes which, if not quite matching the ones seen against Leeds, were still pretty special by the standards of that time.
With the Sky cameras showing the replay at Highfield Road, City played better than a 3-0 defeat might indicate, but, by the end, there could be little doubt that the better team on the night had progressed – Cardiff born Lee Fowler (who was to have an unsuccessful trial with City the following season and is now playing for Forest Green Rovers) opened the scoring on twenty minutes at a time when City were on top and second half goals by Holdsworth and  a certain Jay Bothroyd completed the scoring to leave City fans wondering how their team would cope at the higher level if they did manage to go up that season.
As for Andy Campbell, it was downhill all the way after his goal gave those supporters the chance to see how well we would do in the Championship – he was loaned out to Doncaster and Oxford during 04/05 as we struggled against the drop for the only time in our eight seasons at this level and then it was on to Dunfermline for an unsuccessful season after his Cardiff contract ran out. Since then he has turned out for Halifax, Farsley Celtic and Bradford Park Avenue and is now, at thirty one, playing for Whitby Town where I somehow doubt if an, admitedly, good return of five goals from six matches will have the scouts from Football League clubs flocking to watch him.
4 January 2003
Cardiff City 2 Coventry City 2
City Alexander; Weston, Prior (Young), Barker, Croft; Bowen, Kavanagh, Boland, Legg (Campbell 1); Earnshaw (1), Thorne (Fortune-West) Subs (not used) Margetson, Maxwell
Coventry Hyldergaard; Caldwell, Davenport, Konjic, Gordon; Betts, McAllister (1), Eustace; Bothroyd (Pipe), Mills (1) (McSheffrey), Holdsworth Subs (not used) Montgomery, Strachan, Partridge
HT 0-1
Att. 16,013