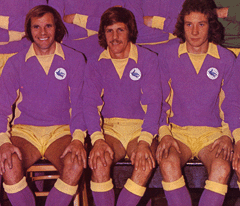 Well, my plan to watch Newport v Wimbledon during a Cardiff City free afternoon went for a Burton! I would have been boarding the train to Newport just as Jordon Mutch was scoring our consolation goal at Anfield if it hadn't have been for me coming across the news of the County game being called off when looking to check something else on the Internet. Frankly, it never even entered my head during what was quite a sunny and dry morning in Cardiff that the Rodney Parade pitch some fifteen miles or so down the road would be waterlogged – from a County point of view it must be worrying that a game can be called off under such circumstances because the last thing they need in a season where I reckon they got a great chance of going up is a fixture backlog caused by a number of postponed home fixtures.
Anyway, what first struck me as disappointing news, actually turned out to be quite fortunate because it gave me the chance to watch City's match at Liverpool as it happened and, although being there myself would have been better of course, the next best thing was to be able to watch what turned out to be an inspiring two hours plus of television live rather than hours later with liberal use of the fast forward button on the remote control.
Given the chaotic and embarrassing build up to the game, I don't think anyone really knew what to expect beforehand with the only thing on which there seemed to be general agreement being that it was going to be Malky Mackay's last match as manager of Cardiff City. As to how supporters would respond, I didn't have a clue, but I'll admit that I had fears that there might be a few who would go too far and things could turn violent as a result – shame on me for thinking that, I would like to aplogise to each and every City fan who made the trip to Anfield for even allowing such thoughts to enter my mind because you got it so, so right yesterday.
I mentioned earlier that there was two hours plus of inspiring television, I said that because the most powerful part of the broadcast came after the game had finished as BT Sport's on pitch analysis of Liverpool's 3-1 win was being shown against a non stop background of Cardiff fans signing "Don't sack Mackay" – for those who missed it, this video shows how magnificent the support was.
Now, are we to believe that the thousands in that video (who also carried on a non stop chorus of pro Mackay, anti Tan songs throughout the ninety minutes) are all entirely happy with Malky Mackay's management in terms of the style of play and tactics employed? I would suggest that a fair sized proportion of them are not – certainly a read of any Cardiff City messageboard after most of our recent matches offers evidence that there are those who want a change from what they perceive as a negative 4-5-1 system with too much emphasis on stopping the opposition and not enough on what we do with the ball.
Surely at least some of those singing themselves hoarse yesterday are not completely enamoured with our manager, but could it be that they, to use the words of the so appropriate  banner on display yesterday, have decided "enough is enough"? The past week has seen a fundamentally decent man trying to do the specialised job he is paid for while being completely undermined by the actions of his employer – I think for many this has now gone beyond arguments about whether Malky Mackay is a good Cardiff City manager or not, people's sense of natural justice has been offended.
I should add at this stage that I don't see this whole thing in plain Mackay = good, Tan = bad terms. Our manager is from a City where the cliche says you have to be tough to survive, he played his football with a hard, physical edge to it and I've always believed that there is something to the line that some people are too nice to be a successful football manager. From the outside, he comes across as a driven man who doesn't stand any messing from his players and staff and I suspect he's not a man you would want to cross.
However, crucially for me, there are the signs that, possibly because he went into the professional game late having earlier worked in the "real world" as a bank clerk, Malky Mackay has never forgotten what it is like to be an ordinary fan. Unlike his predecessor, Mackay worked on forging a relationship with the club's support from day one and, don't ask me how he's managed this, but he's carried it off without it coming across as the hollow and insincere manager speak that it sounds like when mouthed by many of his contemporaries.
Craig Bellamy (who, reportedly, was offered the job as interim manager only to turn it down flat and go straight to Malky to tell him what had happened) has said that the players would run through a brick wall for the manager and one thing that has seemed pretty clear to me from the first match I saw us play under him is that his squad of players have been onside with what he wanted. I'm not saying that there haven't been dressing room bust ups and the very occasional match where you wondered about the team's commitment, but the biggest compliment I can pay in terms of his man management of his players is that when people talk of a "Malky Mackay side", everyone knows what they mean because it's taken as read that such a team will be well drilled and prepared to work very hard for each other.
With the media, he is patient, courteous and has a nice line in humour (often self deprecating when talking about himself as a player), while little touches like when he often mentions all the staff behind the scenes when talking about the club are the sort of things which have helped make Malky popular with two other sections of the footballing community he comes into contact with – these are not things that you'll find in any book about how to be a good football manager, but there is no doubt in my mind that he is benefiting from them now.
Malky Mackay has the respect of so many people both on and off the pitch at Cardiff City and, it would seem, throughout the football community. When Ian Walsh was asked to comment on Mackay's dignified post match interview with BBC Wales he said something along the lines of class, but that's just what you'd expect from him. It appears that Malky Mackay commands loyalty and respect with the huge majority of people he comes into contact with in the football world and, in my opinion, the dignity with which he carries himself is a big factor in this.
"Loyalty", "Respect" and "Dignity" are words worth bearing in mind when considering what Vincent Tan must have made of yesterday's events as he watched proceedings from the Directors' Box. This Cardiff fan will not forget the money he has made available to the club (albeit still nearly all in the form of loans), but I'll also not forget that he sees me as a customer who he would be prepared to lose if I was one of those who stopped attending because of his dreadful and, seemingly, pointless re-brand of the club's kit and badge. It also annoys me that he didn't know which year we won the FA Cup – some will see that as insignificant, but I view it as another example of him not having the slightest inkling of what such details mean to supporters of a club like Cardiff City.
Others say that those of us who were initially prepared to tolerate the re-brand are reaping what we sowed now when it comes to how we are being treated by Vincent Tan and I have to agree that there is has been a complete lack of loyalty and respect shown to the club or it's supporters by our biggest shareholder since he started upping his profile around two years ago – by the same token though, if people like me are reaping what they sowed when indulging our despotic owner, the same term can be applied to him with bells on when you consider the events of the last week.
People with Tan's wealth who know the price of everything and the value of nothing probably don't experience too many weeks like the one he has just had in their lifetimes. Having to listen to supporters of his own club insulting and abusing him throughout the game was the climax to a seven days which began when his CEO issued a statement on his behalf which was a complete over reaction to what had been said by Malky Mackay. This was followed by the resign or be sacked e-mail with all of this being carried on against a backdrop of almost universal condemnation from supporters, local and national media – significantly, there is also increasing evidence that Mr Tan has not been enjoying a good press in the far east either over his general handling of his football club.
I've seen little in the past couple of years to indicate that "Loyalty", "Respect" and "Dignity" are words which have figured prominently in Vincent Tan's vocabulary. Will they do so after the events of this week, will the meeting with his Chairman Mehmet Dalman on Friday night and what he saw and heard yesterday bring about a change of mind about our manager's future – and, perhaps, in the colour of our kit? There have been rumours overnight that it has been decided that Malky will carry on in his job as Mr Dalman recommended on Friday and the fact that there has still not been any announcement of a sacking from the club is a promising sign – on the other hand, the presence of Malky's agent and LMA representative Richard Bevan at Anfield yesterday might indicate negotiations to ease a departure from the club.
Even if our manager is to leave, there is definitely a feeling around at the moment that the worm has turned – perhaps too late, supporters have said that have had a gutsful of Tan's autocratic and totally insensitive ways. The big question I suppose is will this new found rebelliousness survive a new manager bounce which sees Mackay leave and results improve under a Solskjaer or (please Lord no!) an Eriksson? Who knows, but I think it's fair to say that the relationship between Vincent Tan and Cardiff City supporters entered a new phase yesterday.
* pictures courtesy of http://www.walesonline.co.uk/