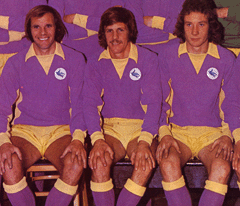 How on earth did that mob manage to come back from 4-0 down at half time against us only six weeks ago? With about five minutes of last night's match to go I said Peterborough were the worst side to have visited Cardiff City Stadium (and I include the lower division teams we played in the League Cup in that as well) and I didn't get one dissenting reply.
When you play a side at or near the bottom of the table at this stage of the season then, if nothing else, you expect to come up against an outfit that will scrap for their lives as the game becomes a battle in which the right to stamp your superior quality on proceedings has to be earned – not with Peterborough though who meekly subsided to defeat as if it was the last game of the season and they were thinking of their holidays. A few weeks ago the word was that some Posh players were not doing the business for then manager Mark Cooper because they wanted to join ex boss Darren Ferguson at Preston, the Chairman had his say on the matter as he hit out at attitudes within the club and then promptly sacked Cooper. However, based on last night's evidence, the players don't seem too keen on playing for new boss Jim Gannon either – nine men or not, QPR must be in terrible shape currently to have lost to such a team on Saturday.
The quality, or to be more precise, lack of quality, of the opposition has to be borne in mind when expressing opinions as to how City played last night and I would therefore say that they got the job done in a professional, no nonsense manner. Recent home matches had seen three consecutive ground out wins in which the opposing side had a far bit of the ball and caused us varying degrees of problems – apart from one good second half chance that the highly rated George Boyd missed when he scuffed his close range shot, insipid Peterborough gave us no alarms as they could always be relied on to give us the ball back in time.
It was great to see Steve McPhail back in our midfield. Although we were still not wholly convincing in the middle of the park,  his presence in there gave us a bit more control than we have become used to and let's hope the injury which forced him off does not keep him out for the upcoming league matches – whether it was because we had made the game safe by going 2-0 up just after he went off or not I don't know, but Aaron Wildig and Soloman Taiwo saw very little of the ball in the last quarter of an hour or so.
Interestingly, both of the goals featured major contributions from players whose work rate is often questioned. We all know what Peter Whittingham is like and, unfortunately, Jay Bothroyd is even more inclined to fall on his backside than normal lately, but the quality they can both come up with is absolutely vital in the current team. For the second consecutive home match we had to rely on a quality ball and a fine dead ball delivery from Whittingham for our goals while Bothroyd's headed assists were a reminder of a part of his game that often gets overlooked.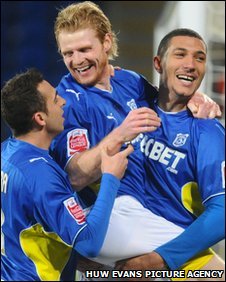 It wasn't really a night for outstanding individual performances though. As it turns out, I thought our two goalscorers did pretty well – a run which has seen him spend some time on the bench and be withdrawn pretty early in the games he has started has had me suspecting that Chris Burke is one of a few City players who have been turning out when he is some way short of full fitness, but he lasted the full ninety minutes against Peterborough and looked a bit more like his old self. As for Anthony Gerrard, he had a difficult time off it at Newcastle but coped well with Peterborough's front three of Boyd.McLean and Mackail-Smith who are generally considered to be the strongest part of their team. We have been spoiled in recent years with good quality centre backs at Cardiff City and, if Gerrard doesn't quite measure up to some of them at present, this should not take away from what has been a decent first season at this level.
In saying that though, I don' t think I can pick a genuine man of the match because the whole occasion was such a flat one with low key football being watched at times in complete silence. Now, the weakness of the opposition and the lack of away fans both contributed to that and I am not going to be too critical of our team because, as mentioned before, I wonder how fit some of them are as we try and make do with a squad which is just not big enough, but, the atmosphere at the Cardiff City Stadium last night was as flat as I can remember it ever being.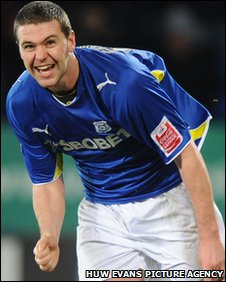 I'm sure those who have never taken to the new ground and pine for a return to Ninian Park will focus on how quiet it was and use it as evidence to prove they were right all along, but there have been some great atmospheres at the ground this season (notably in the Leicester match where there were just over half the number present then compared to last night), so I'm still not convinced by that argument.
I can only speak for myself here, but I found last night's match the most difficult City game to get "in" to that I have seen in ages because all the time I was watching it, the thought was never far from my mind that the three points we were playing for could well turn out to be worthless if we take a ten point hit today as a result of our Court appearance. As the days have counted down to 10 February with no sign of our debt being settled, the thought as to what might happen to us later today has become more and more prevalent in my thinking until it got to the stage during yesterday that I would occasionally think "oh yes, we are playing tonight aren't we".
A few weeks ago I did a piece on here called "Life at Ridsdale's Cardiff City" in which I said that our Chairman's bungling had ensured that one of Cardiff City's greatest results in recent times (Bristol City 0 Cardiff City 6) had been virtually forgotten within less than twenty four hours of the match being played, well now, I'd like to add that Life at Ridsdale's Cardiff City for this supporter means that games have almost become a distraction. I would like to think that they at least should be able to take my mind off the horrendous financial situation at my club for a while, but that didn't happen last night – whatever the outcome is later today, please Mr Chairman can you leave some time soon, you almost wrecked your own football club, now you've virtually wrecked mine, can you please go.