I first decided that I did not like Bobby Gould at the 1969 League Cup Final when Third Division Swindon Town faced  overwhelming favourites Arsenal at Wembley. On a mudheap of a pitch Swindon were leading 1-0 with three minutes to go when Gould equalised with a goal that owed a fair bit to luck – Gould's celebrations were way over the top by the standards of the time as he charged towards the Arsenal supporters and it soon became clear he was crying. As someone who wanted Swindon to win, I was not best pleased to see Gould score but, even at the age of thirteen, I couldn't help thinking that his celebration was a bit rich when you considered that he had only scored against a team from the lower leagues – I didn't know the term at the time, but "drama queen" seems a good way to describe Gould's actions now.
Thankfully, Swindon scored twice in extra time to record an amazing 3-1 win in one of the great Wembley upsets. As for Gould, he went on to enjoy a long and pretty successful career with the highlight being the FA Cup winners medal he picked up in 1975 when West Ham beat Fulham. Gould also did well during the early days of his managerial career as was evidenced by Wimbledon's remarkable win over Liverpool in the 1988 FA Cup Final, but his limitations in that role were becoming more evident by the time of his appointment as Wales boss in 1995.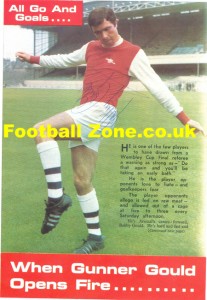 I claim no great credit for knowing beforehand that Gould would be a disaster as Wales manager – after all there were plenty of others who felt the same way at the time! It wasn't the humiliations against Holland, the dodgy tactics or the rows with Nathan Blake and Robbie Savage that I remember most now as proof of what a mad appointment the FAW made but those incredible practice matches before international qualifying games which saw the national team travelling around Wales to play a variety of League of Wales outfits who had been told to play like the teams we would be playing later.
So it was that Wales warmed up for matches like the 7-1 thrashing in Eindhoven in 1996 by taking on someone like Connahs Quay Nomads who had been told to play Dutch style total football. This wasn't the barmiest part of the whole thing though, in what was, presumably, meant to be a serious preparation for the game to come, Gould would often bring himself on as a sub with about half an hour to play – it was as if he thought that the crowds had turned up to see him rather than the Welsh stars of that time play!
With his background as a failed and disliked former Wales boss, Sam Hammam should really have known better than to appoint Gould as City manager when he took over the club in the summer of 2000. Gould never had a chance in that role – he lasted barely two months before moving to a General Manager's position while Alan Cork took over team affairs and then left City completely at the end of the 2000/01 campaign.
Therefore, when you consider that he has made a mess of managing my club and my country, it's not surprising really that I don't rate Mr Gould too highly and I haven't even mentioned his blatant piece of play acting that resulted in us losing at Ashton Gate on Boxing Day 1972 yet!
Gould was the star name in a Bristol City side that was having a fine season as they sought an unlikely promotion to the top flight (they would eventually finish fifth some way behind second placed QPR). City, on the other hand, were not too bothered about what was going on in the upper reaches of the Second Division – as was their norm in those days, staying in the second tier was their sole concern.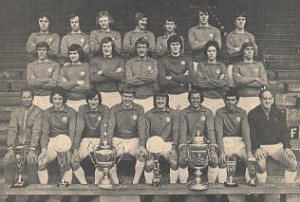 Therefore, City made the short trip to Bristol cast very much as underdogs – given that we were in the middle of a dire run which saw us fail to win on an opponent's ground between 2 October 1971 and 1 December 1973 in the league, it's true to say that we were underdogs wherever we travelled. However, that afternoon we were not doing too badly at all – okay, it was an awful game and we hardly ever looked like scoring, but neither did the wurzels. By City standards of that time a 0-0 away draw was something not to be sneezed at, but, with about twenty minutes to go, fate, in the form of the melodramatic Mr Gould, conspired to rob us.
In the modern game, we have grown used to seeing defenders plonking themselves in front of forwards to prevent them getting to the ball as they let it cross the line for a goal kick and nobody in authority seems to give the whole thing a second thought. Something similar happened at Ashton Gate thirty eight years ago and referee Mr Yates saw fit to award the home side a penalty as Richie Morgan stood in front of Gould as he let an innocuous ball roll through to Bill Irwin in the City goal only for Gould to throw himself to the floor in theatrical fashion.
Now it has to be said that defenders who stop forwards getting to a ball without playing it when it is going out for a goal kick is a real bugbear of mine in the current game because I think an offence is being committed and a free kick should be given to the attacking team. It is also interesting to recall that in a Man City v Chelsea game shown last season in the Big Match from thirty years ago programme, the ref did just that and yellow carded a Chelsea defender when he tried to do the same thing, so it shows that the game was officiated in a different way back then.
However, an indirect free kick was awarded for obstruction in the Chelsea game and with Morgan doing nothing more than standing in front of Gould to prevent him reaching a ball which he may well have not done anyway, surely that was the decision that should have been given that Boxing Day if the ref decided that Morgan was committing an offence?
Gould took the penalty himself and scored the goal that condemned City to another away defeat and manager Jimmy Scoular got himself into hot water by getting himself booked (it was only very rarely that an official would take any action against a manager in those days) as he claimed that Mr Yates' decision was "the biggest robbery since the Crown Jewels were stolen" – which, coming from the ultra competitive Scot, was pretty mild given the circumstances!
With City only staying up at the expense of Huddersfield by virtue of their better goal difference (a 4-1 win over their fellow strugglers at Ninian Park in late April proving crucial in that respect), it shows how close that awful penalty decision came to sending us down – they say cheats never prosper, well Bobby Gould did that Boxing Day.
26 December 1972
Bristol City 1 (Gould pen) Cardiff City 0
City Irwin; Dwyer, Morgan R, Morgan P, Bell; Kellock, Phillips, Woodruff, Vincent; McCulloch, Reece (Showers)
HT 0-0
Att. 20,490