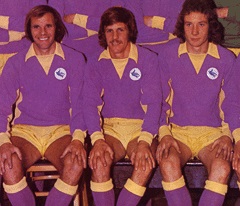 I suppose perfection would have been beating Burton on Tuesday to make it seven wins out of seven in the month, but six victories is enough to make August 2017 easily Cardiff City's best month since the 2012/13 promotion season and I would argue that the unexpectedness of it all means it's been better than any month during our title win as well – our bigger spending than all of our rivals and huge lead built up in the first two thirds of the campaign meant that there was a sense of inevitability about 12/13 and there was also the rebrand issue clouding things as well.
Yesterday City extended their winning run at the start of the season with an ultimately well deserved 2-1 home victory over Queens Park Rangers and will return to action after the first international break of the campaign looking to double the length of the previous best start to a League season record to six consecutive wins from three. Our opponents in thirteen days time will be Fulham who did us a big favour yesterday in ending Ipswich's one hundred per cent winning record by beating them 2-0 at Portman Road. However, it also was a sign that the Championship's most attractive team last season, in my view at least, are finding their feet again after a hesistant start to their 17/18 which had seen them without a league win until yesterday.
We've  got a decent record at Craven Cottage down the years, but I can see our winning run ending at Fulham at the start of what looks to be a very testing run of matches through September and October. Then again, I thought we'd draw our first game at Burton, thought Sheffield United could be a banana skin and had us down to lose at Wolves – this City team has a very pleasant habit of surprising me and they may well do so again in their next game.
Just as I was against Villa, I was pretty confident of a win yesterday, but City had to show qualities that hadn't been needed in their first four Championship matches to beat a QPR side that have made a good start to the season themselves and came here with members of their squad talking about how they were going to continue with their tactic of pressing sides all over the park.
Certainly, that approach proved to be a successful one in the early stages yesterday as the visitors settled much the quicker and were worth the lead they earned in the fifteenth minute as City fell behind for the first time this season in a league game.
This gave us a chance to show some of those previously unseen qualities that I mentioned earlier. If memory serves me correctly, we had the best record in the Championship from the time of Neil Warnock's appointment for gaining points from losing positions, so you would have hoped that the 17/18 side would respond well to falling behind, but, all the same, this was the first time that line of thinking could be tested.
Not only that, we were playing dreadfully when the visitors took the lead and so there was also the challenge of having to raise our performance level as a team and, I would say that, in all but one case, also as individuals.
QPR were as "in your face" as they said they'd be in the game's first quarter as they also won the battle for second balls and passed it better than us. Mind you, even if we are never going to be a team that goes out with the intention of passing the opposition into submission under this manager, QPR would only have needed to pass the ball in a mediocre fashion to have been better in that facet of the game than we were in those opening exchanges,
There is an argument as to whether it was good play by our opponents or our own awfulness which led to the first twenty odd minutes turning out as it did, and, although I'm not saying that QPR weren't doing exactly what their manager and coaching staff wanted them to, I'd edge more towards the latter than the former.
There are times for virtually any team when they make what is an immaculate playing surface look like a ploughed field with their first touches that make you question if they  have legs made of concrete and you wonder at their inability to string even the most basic of passes together. For such sides. two touch football entails the first one being a failed attempt to bring the ball under control and the second one sees the bouncing ball being hooked vaguely forward in a manner which either sends it out of play or straight back to the opposing team.
That was City to a tee for twenty two minutes yesterday and, while, as I mentioned earlier, any team can fall into playing in that way, it is somewhat unusual for sides at the top of the table and having not dropped a point yet to fall into such a rut.
I'll come to the one outfield player who was unaffected by City's general torpor shortly, but Neil Etheridge had also not done much wrong until he elected to take charge of a situation caused by a high ball from Luke Freeman which I'd say was a useful one that asked questions of our defence, but shouldn't have ended up with the ball in the back of our net.
By the way he reacted, it would seem that Sol Bamba got a shout from Etheridge that he was coming out to claim the ball, but, from where I was sat, that looked an over optimistic decision by the keeper because the quality of the pass meant that the towering Matt Smith would have fancied his chances of getting his head on the ball as well.
In the event, while Bamba stood waiting for his keeper, Smith was able to get his head on the ball well before Etheridge arrived and it sailed gently into the net.
I was mildly critical of Etheridge for his part in the conceding of our league goal of the campaign last week, but, also wondered if I was being a little harsh in doing so – here though, it just looked like a goalkeeper error pure and simple.
Last weekend, City had been so good in the opening twenty minutes and the contrast between what happened then and the opening stages of yesterday's match was staggering. For a while after falling behind, it looked like there would be no escape for City from their nightmare start, but it was now that the one player who was suggesting he may be able to do something about the situation took a hand – with a little help from one of his friends.
Up until the twenty second minute when he closed Steven Caulker down and the former City captain was forced to play the ball back to co centreback Nedum Onuoha, Kenneth Zohore had been doing a convincing impersonation of the player by the same name who was at City between February and November in 2016, but his chasing of what looked to be a lost cause paid off as Junior Hoilett got involved.
I've mentioned before that you can usually tell pretty quickly if Hoilett is on form because, while other players seem to take a bit of time to play themselves in so to speak, the Canadian can look on his game as soon as he touches the ball for the first time. Yesterday was not one of those occasions, but only because City were having such problems getting the ball to him – on the rare occasions he was in possession, Hoilett had shown signs that he offered the best chance of us starting to play something like our best.
Here though, all Hoillet did was, just like Zohore before him, chase the ball down with an intensity which surprised and discomforted our previously serene opponents – Onnoha played a back pass to keeper Alex Smithies that did not have enough pace on it and so the resultant attempted clearance smacked against Hoillet's right foot and rolled into the net.
Lucky? Yes of course, but by the way the two City player's reacted to the situation when they could quite easily have just kept their heads down and felt sorry for themselves in a manner that had been seen too often beforehand, meant that it could be claimed that they had earned that luck.
Of course, QPR will have felt differently about the whole thing. After all, they were comfortably in possession inside the City half one moment and then the ball was being diverted into their net from about ten yards out by Hoillet the next, with that the only touch by a Cardiff player in the episode.
Hardly surprising then, that Ian Holloway (who called us the best Cardiff team he has faced in his managerial career) saw the goal as the game's turning point.
Apart from a carefully placed Jamie Mackie effort from twenty odd yards following Sean Morrison's weak headed clearance in the dying stages of the first half that thumped back off an upright and a frantic scramble in time added on at the end of the match which saw Etheridge eventually work the ball out for a corner, Holloway's side were more concerned in keeping their goal intact in the face of City pressure than trying to score a second one themselves.
The effect the equaliser had on City was all that their fans hoped it would be and, by the end, there was general agreement that they were worth their win – in fact, for me, QPR ended up a little fortunate not to be on the end of a 4-1 or 5-1 beating.
One of the reasons this didn't happen was referee Simon Hooper. The official was praised by Neil Warnock in his post match press conference for his general handling of the game, but taken to task for the way that he disallowed two home goals for reasons which are still unclear to me.
For the first one a few minutes after we had equalised, the "foul" was assumed to have been committed by Morrison, but, if anything, it looks on the video as if he was being fouled – perhaps Aron Gunnarsson was penalised for backing into an opponent? Whatever the reason, Zohore was denied a goal and it was Hoillet who was unlucky early in the second period when his close range finish from a lovely Nathaniel Mendez- Laing cross was ruled out for pushing.
Again its hard to see an offence by the Cardiff player on the video and yet earlier in the move, an obvious shirt pull by Caulker on Zohore was ignored by referee and linesman.
Despite these unfair looking setbacks, City were now playing in a way that was much more typical of their general level of play this season and they were building up a head of steam which saw them in front by the end of the first period.
Shortly after Mackie's effort against the post, the impressive Smithies was forced into action as he turned aside a Mendez-Laing daisy cutter from the corner of the penalty area, but he was helpless from the resultant corner, taken by Hoillet, as Sol Bamba celebrated his new three year contract with a far post header that turned out to be the match winner. Again, Holloway found his team's defending wanting as he questioned how it was that Caulker had been left to try to cope with both of City centrebacks (Morrison was just behind Bamba and would have had a good chance himself if Sol hadn't got to the cross first).
Just as they did against Sheffield United in their last home league match, City had something of a purple patch at the start of the second half as shots rained down on the QPR goal. Besides, Hoillet's wrongly disallowed goal, there was a shot by the same player turned over by Smithies shortly after Mendez-Laing had seen a shot from a very acute angle come off the crossbar.
With City enjoying more and more success down the flanks, they were close to putting the game to bed on numerous occasions, but most notably when, following  Mendez-Laing crosses, Zohore was denied by a great save and visiting left back Jake Bidwell performed wonders to stop sub Danny Ward from scoring.
I've heard some people talking about how it's good to win scrappy games like this one, but, although I never thought I'd be saying this after the way we played early in the match, I'm not sure "scrappy" is the right word to describe it – certainly from a City point of view, we played in what has become our normal powerful, quick, enterprising, effective and, often skillful style for three quarters if the game.
Finally on yesterday's match, whatever you may think of him as a player, Steven Caulker had been having a pretty desperate time of it as a person in recent years. I daresay a lot of you will have read this piece from the summer already, but I'd say anyone who hasn't done so should take the time to have a look at it. Caulker played his first match in ten months on Tuesday when he turned out for QPR against Brentford in the League Cup and, in truth, just like others before him, he found Zohore a struggle yesterday as he often seemed to resort to fouls against our centre forward. Caulker also was involved in the defensive calamity that was our first goal and was outjumped by Bamba for our winner (he had a thankless task there mind given the lack of support he had from his team maters). He was also subbed with a little under twenty minutes left as the visitors chased an equaliser, but the applause from the home crowd for him before the game and then when he went off were a sign that there are many at his former club who are glad to see him playing again and hopeful he is over the worst – I'm one of them.
To finish, I thought I'd give a mention to some of our Academy sides who have had a pretty good last few days. The Under 18s are still without a win after three matches, but they got a second creditable away draw of the campaign as they finished up at 3-3 at Nottingham Forest yesterday. Sion Spence, Isaak Davies and Keiron Evans got the goals, while there was also a draw for the Under 16s as they finished level at 2-2 after Forest had been a couple of goals up at half time. Particular credit has to go to the Under 12,13 and 14 teams though for their victories by 3-0, 3-2 and 5-1 respectively over Stoke on Thursday.