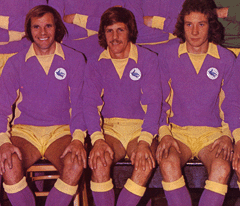 Michael Chopra cut a desolate figure throughout the latter months of 2006. With his performances mirroring those of a team which had started the campaign in blistering style only to then go thirteen matches in all competitions without a win with Chopra's sole goal during this time coming in a 4-1 hiding at Hull.
Four years on, and City supporters know Michael Chopra a bit better now and appreciate that what you get from him are big match performances and blistering runs of form over a month or two when he is far too good for the Championship. However, in between those high periods, there are times when he goes through long barren runs which, understandably drain his belief – for someone who can be so cool and clinical in front of goal, Chopra seems to lose confidence pretty quickly if he is not scoring and this can come across sometimes as him appearing to be disinterested.
As Chopra's barren run in 2006/07 carried on into the new year though, media and supporters were baffled at the transformation in someone who had, in my opinion, been our second most influential player during the amazing start to the campaign which had seen us win nine and draw two of our first twelve league matches as we roared into a six point lead at the top of the Championship by mid October.
A 4-0 defeat at Spurs in a FA Cup Third Round replay on January 17 kept the winless run going though and was the fifth consecutive match in which we had failed to score. I can still remember the report from the Echo for that match which was just about as damning as I can ever remember that paper being when it came to discussing the performance of a player – Chopra came in for some savage criticism and I think it is fair to say that there were many supporters who agreed wholeheartedly with the hack concerned at the time.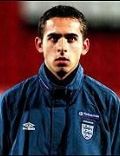 Therefore there were all sorts of reasons why the team's confidence, and Michael Chopra's in particular, would have been at rock bottom as they travelled to Molineux to face Wolves in a game which had seen their Chief Executive Jez Moxey instrumental in the decision to ban all Cardiff fans from entering the ground because of incidents in the last two matches between the clubs in Wolverhampton. Whether it was a sense of injustice towards what was reckoned by most people to be an over reaction on Wolves' part that spurred City on that day I don't know, but the winless run was ended as they came away with a 2-1 win (Seyi Olofinjana got the Wolves goal).
Although a late match winner on his first appearance in a City shirt by new signing Jason Byrne captured most of the headlines, a marvellous first half lob from about twenty five yards by Chopra over the helpless Matt Murray in the Wolves goal to put us 1-0 up was the more important goal really as it kick started a run of form for the striker which, if anything, was more impressive than the one earlier in the season when both he and the team were on fire.
At the time though, there was little to suggest such a dramatic transformation in Chopra's form when the team next played a week later as they entertained relegation threatened Leicester City – after all, they had not won in seven matches at Ninian Park and home fans had not seen Chopra find the net since a 2-2 draw with Derby three months earlier, but, in the event, those present were to see one of the great individual City performances of recent years.
Before Chopra got going though, City had to endure an awkward first ten minutes or so which saw the visitors on top and the only time they managed to get themselves into a threatening position in the first twenty minutes or so was when they were awarded a couple of free kicks in central positions about twenty five yards from goal.
When I say "threatening position" there, I should qualify it by saying that, having been spoilt by Jason Koumas' dead ball efforts during the previous season, nobody was getting too excited when City were awarded free kicks which offered shooting chances in 20076/07 because we were so abysmal at them – having started with Steve McPhail as our free kick "expert" (that didn't last long!), it appeared as if the players were drawing lots to decide whose turn it was to threaten passing seagulls, pigeons and spectators situated at least twenty yards from the goal. Looking back, it appears ridiculous that we made so little use of Peter Whittingham in such situations, but it was Whitts who took the first free kick that afternoon and he made a decent job of it as well as he drew a good save from visiting keeper Paul Henderson – that wasn't enough to earn him another go at it though ten minutes later because this time Michael Chopra decided it was his turn.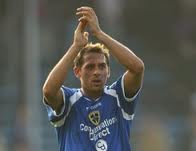 From a distance of about five yards outside the penalty area, Chopra opted to forget about subtlety and went for pace as he hammered a right foot shot high into the Leicester net to give City fans the free kick that they had despaired of seeing that season – however, now he has his eye in, there would be much more to come from Chopra in the free kick department as he scored in the next two home games, against Barnsley and Leeds, and then was only denied by the crossbar in the following match at Ninian Park when we beat Preston 4-1.
However, it was in the second half when Chopra really came alive as he first chased on to a lovely McPhail pass to place a sublime lob over the keeper with the outside of his right foot and then, when Steve Thompson capitalised on an error by centreback Pat McCarthy, which was compounded by Henderson, to present him with what, at first, looked like a great chance for his hat trick, Chopra had to side step another defender a couple of times and then show composure and technique as he fired a shot from about twenty yards into the only area of the goal that the desperately covering keeper could not reach. Chopra wheeled away to milk the applause of the supporters who were celebrating just as they always do whenever City score, but, for me at least, the normal feeling I get when we score was interspersed with the knowledge that I was watching something special that afternoon.
Although a couple of late goals from Leicester meant that the closing minutes were more fraught than they should have been, there was no doubting that City and Chopra were back, but if that day in late January 2007 meant ecstasy for the second most important player in our great start to that season, it meant the start of agonising process which would eventually lead to retirement for the man who been the true driving force of the team a few months earlier as Rocky Scimeca hobbled off after thirty five minutes with the beginnings of the injury which would force him into retirement nearly three years later.
Back to Chopra though to finish. People talk about the classic hat trick being one goal with the right foot, one with the left and another with a header – Chopra's trio of goals might not fall into that category (his third was also scored with his right foot), but, although I concede I may be a bit biased here, it remains the best hat trick I have seen. People are fond of asking on messageboards questions like what's the best goal you have ever seen and, having seen so many of them down the years, I find it impossible to answer, but if you are talking hat tricks, I just have to keep on coming back to the same one and the fact that I watched it in the flesh and that it was scored by a Cardiff City player makes it all the more special – have a look at it again here, I'm not exaggerating am I?
27 January 2007
Cardiff City 3 Leicester City 2
City Alexander; Gilbert, Johnson, Loovens, Ledley; Parry, Scimeca (McNaughton), McPhail, Whittingham (Flood); Chopra (3), Thompson (Byrne) Subs (not used) Forde, Campbell
Leicester Henderson; McCarthy, Kisnorbo (1), McAuley, Maybury; Porter (Cadamartari), Williams, Hughes, Wesolowski (Johnson); Fryatt (Hammond (1)), Hume Subs (not used) Logan, Stearman
HT 1-0
Att. 12,057