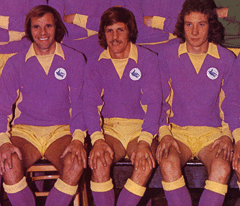 Eleven days ago, I wrote the following in this piece about the City Development team's 3-1 win over Ipswich;-
"To illustrate what I mean, I need only describe the quite extraordinary goal that we scored early in the second half. Leading 1-0, City kicked off the second period and a couple of minutes later they had scored – the finish was a straightforward one and there was nothing in the five or ten seconds which preceded it which would merit it's inclusion in any goal of the month/season competitions, but I believe my use of the word "extraordinary" is justified because as the teams took up their positions for the restart, I kept on asking myself if an Ipswich player had touched the ball in the second half yet?
Now I daresay that our opponents were able to get a foot on the ball somewhere along the way, but City were able to play passes, some simple, some not so simple, for what seemed ages as they pushed and probed for an opening while encouraging a press from their opponents and, when it did present itself, they were good enough to exploit it.
It was no surprise that, when it was played, the pass which opened Ipswich up came from Semi Ajayi. Last week I heard Nathan Blake say that there are plenty of central defenders who can "ping" a good long ball, but, based on last night and other matches I've seen him play this season, Ajayi is better at it than most. He's not the finished article, as was shown when his failure to deal with what looked like a pretty straightforward situation allowed Albert Wilton to score Ipswich's goal, but some of the passes he hits show exactly why Arsenal took him off Charlton when he was a teenager.
Ajayi's fifty yard pass sent right back Greg Halford into acres of space and, if there was a slight suspicion that the cross which followed from the bye line was mishit somewhat, it still wrong footed many of the covering defenders as it rolled into the path of James Waite making the sort of late run into the box that I've seen him score goals for the Under 18s from."
Leaving aside questions as to why it took so long for the club to realise quite what a classic goal their Under 23 team had scored, I'm pleased to say that this article on the goal, with accompanying video of the whole thing, on their website has proved me wrong on a couple of points.
First of all, the Semi Ajayi pass which so impressed me came a lot earlier in the build up to the goal than I thought it did and, more importantly, my assumption that an Ipswich player must have touched the ball at some time in the more than two minutes between the second half starting and the ball hitting the back of the net was incorrect – there were forty passes from City in a continuous passage of play without an Ipswich player getting close to the ball, the goal was even more "extraordinary" than I thought it was!
Now, I can imagine proponents of a more direct approach arguing, quite reasonably, that this is an extreme example of what pass and move football can achieve – what make that goal exceptional is that City's Under 23s managed to keep possession of the ball for around ten times as many passes as it takes for the average goal to be scored.
Yes, the stats show that eighty per cent of goals are scored from moves of four passes or less, but if you can make it to the end of this article concerning the increased use of what are called analytics in the game today, you'll see a conclusion which claims that the man behind that stat (Charles Reep) did not analyse his findings enough, instead, he used them to justify a style of play which he favoured.
My own view of this is that the so called long ball approach can be effective and it's a moot point as to what is most boring, a team getting nowhere by booting the ball forward into the air pretty aimlessly or a side which uses twenty passes to arrive back exactly where they were, or even further away from the opposition goal, before losing possession – I understand and applaud the desire to maintain possession of the ball, but not to the extent where there is no purpose behind the passing.
Going back to that pass by Ajayi, to me it embodies the best of both worlds. If all long balls forward by defenders were hit with the precision and technique that he showed with that one, then it would be hard to be critical of the sort of football Reep advocated, but you only have to see ninety five per cent of the ones played by City's first team in any match this season to know that they aren't.
It's pretty clear under this manager that defenders are there to defend first and foremost, but if Semi Ajayi can ever satisfy Neil Warnock on that score to the extent that he trusts him to play in the first team, then he will gain a defender whose long passing would add an element to the first team's game that they may not quite lack entirely at present, but they are very short of it – that pass wasn't just a one off, Ajayi has shown over the past couple of seasons, albeit at the level below senior football, that his long passing is better than many of his seniors at the club who play in his position.
Anyone who watches City's older age group teams play will know that, especially under Russell Slade and Neil Warnock, there are clear differences between how they play and the methods used by the senior side. Therefore. it could be argued that there is no point in the Under 23s being capable of scoring the sort of goal they did against Ipswich if they are never going to be able to play that way in the first team – if Waite's goal eptomises the approach favoured by Craig Bellamy, isn't it incompatible with the the more basic stuff we see from Neil Warnock's first team?
My answer to that question is no. I say that as someone who appreciates what Warnock brings to the club, but becomes exasperated at how bad we are at retaining possession of the ball – I've not seen much of the Brighton match, but the way we fell down on some of the very basics of football in our three games before it (including Fulham in the FA Cup) was embarrassing at times.
There is always the proviso that they have to possess an all round game good enough to get them into the first team of course. but the more players we can get into the first team who have been used to playing in what I'll call the Bellamy style, the more we'll have a team with more than one string to their bow. We'll have another way of coping with the challenge posed by the opposition when the long ball approach isn't working and we'll have a team which makes it harder for our opponents to get the ball off  them when we are leading late on.
Anyway, putting arguments about styles of play to one side, Waite's goal may not be up there with the very best I've seen City score, but it is the best I've ever seen from us of it's type – congratulations to all of those, on and off the pitch, who made it possible.