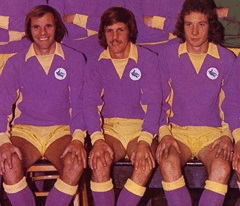 Being honest, I'd reconciled myself to us losing Peter Whittingham this summer months ago. When a player who'll be thirty three in a few months time spends as many games on the bench as Whitts did in the closing stages of last season and his contract is going to run out at the end of June, I think it's reasonable to say that the writing was on the wall as far as our longest serving player was concerned.
In saying that, it should be remembered that City had offered Whitts a new one year deal, but, if the rumours I heard were right, it was on terms which represented a very big drop (more than fifty per cent I believe) in his salary.
However, now that the speculation linking him with a move to Blackburn Rovers has been confirmed officially with news of him having completed his move to Ewood Park on a two year contract, the reaction of this City fan who was expecting him to leave is still one of shock for a couple of reasons.
Firstly, and more mundanely, I'm surprised that Whitts has dropped a level to League One with recently relegated Rovers. Perhaps it's that two year contract that did the trick, but I would have thought that he'd be a worthwhile addition to the squad of, say, one of the promoted sides or someone like a Burton, Barnsley or Preston with plenty of younger players who could do his running for him.
The second reason goes right to the heart of why this is such a sad day – even though I fully expected this day to come sometime this month and could understand, and agree with, the club's viewpoint on the situation, it's still a shock to realise how upset I am to finally have it confirmed that the man who did what he wanted has, indeed, gone.
Given what you know about both men's approach to football, while I suspect it might have been completely different if we were talking about a twenty five year old Whitts, a thirty two year old one was always going to struggle to be a big influence in a City side playing in the manner Neil Warnock wants us to – the play was never going to go through him as much as it did in, say, the Malky Mackay and even Russell Slade eras and, increasingly, Whitts was being looked upon, first and foremost, as a top class provider from dead ball situations.
In saying that though, you knew that there were always going to be two or three Whitts moments in any game he played under Warnock where he came up with little somethings that no other player in the squad (and I mean no other player in the squad) could manage.
I feel sad today, but I also find myself smiling as I recall some of the things Whitts did which may not have captured headlines, but still had me purring at the time at the talent of one of the true Cardiff City greats.
Here are some of them;-
Giving Graham Alexander (then one of the best full backs in the Championship) twisted blood as he laid a goal on a plate for Michael Chopra in a 4-1 win over Preston in one of his first home games for us.
A volleyed forty five yard pass hit on the swivel to absolute perfection which meant that Jay Bothroyd did not need to break his stride as he ran on to score his first City goal in a win over Coventry.
A shot from an even more acute angle than the famous Play Off goal at Leicester which left a fine keeper in Julian Speroni helpless as City clinched a top six finish in 11/12 by winning at Palace.
A power header to win a bottom of the table Premier League clash with West Brom.
A toe poked shot hit early which rolled far more slowly into the net than you'd normally expect a Whitts shot to in the 4-1 win over Brighton in 15/16 – it was beautiful in it's simplicity.
Another volleyed pass – this time across field at Carrow Road this season, nothing came of it, but it was still absolutely stunning.
The game came easy to a thoroughbred like Whitts, so it's strange to think that he was, possibly, the worst tackler I've seen at the club! I don't mean in a powderpuff way, I mean in a kick them up in the air way. I've been looking up his record at City and it may come as something of a surprise to learn that Peter Whittingham received fifty four yellow cards in his Cardiff career, but then you remember all of those hacks at players who were getting away from him in recent years and you think "No, I can believe fifty four bookings!".
The "typical" Whitts tackle that stands out to me now is the one which earned him the one and only red card of his career so far. It came during a 1-0 home defeat by Wolves in 14/15 and while you usually try your best to find a reason to defend the City player trudging off for an early bath, it was impossible to do so on this occasion as Matt Doherty hit the ground from a height of six feet!
Yes, as I believe I've mentioned on here before, Whitts was in the Paul Scholes class as a tackler, but, just as with the Man United master, that one facet of his game was completely at odds with everything else in it.
Now, I'm not saying for one moment that Whitts was in the Scholes class, but then you can count on the fingers of one hand (actually you probably don't need any fingers!) the number of English footballers in the past fifteen years who were. However, when Whitts was at his real best, I don't think there were too many Englishmen who got closer in a Scholes comparison when it came to shooting ability, technique, dead ball delivery and sheer nerve.
Whitts missed three penalties during the 10/11 season I think it was and there was one in a 3-2 defeat at Norwich in 14/15, but, generally you could rely on him scoring and even amid the gut wrenching tension of Play Off Semi Finals and League Cup Semi Finals and Finals you could relax (well, maybe not quite relax!) safe in the knowledge that there was no way our number seven was going to miss from the spot.
His famous lack of celebration when scoring offered the clue to a laid back nature which had to help when it came to all of those penalties and this must have been a factor, along with a fully justified confidence in his technique, in his willingness to try the spectacular when nearly everyone else on the pitch would look for the simpler option – Whitts was like Steve McPhail in that respect as he was a very brave player mentally.
Another player who Whitts could be compared with is Matt Le Tissier in that there'll probably always be questions about what he might have achieved with a bit more "devil" in his outlook as opposed to being someone who gave the impression of being happy to stay where he was as a big fish in a relatively small pond.
I truly believe that with a bit more pace and a different approach to his profession, Whitts would have won England caps, but, being selfish, that would almost certainly have meant us City fans would have seen him in the Cardiff shirt a lot less than four hundred and fifty nine times and we would have missed out on a lot of those ninety eight goals.
Style, class, loyalty, a big match temperament and a nice touch when it came to self deprecating humour, Whitts is a Cardiff City legend many times over – I can't help feeling we'll not see his like again and he leaves with this extremely grateful City fan's very best wishes, I'm going to be a bit of a Blackburn fan from now on and I hope we draw them in one of the cups next season!