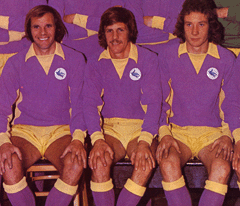 Last night's 1-0 win for Swansea City at Cardiff City Stadium has ensured that, for the first time in the three years of the current format, City's Development team will not be contesting in the end of season Play Offs – they cannot now overtake Palace or the Jacks to secure the top two finish required to gain entry into the mini tournament with the first and second finishers in the Northern Section.
If, as I suspect it was, the object of the exercise at the start of the season was to maintain City's 100% record for play off qualification, then this season has to be seen as a failure and last night's match represented a microcosm of why this has happened.
In some ways, this season's Development side have mirrored the first team. The Under 21's results this season are a strange mixture, but one pretty consistent thread throughout it has been how much they have struggled to score goals when playing at Cardiff City Stadium (the eight goals scored in early season wins over Forest and Barnsley came in matches played at the Vale training ground). Last night's game was the tenth I've seen the team play this season and they've failed to score in six of them.
The seven goals scored in wins over Coventry and a very weak Bristol City side tend to distort things because, for the vast majority of the time I've watched them this season, the Under 21's have struggled as much as the first team has to create chances in open play.
When it comes to the senior side, it's the central midfield duo of Whittingham and Gunnarsson who have tended to cop the flak for the lack of a killer pass in open play, but, I'm more sympathetic towards the midfielders in the Under 21s side because, for about half of the season at least the team has lacked an effective attacking focal point. A look at early season results reveals that goalscoring was not too much of a problem, but those were the days before Rhys Healey went off to Colchester on loan.
Healey may or not prove good enough to eventually become a regular first team player at Cardiff, but he was certainly a very effective striker at Under 21 level where his finishing ability and natural instinct for finding space in crowded penalty areas made him a prolific scorer – he may not have the physique of a target man, but he was someone who City could play through and his pace and anticipation meant that even ordinary passes could be turned into goal assists while he was in the side.
Although not as effective overall as Healey, Danny Johnson was able to do a decent job in providing that focal point I talked about for a while, but his loan spells at Tranmere and Stevenage have meant that he has been more out of the team than in it over the second half of the campaign.
Without these two, City's lack of firepower has been alarming since the turn of the year. The only match out of the seven at home since December in which they have scored was the 4-2 win over Coventry which has to be seen as a freak given what's happened in recent months. Overall ten goals have been scored in the fourteen games played in 2015 – take out that one off against Coventry and they are truly ghastly figures.
Last night's inclusion of returning from injury senior players like Ben Turner, Kagisho Dikgacoi and Anthony Pilkington and first team squad players Kadeem Harris and Matt Kennedy was unusual in that the tendency recently has been to rely on the youngsters at this level, but, even so, the same problem was apparent – an absence of players with the instincts of a natural striker.
Instead, we had four wingers (Pilkington, Harris, Kennedy and Tyler Roche), two holding midfield players (Dikgacoi and Ben Watkins) and a back four – it was a strong looking side on paper, but it had little or no natural balance.
I think Pilkington is a good enough all round footballer to make a decent job of a central striking role, but his lack of match fitness would work against him and, anyway, he was forced to drop back into central midfield when Watkins was sent off about ten minutes before half time, so, the main striker's role fell to Harris.
Now, this made sense to the extent that Russell Slade has used him as a striker more than a winger in the first team appearances he's made this season, but I'm still waiting to see some evidence as to why our manager thinks he makes a better striker than winger. I've said before on here that I'm not deluded enough to think that, in  general, I know better than the pro's employed to make on field decisions by the club, but I'm pretty certain that I've seen more of Kadeem playing at this level than Slade has and he's been a very effective, goalscoring winger for us in the last couple of years, while he helped transform Brentford's 2013/14 season with his impressive wing play during his loan spell with them.
To be fair, I thought Harris did a pretty good job last night in making himself a nuisance at times in what became an almost hopeless task once we were down to ten men, but when one of our wide players was able to work themselves into good crossing positions, the options he had to aim for could be counted on one finger (at most!) and that one never showed a striker's nous to try and find himself a bit of space.
Harris did present the first real threat to the Swansea goal when his well struck shot from the edge of the penalty area seemed destined to cause visiting goalkeeper Oliver Davies problems until it was blocked by a defender. City were also able to force Swansea into one or two early errors that may have caused them more of a problem if a Healey had been present as they pressed high up the pitch effectively.
However, City were gradually forced back as the visitors more controlled and coordinated football enabled them to take charge of proceedings for around half an hour. Although Dikgacoi was showing up well at this stage, Swansea's midfield of Jay Fulton, Matt Grimes and Adam King, who have all played first team football for them this season, were taking charge and this was reflected by a shot just wide of Ben Wilson's right hand post followed by an effort by James Loveridge which forced the keeper into a good save.
When a goal did come though, there was a large amount of good fortune to it. Left winger Kenji Gorre did well to work himself a shooting position, but his effort got a deflection and it seemed to those sat in my area of the ground that Wilson had initially made another fine save, only for the ball to loop gently in at the far post. However, the reports I've since read on the game talk about the shot getting a deflection, but make no mention of the keeper's contribution, so, perhaps, the angle we were watching the game from meant that we had been deceived in some way and Wilson didn't touch it – if he did though, I think he will be disappointed that, having got a hand to the ball, it wasn't strong enough to get it over the bar.
Within minutes Gorre should have made it 2-0, but only succeeding in firing left back Raheem Hanley's superb cross over the top. City showed they were still in contention when centreback Semi Ajayi put a close range header over the top, but, in true Cardiff City 14/15 style, we were now having to rely on set pieces to pose an attacking threat.
When Swansea broke quickly from one of those attacking set pieces for City, Ben Watkins, one of two players kept back to defend, slid in hard on Loveridge and took the striker out with a challenge that would eventually lead to him having to limp out of the game. Referee Mark Dadds took his time before showing a red card to Watkins – I was in a minority of one among the six people discussing the incident around by me who thought the referee had made the right decision.
Although the foul occurred out on the touchline, Watkins was the last man and so I reasoned he had to go under the current interpretation of the law, but someone did make what was a fair point in my opinion when they said that while it was the sort of thing which would see a red card in the Premier League, should it do so in a match like this? The definite impression I've gained through watching a decade of age group related matches is that referees tend to be more sympathetic to the players than they are in senior games.
The upshot was that Harris was left to largely plough a lone furrow up front as City looked to shore up their midfield, but it was very hard to see a way back into the game for them at half time. As it turned out though, they went on to have the better of the second half and, by the end, they could feel aggrieved not to have got themselves a draw.
Given City's scoring record, Swansea may have thought they already had the game won at 1-0, but they were nowhere near as impressive with a man advantage as they were when it was eleven against eleven and, apart from another Gorre effort that drew a fine save from Wilson, never really looked like adding to their goal tally.
For their part, City could still not fashion much at all in open play, but Harris was drawing fouls from defenders and so the home side did have three free kicks in threatening positions – captain Tom James, Pilkington and Kennedy all had a go, but none of them seriously threatened the goal.
The same could not be said though when Harris, tellingly, cut in from the left wing to curl an angled right footed shot that came back off the crossbar and when sub Macauley Southam's great volley from twenty yards beat Davies only to fly inches wide of the post in the dying moments of the game.
In truth, City huffed and puffed without creating a great deal in the second half, but, given they were a man short, it was an impressive effort and I feel that this was an occasion where any criticism directed at a Cardiff team would have to be of the mild variety.
Although there is still one more home game to come for the Under 21s (against Ipswich next Monday), one thing I should do while I remember is thank the club for the fact that games at this level at Cardiff City Stadium have been free to enter for everyone this season – a look at the websites of other sides in our league shows that this is far from the case with all of our rivals at Under 21 level. There is more than enough to be critical of at the club these days, but it's only right that they be given some credit when it is due and this is such a case in my book – well done to whoever took the decision not to charge for these games.