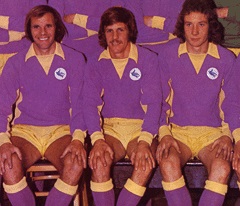 The lack of youngsters coming through who are good enough to play in the first team and stay there (Joe Ralls is the last example of this I can think of and he made his first start for us more than six years ago) has meant that I've started to question the relevance and effectiveness of the current "reserve team", and, to a lesser degree, Academy approach in this country – is it fit for purpose?
I understand the mantra that results are not that important at these levels because the object of the exercise is to produce first team footballers, not win trophies, but, at Cardiff City at least, this is, self evidently, not happening.
As someone who is unfortunate enough to often be able to see both sides of an argument, I find it hard to mount much of a defence against a club like Brentford who have withdrawn from the Development team/Academy structure and are concentrating on their B team.  Yet I can also remember that, in the early years of it's existence, our Academy was a production line with a fairly steady stream of youngsters coming through who went on to play international football, while there are also others who are now into their second decade of first team football dotted around the country.
Part of the problem would appear to be that managers do not have much faith in the system themselves – after all, many recent City managers, including Neil Warnock, have talked about how sending young players out on loan is more preferable than having them performing for the Development team every week.
There is a definite perception that, because the result isn't important, Development games don't really matter. Yes, I suppose that line could be applied to the old Football Combination that I grew up watching, yet I'd argue that there was more kudos involved in winning that competition than the current one(s) and I also believe that a youngster would learn more playing against a team of experienced pros (as often happened in the Combination) than they do by playing against opponents primarilly of their own age week after week.
If only all matches below first team level were like yesterday's captivating game at Leckwith yesterday afternoon as City and Charlton produced the best ninety minutes of football I've seen at this level since the current structure was introduced in 2012/13!
It was obvious to anyone watching (and there was a decent turnout for the game) that the game "mattered" to both teams and, by the end, there was a genuine tension around the place as to whether City could hold on to their 4-3 lead to complete a real against the odds win.
Often, an element of controversy and, as a consequence, a sense of injustice can help to turn a game into a memorable one and, as yesterday's offering had a red card, two penalties (one of them clearly angering the Charlton players) and a winning goal that I believe would have, more often than not, been disallowed for a foul on the keeper, there was certainly plenty of emotion and feelings of being hard done by around Leckwith!
However, on the Cardiff side anyway, things were definitely helped by the attitude of the two senior outfield players on show. Anthony Pilkington and, to a lesser degree, Callum Paterson could have just gone through the motions (I've seen plenty of "first teamers" do that in games like these down the years), but their approach was exemplary and, if I'm sometimes left questioning how much good it does to have senior players alongside them, this time the Under 23s in the team would definitely have benefitted from Pilkington and Paterson's approach.
City, who had fielded a very old looking Under 23 side for the 4-0 win at Burnley last week, had more of a typical team make up yesterday as Lee Camp (making his second appearance at this level as part of his recovery from long term injury) joined Pilkington and Paterson in a side where I would guess that the next oldest player would have been twenty.
Nevertheless, the early stages suggested that City were on their way to a second successive comfortable win as they quickly eased into a two goal lead. The first of them arrived after Charlton keeper Jordan Beeney had done well to tip over Tyrone Duffus' header, but he could do nothing to prevent Pilkington giving us the lead when Jamie Veale's corner was not cleared and the ball dropped to Pilks no more than five yards out.
A young Charlton team were struggling to cope with some skillful and stylish attacking play by City at this stage – typical of this was the passing movement which saw Mark Harris running onto a Pilkington ball in the sixteenth minute. The striker was not really presenting an obvious threat to the visitor's goal though when Ryan Blumberg I believe it was, brought him down for a pretty obvious penalty that he dispatched himself by sending Beeney the wrong way from the spot.
Charlton, who have probably been the strongest and most consistent team in this league in the six seasons it has been in place, showed their mettle though by replying before the game was twenty minutes old as they took advantage of City losing possession just inside their own half to fashion a good goal as Reeco Hackett-Fairchild fastened on to an incisive through ball to beat Camp with home appeals for offside being ignored by the officials.
The breathless nature of the game continued with the next incident of note being the red card shown to Harris for an off the ball incident involving Charlton's Archie Edwards (who was only cautioned). I'd like to be able to tell you what happened, but can't, because I didn't see the incident – although the lack of protests from those in blue (including Harris) rather suggested that referee Robert Massey-Ellis had been correct in his decision.
Therefore, City were faced with trying to hang on to their lead with only ten players for more than two thirds of the game. In the event, it took Charlton another five minutes to find an equaliser – Camp did well to keep out a header from a corner, but Joe Cummings was on hand to nod the rebound home from close in.
City managed to get it to half time with the score still 2-2, but all of the momentum was with Charlton and it was very hard to see any other outcome but an away win at the interval.
However, someone had done a good job in firing up the City side during the break and they pressed forward in the early stages of the second half to such an extent that it was definitely against the run of play when Hackett-Fairchild restored the away team's lead on the hour mark. The goal was especially harsh on Oliver Byrne, a half time replacement for Camp, who made a wonderful save to keep Hackett-Fairchild's first effort out.
Still there was no easing off of the action and, within a few minutes, there was a great opportunity for the game's sixth goal after the awarding of another penalty. There was no doubting that Cameron Coxe, playing on the right wing to accommodate Paterson, had been fouled, but the referee appeared to apply the advantage as the City man fired wide, only to then award a free kick on the edge of the area when it had appeared that the offence had occurred inside the box. This was the cue for City protests and, after consulting his linesman, the ref changed his decision and pointed to the spot, which was, of course, the cue for the Charlton team to start getting in his ear.
In the event, they needn't have worried – Pilkington, who has a one hundred per cent record from the spot for the first team, hit his shot well enough, but it was at that height which always gives the keeper a chance if they dive the right way. Nevertheless, it was a fine save by Beeney – the contest between the two players still had a few more rounds to go though.
City could easilly have started feeling sorry for themselves after that, but, instead, they went on to dominate the rest of the game and were soon level when Pilkington instantly controlled a loose ball and scored with a shot from eighteen yards which got a deflection to beat Beeney.
In an ideal world, the goal to decide a game as good as this would have been akin to the icing on the cake, but, instead, it was down to a goalkeeping error, albeit one with a strong suspicion that he had been fouled. Beeney had to be the favourite to win his latest dual with Pilks as they contested a high ball at the far post, but he dropped it and presented our player with a simple opportunity to complete a hat trick which should serve as a reminder to Neil Warnock that he is still around.
I think most fans, certainly those of a certain age anyway, tend to think of goalkeepers as an overprotected species these days – I know I do and so it was good in a way to see Massey-Ellis not penalising Pilks, but it was hard to avoid the feeling that most refs would have done so and, in that respect, Charlton had legitimate grounds for feeling hard done by.
There was no more scoring as City held on fairly comfortably to their hard won advantage, but there was a sad end to a great game as, deep into added time, Ryan Reynolds picked up what looked like a serious injury as, with no Charlton player within yards of him, he stretched to try and intercept a pass.
Play was held up for what seemed like about ten minutes while Reynolds was made ready to be stretchered off to complete a busy afternoon for the medical staff who are always present for these games. Normally they are able to watch the ninety minutes from the sidelines with nothing to concern them, but they had already had to stretcher off a Charlton player following a sickening sounding clash of heads with Paterson which we heard from fifty yards away.
By the time play restarted, the game had been going on for well over two hours and yet there was still a free kick for City to defend as Beeney ventured forward to add to the attack. I may be wrong here, but it didn't look as if City had brought on a replacement for Reynolds, so they were defending this last attack with just eight outfield players, but when they were able to boot the ball away from danger, Massey-Ellis finally brought what I would guess was one of the more difficult games he has taken charge of to an end. – if tonight's game with Leeds turns out to be half as entertaining as this one was, then the big crowd, and the watching television audience, are going to have a very enjoyable time of it!
*picture courtesy of https://www.cardiffcityfc.co.uk/