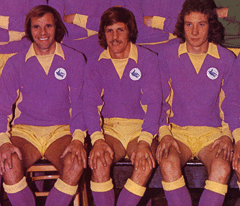 Yesterday's 3-1 loss at Villa Park, which dumped Cardiff City back into the relegation places, was another of those occasional away matches where I was unable to keep in touch with what was happening and so I am writing this having only read a few match reports and watched very brief highlights of the game.
Consequently, I will talk in more general terms about where our season stands now and the impact Neil Warnock has had in his seven games in charge in this shorter than normal piece.
I'm pretty sure it was while he was managing Bury nearly twenty years ago that it struck me how many 0-0 draws Warnock's team was involved in. This was one of a few reasons why I spent the next fifteen years or so being far from a Neil Warnock fan before my attitude towards him mellowed somewhat in recent seasons.
To me, Warnock's teams were boring, dirty, long ball merchants and all of those goalless draws had convinced me that they were also very defensive as well.
As I mentioned earlier, I'd changed my opinion somewhat on him even before he was appointed City manager, but anyone who has watched us for a little time over the past six weeks or so will see that we are a physical team that likes to get the ball forward quickly and never misses a chance to get our big defenders up for attacking set pieces, therefore it has to mean that we do play a lot of long ball stuff.
So, I think I was right in some ways about Warnock teams, but I didn't appreciate enough that they had a bit more to offer than I was prepared to credit them with.
However, like virtually every manager who makes a long career for himself in the game I would guess, Neil Warnock appreciates that getting things right at the back is paramount if you are to achieve any lasting success. While it would be harsh, and wrong, to accuse him of sending teams out to get a 0-0 draw every time, I must admit that I associate Warnock teams more with defensive discipline and efficiency, rather than their free scoring attacking.
That's why I'm fairly sure that, seven games into his time at Cardiff, our manager will be disappointed with himself because he has been unable to put an end to the single most concerning stat of this worrying season.
Back in early August, I couldn't get too enthusiastic about our prospects for our upcoming campaign because I didn't believe our squad had enough goals in it, but, in the event  of me being wrong about that, I was certain that we had a potential top six team on our hands because, defensively, I was convinced we would be among the best in the Championship.
In the near four months that have passed since then, my faith in our defence has been proven to be completely and utterly groundless I'm afraid. The extent to which I was in error can be gauged by noting that, since our opening day 0-0 draw at Birmingham, we have not kept a single clean sheet.
It's now eighteen matches since we did not concede a goal and this has prompted me to do some research to try and find out where this thoroughly miserable record stands in the annals of longest runs without a clean sheet in our history.
I should say at the start that I wouldn't like to stake my life on the validity of these figures, because I did rather skim through the fixture lists I looked at, but, at eighteen and counting, we are getting too close for comfort to the upper echelons of this roll call of shame.
Hardly surprisingly, the thirties, which compete with the nineties for the title of the worst decade in our history, feature heavily in the list. We, surely, will not match the "achievement" of the 1933/34 team that drew 0-0 with Aldershot at Ninian Park in the First Round of the FA Cup on 25 November and then had to wait until the second match of the following season (32 games later) for the next time the opposition was prevented from scoring!
However, are the twenty two games without a clean sheet in 34/35 and 36/37 really out of reach for us? Certainly, the worst post Second World War figure (twenty in my first season as a City fan in 63/64) is under threat, despite all of the work that our manager and his coaching staff must have been putting in on an issue that, surely, would have been recognised by them as their number one priority when they were appointed.
Appallingly, it's going to be December, at the earliest, before City keep a clean sheet in a home match and, with second in the table Brighton due here next Saturday, it's hard to see the run ending in our next game.
To be fair to the new managerial and coaching set up, it's been a very testing introduction for them with four of their first eight matches against sides currently in the Championship's top seven positions and yesterday's game being against one of the league's form sides.
However, once the Brighton match is out of the way, the next four fixtures see us up against teams with very similar, or worse, records than us over the period since Neil Warnock was appointed – Ipswich (A). Wolves (H), Barnsley (H) and Brentford (A) should offer reasonable opportunities for that elusive clean sheet and you'd like to think there is a chance there to prove our manager wrong when he says that he doesn't expect us to really started climbing the table until January.
That said, we'll still be needing to score at least two to win a match if we keep on being as soft defensively as we were for Villa's first two goals – Amavi should never have been allowed to run almost from the halfway line to well inside our penalty area like he did for the first one and then his cross should have been cut out before it reached Adomah, while Kodjia was given too much time and room to score with a simple header for the second one.
Neil Warnock's attitude is that we just have to keep going with what we've got until January, but is it time to contemplate changes at the back now? Well, there'll have to be one anyway following Lee Peltier's sending off (presumably, Matt Connolly will fill in at right back), so maybe next week will not be the time for further alterations in terms of personnel. However, given the way, we are defending, I'm not sure if we can continue with what is more of a 4-4-2 formation for Brighton – I'd be inclined to go with a 4-2-3-1 with one of Ralls, O'Keefe or Huws alongside Gunnarsson to offer more protection in front of the back four.
Finally, it was interesting to hear Neil Warnock say that the two or three new players he hopes to bring in during January will be with the intention of adding more pace and creativity to the team.
I'd been assuming that one of the new arrivals was likely to be a goalkeeper, another a striker and then, possibly, a central midfielder. However, given the pace and creativity comment, it would appear that, maybe, we're looking at another winger – I suppose it depends on who our manager is prepared to lose from the squad while the window is open.
What I would say is that pace and creativity are hardly the qualities you go searching for if you've got a dodgy defence. Yes, you can never have too much pace, even at the back, but I don't see a lack of speed among our defenders being one of the main reasons we are letting in so many goals, so it would appear therefore that our manager is pretty happy with the defenders he's got and thinks that the clean sheets will come in time.
*pictures courtesy of http://www.walesonline.co.uk/