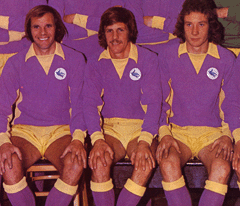 Last week I started a thread on the Cardiff City Online messageboard in which I argued that, while I appreciated the financial implications of last Saturday's match, I disagreed with the widely reported view that the game with Blackpool was the biggest in our history. My message got quite a few replies, the vast majority of which disagreed with me, with the numbers who supported my view probably being able to be counted on the fingers of one hand – from memory, I would say that at least 80% of those who responded thought that the Play Off Final was our most important game ever.
The point I am trying to make here is not one of whether I was right or wrong in my opinion, it's more to do with how the game was perceived by your average Cardiff fan. Whilst the responses to my message did not amount to conclusive proof that the average fan I mentioned looked at the game as our biggest ever (the sample not be being big enough to warrant such a claim),  the large majority who shared that view amongst those who responded certainly suggests that the average fan I mentioned thought that way. When you consider that we are talking here about a club which has been in existence for one hundred and eleven years and members of the Football League for ninety of them, that is one hell of a lot of expectation the City team were carrying on Saturday afternoon.
Now, of course there was pressure on Blackpool as well, but their build up was more to do with madcap Ollie and how he had discovered attacking football through watching the jacks play, about the town's "kiss me quick" character and about how they were enjoying the unlikely journey they found themselves on – people can discuss Ian Holloway's "tactical triumph" over Dave Jones, but perhaps the greatest service the Blackpool manager did his players was to keep the massive weight of expectation off them?
When you look at the game objectively, the role Blackpool were happy to play of being plucky underdogs was completely unjustified – they came into the Play Off's in better form than the City, qualified for the Final in far more impressive style than City and had dominated the first meeting between the two sides in the regular season, whilst also, arguably, edging the second one (my main memory of that game being of how much more of the ball Blackpool seemed to have than us). Tellingly, City were also up against a team which were able to strengthen with loan signings in the New Year with the impressive Seamus Coleman looking too good for Championship football and DJ Campbell and, to a lesser extent, Stephen Dobbie providing the goals which saw them into the Play Offs (the skilful Barry Bannan from Villa helped with squad strength as well). Besides all of this, City had to contend with being favourites, were facing a a team which had caused them problems which they hadn't solved in the previous two meetings between the sides and whose fans gave the impression that they were pinching themselves to see if they were dreaming.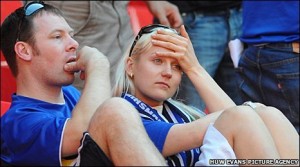 Contrast that to the attitude at Cardiff – if Dave Jones had wanted to keep the build up low key, he didn't have that chance as the media continuously fell back on the "most important game in history" cliche with some in the local printed media showing an arrogance not seen on any messageboard in the build up to the game by, on the one hand, banging the most important game drum, while on the other, giving the impression that City just had to turn up to beat Holloway's assortment of journeymen and loan signings.
In contrast to Blackpool's build up, it was impossible to avoid winding up orders and talk of high finance when focussing on Cardiff and, seemingly, this was something that was uppermost in a lot of supporter's minds as they contemplated the game ahead – whereas attitudes at Blackpool seemed to say "it'll be great to win, but it's not the end of the world if we don't", at Cardiff it was "we HAVE to win on Saturday".
I've seen it said by a lot of supporters that the backing the team got on Saturday was affected by the occasion as people seemed to be weighed down by what was at stake, so you have to ask how could you expect the players to react with all of this going on around them? Of course, it's easy to say that they are professionals and they should put such thoughts to the back of their mind and I am sure there were some who did. However, I refuse to believe that in any group of fourteen people there wouldn't be those who would let an occasion such as Saturday's get to them in some way.
This time last year, I was contemptuous of many of our players because I thought they had bottled it when the pressure was on and I think it is probably fair to say that some of them did it again on Saturday, but this time I am a lot more sympathetic to them because the whole build up to the game meant that they would have had to have had hearts like flint not to let it effect them.