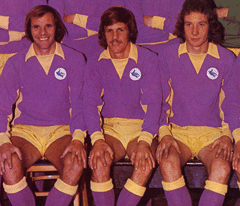 As Ali read the Blackburn team out before kick off yesterday, I turned to my mate and said "that's a good midfield four" – after about five seconds further thought, I added the words "two or three seasons ago". Yes, Danny Murphy, Morten Gamst-Pedersen, David Jones and David Bentley would have made a decent to good Premiership midfield back in 2009/10, but, at the back end of 2012/13, they looked way off the pace in the Championship and the "All of our yesterdays" theme continued when a very solid looking (that's putting it diplomatically!)  David Dunn replaced Bentley after, as his wont these days, he had posed about doing nothing of any relevance for sixty two minutes.
It was a bit sad seeing players as good as Murphy, Gamst-Pedersen and Dunn have been struggle, but struggle they certainly did and they were definitely part of the problem as a Blackburn outfit desperately ill equipped for the type of league the Championship is, slumped to a 3-0 defeat in which the match stats of twenty shots to two in favour of Cardiff (we had fifteen efforts on target compared to their none) were a more accurate gauge of the difference between the two sides than the scoreline, but, more seriously for that crisis torn club, left them above the bottom three only on goal difference – I've got to agree with Dr Who, they're going down on yesterday's evidence.
I found Blackburn a fascinating team (actually, that's the wrong word to use about them, because a "team" is something they definitely weren't) and could go on about them for ages, but I'm supposed to be writing about the side at the opposite end of the table and so I suppose I should start with the inevitable question – were Cardiff really as good as they looked or was it more down to them being up against a side which, in important areas, lacked the energy, pace and, in some cases, desire to compete with them?
As is always the case, the answer has to be somewhere in the middle of those two extremes. Blackburn were very poor, but the way they were sometimes able to move the ball neatly in tight, potentially dangerous, defensive areas to create space for themselves in the middle of the park showed the sort of talent to go with the big reputations, so I definitely think it's wrong to put the one sided nature of the game solely down to our opponent's inadequacies. Indeed, there was an after match clue from the man who says he bases his tactical approach on how best to exploit our opponents weaknesses, that the changes our manager made yesterday might have been primarily down to a desire for City to close down what he described as a very experienced Blackburn front six, rather than a decision based on what he saw as inadequacies in the players he has tended to favour in recent months.
Maybe, that's harsh on Malky Mackay, but, whatever his prime consideration in making four changes to Saturday's line up and changing the formation his side used, it was certainly much better from City. A one paced visiting team were hustled and harried into making errors on the ball as had been planned, but I think it's true to say that most supporters concern themselves far more with what their team do when they have the ball as opposed to what they do when they don't have it and it's good to record that we were so much better in that part of the game than we have been so often recently – certainly there was a huge improvement on the turgid and static stuff we saw in the home games against Derby and Leicester before Rudy Gestede's introduction gave us a bit of a cutting edge.
More energy in the middle of the park was the requirement then, and the introduction of Craig Conway and Craig Bellamy gave us that on the flanks, while the younger legs of Jordon Mutch and Kim Bo-Kyung gave us that in central areas as well where the change to a 4-5-1 (which, in attacking terms, was so much more effective than the version of that formation we saw at this time last year) meant they had the insurance of Aron Gunnarsson operating in a deeper role than of late to help them out and give them the freedom to get further forward than they would probably have been allowed to in a 4-4-2.
What Mutch and Kimbo did though was give us a dynamism and purpose when attacking in open play which has not been present in recent weeks. In the case of the former, his ability to run at, and often beat, opponents in central areas is an unusual talent to have for a modern central midfielder and, therefore, it gives those opponents a problem they aren't used to facing very often these days. Mutch did that to good effect yesterday and also passed the ball well – it was more like his early season form as opposed to the inconsistent stuff we saw from him around the Christmas/New Year period. As for Kimbo, what impressed me most was his ability to control any ball played to him and to pass it accurately to a colleague. Honestly, I'm not joking there – it sounds very simple, but an amazing number of Championship players (and quite a few in the Premiership) have real problems with doing that.
Kimbo won the post match awards, but I found it hard to separate him and Mutch and I was pleased to see another of our younger players, Joe Mason provide a timely reminder of what he can bring to the team. Mason certainly didn't suffer in comparison with the man he replaced, Fraizer Campbell, and his goal provided more proof, if it were needed, of his finishing ability – both of his goals against Blackburn were fine examples of the striker's art and Scott Dann must hate the sight of him! A word also for Leon Barnett who kept things pretty simple on a relatively comfortable home debut, but revealed a turn of pace and sense of anticipation when required which suggests he will cope well in the sterner tests to follow.
Once again, other results went for us. Forest needed another stoppage time goal to keep their unbeaten run under Billy Davies going and I suppose they still entertain automatic promotion hopes, but, with with only six matches for them to play and our sixteen point advantage (as well as a game in hand), it surely won't be at our expense. Incredibly, when you consider how much of a threat they were considered just a few weeks ago, Leicester's defeat at Barnsley means that they cannot overhaul us now and the Championship's flair team can now only make it to eighty three points after their defeat at Blackpool – two wins from our finals seven matches would mean only Watford and Hull could finish above us. Intriguingly, those two sides meet tonight at the KC Stadium and a Watford win would leave us still needing eleven more points to guarantee a top two finish, but any other result will see that target reduced. We would need another nine points if it's a draw and just eight if Hull win – if it does turn out to be a home win and Watford were then to lose to us on Saturday, we would go into the match with Barnsley a week today knowing a win would see us promoted.
* pictures courtesy of http://www.walesonline.co.uk/
by The other Bob Wilson
It was Eric Cantona who first called Didier Deschamps the "water carrier". Now Mr Cantona sometimes had a tendency to be a mite hard to understand with some of his pronouncements, but his meaning in this case wasn't too hard to work out – Deschamps was only in the French team to make sure the most talented players in the team got as much of the ball as possible. While that's harsh on a player who was good enough to skipper his country to World Cup and European Championship triumphs while winning 103 caps, you can see what Cantona meant – Deschamps tended to do the fetching and carrying for the likes of Zidane, Henry, Pires, Ginola, Cantona etc.
Virtually all successful sides have a "water carrier" – Michael Carrick is a fine technical footballer with an ability to spot and deliver passes that others couldn't envisage, let alone pull off, and at club level at least, Carrick is a water carrier and a bit more. However, I don't think anyone would say that he is the most talented player at his club and this is where conversations about water carriers become relevant to Cardiff City.
Ask any City fan who the most talented player at the club is and I'd say the name that would be heard most in reply would be Peter Whittingham – at this level he has a Carrick like ability to spot and deliver that killer ball, but, unlike the Manchester United player, he also has goals in his locker (many of them amongst the best I've ever seen a City player score). So, why was it that Whittingham spent his time performing a water carrier role during last night's very disappointing 1-1 draw with Derby? When I say water carrier there, I mean it in the derisory way that Eric Cantona did when he coined the phrase – until the closing minutes when he was playing long balls into the penalty area from the halfway line, Whittingham spent his time  playing passes that any of his colleagues could have delivered just as well, it was as if he was giving the ball to his more talented team mates like Deschamps used to.
Now, speaking as someone who thought Lennie Lawrence's decision to drop Graham Kavanagh into a deeper role than the one he had in his first season with us made him a more complete player (Kav regained his place in the Republic of Ireland team after this change), I'm not as dismissive of the fact that Whittingham spends less time in forward positions than he used to as many others are because he has the ability to make a Carrick like contribution to our team from his position just in front of the back four, but he looked an unhappy and ineffective footballer last night who was lacking in confidence.
So, what can be done to get Whittingham looking more like his old self? Dropping someone as good as he can be shouldn't be an option in my book and I just don't see Malky Mackay doing it anyway. For the last four months or so, Nathan Blake has said Whittingham is not really suited to playing a central midfield role in a 4-4-2 because it requires a mobility and strength that he doesn't possess and week by week I've come to agree with him.
Malky Mackay's experiment with 4-5-1 last season was a partial success at best because it's shortcomings became very apparent in the closing months of the campaign. I've mentioned before on here that, in my opinion, 4-5-1 stopped working because we didn't have enough players in the midfield five who had forward's instincts – at it's best, it should never be a rigid system, but because we always had at least three, and usually four, of the middle five who lacked those instincts, it was an inflexible system when we played it.  The difference this season is that we do have the players who could provide the finishing skills we lacked from midfield last season. Bellamy, Noone, Kimbo and Smith are all players who weren't here last season who fall into that category – add in Joe Mason  as well and we have the players who could make 4-5-1 work better than it did a year ago. You could go at it another way though by playing someone like Cowie, Mutch or Ralls in a central role to give Whittingham the chance to get further forward at times.
Besides not playing to anything like his potential, Whittingham and Aron Gunnarsson (who had his worst game in months) had the same tired look to them last night that we saw from them in the closing weeks of 11/12. Malky Mackay had little option but to soldier on with them last year, but we have no end of players who should be able to give the side some of the energy it lacked against Derby because you'd like to think they'd be crying out for some game time.
Our manager has the options he didn't have last year and that's why I was disappointed with the side we sent out against a side without a win in six which had lost eight of their last eleven away matches – Derby were also missing seven players through injury as well. I groaned when I heard Heidar Helguson was going to replace the injured Craig Bellamy – to be fair to him, until his very last kick of the match when he played an awful crossfield pass which led to Craig Conway giving the ball away in the build up to Derby's goal, our Icelandic target man did what he does pretty well last night, he won more than his fair share of headers and worked hard for the team. However, him for Bellamy left us seriously short compared to normal in the pace and mobility department and this was not compensated for by the inclusion of Conway and the out of form Smith on the wings.
Malky Mackay's selection had a "safe" look to it of the sort we tend to see in away games. I'm not saying that the intention was to invite Derby on to us, but that's what happened in a first half the visitors dominated as they monopolised the second ball challenges. It was telling that the only time we looked like scoring in the opening forty five minutes came early on when we were able to utilise the lively Fraizer Campbell's pace and he came within inches of scoring as we broke through Smith. For the rest of the time Derby dominated in the middle of the park and, with the excellent Connor Sammon giving the two Bens a torrid time of it (he made Nugent looked like an inexperienced kid for the first time in his senior carrier) at centreback, City could not have complained at being a couple of goals behind at the interval.
The second half was more even, but, on the balance of play up until then, Derby merited the bit of luck they got when Turner's block landed perfectly for Sammon to put the visitors ahead. However, where City deserved credit was for the way they responded to going a goal down – Noone, Gestede and, to a lesser extent, Mason definitely improved the level of performance and the team's strong finish meant that I thought they just edged the second half, but in truth, a Derby defeat would have been a travesty.
The strange thing is that I think we'd been playing better in the previous four matches when we've had more to offer going forward than in those weeks when we were "winning ugly" in December and January, but last night was as bad as I've seen us in some time. Getting Bellamy and Hudson back will help things, but I just hope that Malky Mackay makes more use of the greater depth of talent he's got at the club when compared to last year over the next couple of months – Mason proved himself at this level a year ago, Kimbo has already proved himself at a higher level than this, Mutch and Ralls have offered far more in a Cardiff shirt at times than our central midfield did last night, Noone has the ability to be a match winner in the Championship, Cowie can give Whittingham support if he needs it and Gestede again showed last night that he can inconvenience defences that had been looking steady and assured, so why not use them more than he has been in the last few months?
by The other Bob Wilson