Any City fan worth their salt has to know by now that it is forty years ago to the day since we beat Real Madrid 1-0 at Ninian Park in the first leg of a Quarter Final tie in the old European Cup Winners Cup so I thought I'd set out my recollections of a match which I have come to regard as being second only to our Cup Final win in terms of achievement in our history.
It needs to be said though that, as a fifteen year old who was too young to experience Real Madrid's domination of the early years of the European Cup, that I didn't fully grasp how big the game was beforehand. My immediate reaction on hearing the final whistle on the night was that the match had not been a patch on the 4-0 win over promotion rivals Carlisle United four days earlier that had taken us to the top of the table courtesy of Alan Warboys' quartet of first half goals. Rather as it is now, promotion to the top flight was the overriding priority for me with cup competitions coming a distinct second, but, I would like to talk about a couple of things which I now believe encapsulate why 10 March 1971 is one of the greatest days that Cardiff City Football Club has experienced.
On the day of the match, I can remember visiting one of my friend's older relatives – he must have been in his sixties at the time and, as a City fan, his footballing memories went back to the 1927 Final and beyond. He was of the opinion that the Real Madrid team of the late fifties and early sixties was the best side he had seen in his lifetime and, as someone who had seen so many of the biggest stars and teams of the past fifty years perform at Ninian Park, was really enthusiastic about the game to be played a few hours later.
Around twenty years after the game had been played I was talking to one of my bosses in the Patent Office in Newport who I knew was a football fan and happened to mention that I had recently bought a video recording of the BBC's coverage of Real Madrid's famous 7-3 victory over Eintracht Frankfurt in the Final of the 1960 European Cup Final at Hampden Park. He was a Scot who was about ten to fifteen years older than me and I was a bit taken aback when he virtually started begging me to lend the tape to him until he explained that he had been in the crowd of 135,000 that day and had never had the chance to confirm whether Real Madrid had really been as amazing as he thought they had been. When he gave me the tape back a couple of days later he told me that he had been wrong, Real were even better than he remembered and were definitely the best team he had seen – the fact that this man became a big fan of Sam Hammam's Wimbledon when he moved to London in the 80′s has to represent one of the biggest examples of the adage "from the sublime to the ridiculous" there has ever been!
I think those two incidents confirm that older supporters were able to appreciate what we had done even if some of us youngsters didn't really do so at the time (I can also remember my father, who had virtually stopped going to games in those days, was insistent beforehand that this was one game that he had to go to and that he seemed a lot more upbeat after that match than he usually was after watching us play). Similarly, younger City fans who only know the Real Madrid teams of the past twenty years or so, must look at the fact that we managed to beat them in a competitive match with a sense of bewilderment, but I would say that, if there was a good time to play the Spanish giants, then this was probably it because, by the standards of that club, this was not a great Real Madrid team.
It's not a great comparison, but I would say that the game was the equivalent of the current City team taking on the present day Juventus team and beating them. In saying that, even though they are, arguably the biggest club in Italy, Juve do not have the reputation as a club that Real do and, for me, they are not as strong a team now as the 1971 Real side were. Real had slipped as low as sixth in the league during the 70/71 season, but had climbed back up to third by the time they came to South Wales and in the likes of Pirri, Zoco and Amancio had players who the term world class could be applied to – they were certainly no mugs, as can be gauged by the fact that they eventually made it through to the Final of the competition where they were beaten by Chelsea in a replay.
As for the game itself, much of it is blur now – certainly being in a 40,000 plus crowd was not something too out of the ordinary back then (a year after the match was played, I had seen City play in six games, five of them being at Ninian Park, that had 40,000+ gates). What I can remember is watching Don Murray come very close to putting us 2-0 up virtually right in front of me in the second half (I was stood against the barrier between the old boy's enclosure and the rest of the Grange End), that Ian Gibson was excellent (nothing new there then!) and getting a real impression that the fussy Belgian referee (Loreaux?) didn't help the flow of the game at all because of his habit of whistling for the most trivial of offences (television pictures I have seen of the game back me up there – his booking of Peter King, who had an exemplary disciplinary record, was ridiculous).
I can, however, remember the thirty second minute goal as if it was yesterday. In particular, I can recall the expectant hum that rose in volume from when Bobby Woodruff played his fine pass down Real Madrid's right to when Nigel Rees burst past those two defenders and then exploded into into a crescendo of noise which effected the television coverage at the time as Brian Clark's header hit the net. I would go as far to say that, although it may not have seemed so at the time, it was a life changing moment for the modest Clarky – from then on he was the man whose goal beat the mighty Real Madrid.
Even though this was, arguably, the best City team I have seen, I think there was a general expectation that Real would experience few difficulties in overturning the deficit in the Bernabeu a fortnight later, but City held on to their lead until well into the second half before conceding  twice in three minutes. Although the excitable Alan Williams in his radio commentary had me thinking we had been so unlucky because of his habit of screaming things like "Cardiff have a shot and it's there" before adding "great save by the keeper" or something similar at regular intervals throughout the game, the truth is that, having now watched the whole ninety minutes, we never came that close to getting what would have been a  precious away goal.
This shouldn't detract though from what that Cardiff City team achieved forty years ago when they took on and beat what is, arguably, the most famous club team in the world. It has to be the biggest "I was there" moment I have experienced as a City fan – so far!
10 March 1971
Cardiff City 1 Real Madrid 0
City Eadie; Carver, Murray, Phillips, Bell; King, Sutton, Gibson, Rees; Woodruff, Clark (1); Sub (not used) Morgan
Real Borja; Zunzunegui, Benito, Grande, Sanchis (De Filipe); Grosso (Fleitas), Zoco, Perez, Pirri; Amancio, Velazquez
HT 1-0
Att. 47,500
by The other Bob Wilson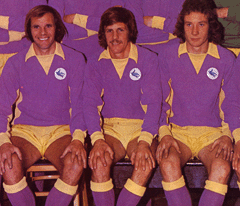 With Brian Clark's passing this week and Newport County starting life in the Blue Square Premiership today (best of luck County), I thought I'd do something different this time and recall a game I saw which, although having plenty of people with Cardiff City connections involved in it, did not feature us.
While no one can doubt that Brian Clark's first spell with City was a success, the same cannot be said about his second one I'm afraid. The 1975/76 promotion season is remembered with great affection by the those of us old enough to have experienced it, but Brian Clark's contribution is largely forgotten because, truth be told, one goal from the veteran striker from twenty one league starts offered all of the proof that was needed that the 33 year old was not the same player that had terrorised Second Division defences with John Toshack a few years earlier.
It was no surprise therefore that City did not offer Clark a new contract at the end of that season and, during the seemingly never ending summer of 1976, he signed for our neighbours Newport County who, as usual at that time, were looking forward to a season in the Football League's basement, Division Four. One thing Brian Clark wouldn't have been short of though at his new club was familiar faces as the close relationship which had always existed between the club's was emphasised by a heavy Cardiff City presence at Somerton Park.
On the playing side, Clark's former City team mates Gary Bell, Peter Morgan, Steve Derrett, Tony Villars and John Parsons were all in the County team that kicked off the 1976/77 league campaign with a home game with Stockport and they were joined a few months later by Don Murray who returned to South Wales from a one year spell in his native Scotland with Hearts. The ex City influence did not end there either with Ronnie Bird working as Assistant to Jimmy Scoular who was making a return to management for the first time since his sacking by Cardiff in November 1973.
One of the first things our former manager did at Newport was to change the club's kit from the traditional amber/orange and black to what can only be described as an Argentina like kit – with the benefit of hindsight, that idea seems a daft one and the club soon changed back to their normal colours, but I can remember at the time that a busy summer in the transfer market helped lead to a feeling of a new era at Newport which the change of kit seemed to epitomise.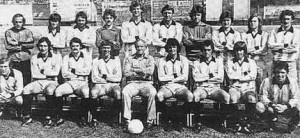 Unfortunately though, it appeared that his break from the game had not done Jimmy Scoular any favours and the old magic touch from his Cardiff days was no longer there. That first match against Stockport was lost by 1-0 and that match summed up County's first half of the season – defensively they weren't bad, but they just could not score goals. Scoular lasted only until January before resigning with County having gone thirteen games without a win, but things didn't improve under his successor Colin Addison either who saw his new side pick just the one point from his first six matches in charge.
In their first twenty six matches, County scored just thirteen times and, with them suffering from plenty of postponements throughout the winter, they went into March marooned at the bottom of the table with another application for re election looking inevitable (back in those days the bottom four sides in the old Fourth Division had to apply for re election to the Football League which meant that their fate was very much in the hands of the Chairman of the other clubs who would decide whether they wanted to keep the strugglers in place or vote in one of the non league clubs who were putting themselves forward for election). That lack of goals offered evidence that Brian Clark was finding life in the basement a struggle – despite being a regular starter in the team, he had only scored in the one game when his two goals were enough to gain one of only two victories up until then against Aldershot (it was the only league game up to then in which Newport had scored more than one in all season!).
Slowly though, Colin Addison began to improve things and three successive home wins (with Clark scoring in two of them) at least got County off the foot off the table. However, with the team having suffered eight consecutive away defeats, there was still a feeling around that a bottom four finish was inevitable when league leaders Cambridge United came to Somerton Park on 5 April. Cambridge, under rookie manager Ron Atkinson, were on their way to winning the title and within eighteen months they would be visiting Ninian Park to play City in a Second Division match as they earned back to back promotions by finishing runners up to Wrexham in the Third Division in 1977/78.
The Cambridge team that faced Newport had a nucleus of players who would prove themselves in the Championship and one or two others who would go higher than that in their careers, but, they were no match for Newport and Brian Clark in particular on the night. Clark was able to give County regulars a glimpse of why he had been so good for Cardiff in his first spell that night as he found the net three times to inspire County to a great 4-2 win which had a dramatic effect on the rest of their season.
Remarkably, County still had twelve matches to play after that night and seven wins from their next eleven matches got them into a position where a victory in their last game against Workington would see them finish clear of the bottom four. As it turned out, they managed a 1-0 win in an absolutely awful match watched by a huge crowd, by Somerton Park standards at least, of 8,3,13. That match was to be Workington's last in the Football League as, having finished in the bottom four so often before in recent seasons, they fell victim to re election procedure and found themselves replaced a month or so later by Wigan Athletic.
As for Brian Clark, he only scored one more goal after his hat trick against Cambridge so only ended up with eight in all, but without those three against the Champions elect, Newport might have gone the same way as Workington. Clark played on for one more season and, although not playing as many games, managed to score one goal more than in his first season with the club, but there is no doubt that the highlight of his time with Newport was that night when he rolled back the years against Cambridge.
5 April 1977
Newport County 4 Cambridge United 2
County Plumley; Derrett, Walker, Jones, Bell; Byrne, Emmanuel, , Preece, Relish (1); Woods, Clark (3)
Cambridge U Webster; Batson, Stringer, Fallon, Harper; Watson (O'Neill 1), Horsfall, Hall, Seddon; Finney (1), Biley
HT 2-0
Att. 2,306
by The other Bob Wilson