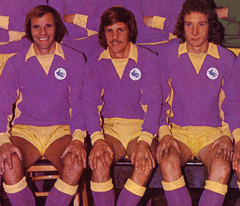 One look at the table  would have shown you the size of the task City's Academy side faced today. Queens Park Rangers are the runaway leaders of the division, but you would never have believed as the Under 18's turned in a performance that I rate as the most complete I have seen from a Cardiff City side this season. Okay, I know there are not too many first team showings that are candidates for an award like that (even the Man City win had it's fortunate moments), but the Under 21's have been consistently successful and usually offer good entertainment – I've not seen anything to match the 4-0 demolition job the Academy lads managed at Leckwith this lunchtime though.
Fielding the same team and formation that beat Barnsley last week, City strengthened their hold on second place and a place in the end of season Play Offs and now entertain their main rivals for the runners up spot, Charlton (who have lost a game since that table I put a link to was produced) on Tuesday – they'll go into that game full of confidence on the back of this win and an unbeaten league run dating back to early November.
The match got off to a somewhat misleading start with QPR forcing a corner inside the first minute. As normal, City brought everyone back to defend, but all of a sudden a neat pass out of defence, put centre forward Jake Watkins into space and, showing the awareness that marks much of his play, the target man slid the ball into the path of Dylan Rees who had got beyond the last defender and the Tenby born right wing back showed great composure to take the ball on and then shoot calmly beyond the keeper. Ten to fifteen seconds earlier QPR had been thinking they had a chance to to go ahead and yet here they were a 1-0 down inside a couple of minutes to a devastating counter attack.
To be fair to the league leaders, they responded well to the setback and they pushed forward with the confidence of a team used to winning every week. City had to repel some threatening looking attacks by the visitors, but it was to their credit that there was always a block or an interception to break things up. The three central defenders Curtis Watkins, Brad Wickham and Ashley Baker were instrumental in this as some of the benefits of the recently utilised 3-5-2 formation were shown.
Whether by design or not, I'm not sure, but City were playing a counter attacking game at this stage and there were signs that the visitors were struggling to cope defensively when the home team broke forward. With each of the centrebacks showing they were comfortable on the ball and able to launch those counter attacks with good passing as opposed to boots forward, QPR were having problems picking up the runs of Jamie Veale who was finding space between their defence and midfield – Veale was not able to find the pass to open up the visitors rearguard, but the warning signs were there and City were 2-0 up with about twenty minutes played.
Curtis Watkins had tested the QPR keeper with a long range effort, but it was the excellent Tom Burridge who produced a right footed version of Peter Whittingham''s goal at Leicester in the Play Offs when he sent the ball around the wall to beat the keeper at the near post.
While not exactly knocking the stuffing out of QPR, that goal did deflate them more than the earlier one had. City were able to get to half time with their lead intact, but, not only that, there were still signs that their speed on the break could get them more goals.
As sides often do, when they are a couple of goals down, QPR came out strongly after the break and there was more aggression and spirit than they showed in the minutes before the interval. However, apart from a sharp save from Joe Massaro when he kicked away a well struck shot, City's backline were still coping well while they continued to threaten on the break and it wasn't too much of a shock to see them go three up around the hour mark. Once again it was the Jake Watkins/Rees partnership which opened up the league leaders – Rees taking Watkins' clever header in his stride and beating the keeper with a crisp right footed effort from just inside the penalty area.
There was no way back for QPR from here and City started to play some delightful stuff. Burridge and Robbie Patten are a talented partnership in central midfield and the former shook off a booking after an off the ball incident to impose himself as a dominant factor in the game, while Patten was excellent in a sitting role showing a defensive responsibility that was especially impressive in one so young.
City were now creating chances on a regular basis – substitute Abdi Noor's shot was deflected inches wide and Jake Watkins twice came close to scoring with shots from distance, but he didn't have to wait too long for his deserved goal as he applied the finishing touch to give left wing back David Tutonda's fine run and cross the reward it merited.
City saw out the game comfortably after that to clinch what has to be their most impressive win of the campaign so far. I've already mentioned players who impressed me, but, to be honest, every one in the side was very good – I've not seen a better performance from our Under 18's in ages.
Just a quick mention of the Under 16's to finish – their match kicked off about 45 minutes after the Under 18's game, so I was able to watch most of the second half of their encounter with QPR as well – it was 3-1 to City when I arrived and they soon added a fourth from their number seven (who celebrated with a very impressive backward somersault!). Not surprisingly, some of the urgency went out of their performance after that and QPR were able to get a goal back with just about the last move of the game to make the final score 4-2 to complete a very satisfactory weekend for our youngsters.