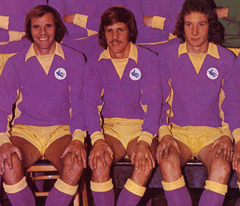 God knows how he was in such a state so early in the day, but on the way out of the match yesterday I saw a supporter who was pissed out of his mind shouting to no one in particular that Dave Jones had presented Swansea with three points on a plate by changing a winning team. Now, leaving aside the fact that Jay Bothroyd's ban meant that our winning side had to be changed anyway, it says something that, bearing in mind the way the game panned out, if somebody so completely out of their head could see where things went wrong from a City perspective, what possessed our manager to make changes, both in personnel and tactically, which went a long way beyond what was required just to replace Bothroyd in the first place?
I am a big admirer of Dave Jones and like to think that this becomes obvious to anyone who reads this blog on a regular basis, but he got it so, so wrong yesterday – yes, I know it's easy to say things in hindsight, but his team selection had me shaking my head in disbelief when I heard it as I drove to the ground and it even turned out to be more bizarre in practice than it sounded in theory! I daresay that some will portray the game as some sort of tactical triumph for Brendan Rogers over his rival manager, but, for me, that would be to give credit to the Swansea manager for just saying go out and play like you normally do – admittedly, I've not seen much of the jacks this season, but, certainly when in possession, they played exactly as I would have expected them to (as an aside, I believe they play at too slow a pace to cause top sides many problems if they were to go up).
Would City have set up any differently if Jay Bothroyd had been available? Only Dave Jones knows that for certain, but my suspicion is that they wouldn't have – Bothroyd would have played instead of Keogh and, despite our five match winning run and our position at the top of the table, our manager would have changed things because he was fearful of what Swansea might do to us, rather than thinking of what we, with a system which had been working fine until yesterday, had achieved so far this campaign.
I presume that by going with five in midfield, Dave Jones sought to, firstly, make life harder for the jacks when we weren't in possession in an area where they are strongest and, secondly, give us an element of control in the middle of the park when we had the ball, but neither happened – Swansea's middle three were able to stroll about virtually unchallenged when they had the ball while we always looked frantic and guilty of poor passing on the rare occasions when we had it.
Not one of our five midfield players covered themselves in glory yesterday, but I would say that there were mitigating circumstances for some of them. For example, was it really fair to pitch Danny Drinkwater straight into a game like that when he hadn't been in competitive action for two and a half months? Drinkwater looked rusty and off the pace for long periods yesterday, but should anyone have really expected anything different from him? Also, the decision to move Michael Chopra out of the position in which he won the game for us the last time we played Swansea at home baffled me – if we were going to play 4-5-1, wouldn't it have made more sense to switch Keogh and Chopra around because, as it turned out, the latter was like a fish out of water as he seemed to be confused over his defensive and offensive responsibilities with the result that he didn't do himself justice in either of them.
As for Craig Bellamy, I am afraid there was a headless chicken feel to much of his play, but, to be fair to him, it is is a bit hypocritical of me to spend his first six games in a City shirt praising him for his commitment to the cause (which so many others of his quality would not show in a lower league) and then start criticising when that same commitment leads to a very much below par showing – suffice it to say, that I can't help thinking that he would have made a better job of those two chances he had if there had been a bit less red mist around.
When all is said and done though, you cannot put what happened yesterday solely down to Dave Jones getting it wrong and our players coming up with a performance that was so poor – Swansea have to be given a lot of credit for the way they eased to a victory which was a lot more comprehensive than the scoreline indicates. If I do think that they need to speed things up a little when in possession then that is a bit of carping criticism when looked at against our hurried and technically poor attempts to pass the ball, even short distances, yesterday.
As I mentioned before, we looked frantic for too much of the time, but I have to admit that an awful lot of that was due to the department where Swansea did surprise me somewhat. The jacks never gave us a moments peace in the middle of the pitch when we had the ball and so much of what was poor about our game was down to the fact that we had so little time on the ball in possession – for example, Peter Whittingham hardly ever had that free second or two he needs to spot the runners and then deliver those passes which have proven so effective this season. People talk about Swansea as this footballing team who pass you to death, but, for me, the most impressive part of their performance was down to what they did when not in possession. They were head and shoulders above any other team I have seen us play this season (and much better than the two previous Swansea sides to visit us) in that respect and, perhaps, that is the the reason why they don't move the ball as quickly when in possession – they put so much effort into closing down the opposition that it is physically impossible for them to do that as well.
I'll close with just a few quick thoughts. Keogh (given that he was handed a pretty thankless task) and Hudson didn't play too badly yesterday in my book but, not for the first time under Dave Jones when things aren't going well, we looked more like a collection of individuals rather than the team Swansea so obviously were – it comes to something as well that the best attacking pass we played all game came from our keeper! Also, the jacks have scored the first goal in all six of the matches between the two sides since they were promoted in 2008 – we might have been able to turn things around to some extent on three of those occasions, but that cannot conceal the definite impression which I get that, in terms of preparation, attitude and performance, they have got this derby game thing sorted out far better than we have so far.