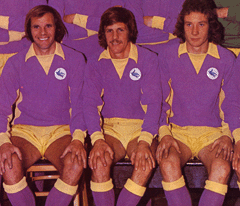 I really would like to be able to do a wholly positive review of a City league game this season, I'd get much more pleasure in writing about a good display which carried considerable promise for the coming weeks than I do from being critical all the time, but I'm afraid it was more of the same yesterday at Craven Cottage where, given the balance of play, we did well in the end to get a 1-1 draw against a Fulham side that had not gained a single point from their first four Championship matches this season.
Before going any further, I should say that Fulham looked anything but a bottom of the table team yesterday. In the first half especially, they looked as good as any team I've seen us play so far as Scott Parker, surprisingly being used in an advanced midfield position, gave a reminder of what a fine player he still is – Fulham will soon start climbing the table if they keep on playing like they did yesterday.
That said, I think the question needs to be asked as to whether Fulham are really as good as they looked at times yesterday or was it a case of us making them look good, because we are tending to make every league opponent we play look good so far this season!
If Fulham deserve praise for the way they played in the first forty five minutes (and I think they do), then it also needs to be said that we were woeful in that time – Ole said it was the worst we've played so far and I'm certainly not going to argue with him on that score.
After a fairly even first twenty minutes when we had quite a bit of the ball without really threatening a goal, we slipped into the sort of desperate stuff we saw in the second half at Blackburn and the first half at Wolves whereby we were hanging on desperately to stay in the game as our opponents swarmed all over us. To be frank, we have spent more time looking like relegation candidates this season than we have done looking like a team which has this squad which we are constantly told is amongst our strongest ever – a squad that the bookies keep telling us is among the favourites to win the league.
Maybe that's the problem, if you keep on being told your team has such a strong squad, you start to take it as a matter of fact, so expectation levels rise accordingly and you start judging them more harshly when performances resolutely fail to match the hype?
I think the word "performances" is important there. A few weeks ago, plenty of people were talking about what a tough start to the campaign we'd been handed and I feel we should not lose sight of this. If we still accept that the fixture computer has given us a very testing reintroduction to the Championship, then eight points from five matches (as well as a couple of wins in the League Cup) is a perfectly acceptable start- especially when you consider five of those seven matches have been away from home.
It's when you equate those results with performances though that things become more problematic because, given the way we have played most of the time, eight points is the very most we deserve and I just cannot see us being able to keep on picking up points at the same rate over the course of a season if we keep on playing like we are.
Of course, it needs to be said that a squad of players with as many newcomers as ours has needs time to gel, but this is nullified somewhat by the fact that so many of the teams we play are in much the same position. For example, Fulham fans, obviously, will not be happy with their position and results at the moment, but at least they have the consolation of seeing that their team gave them a hint of what might be when they had us chasing shadows at times yesterday.
What have we seen from  City so far that suggests there is better to come? Well, for me, there's been a good opening period at Blackburn, a few flashes against Huddersfield and a strong start to the second half against Wigan when we suggested that our billing as promotion favourites might be deserved and that's about it.
Hardly surprisingly, people are beginning to question the manager, but I thought Ole had quite a good day yesterday. After all, he picked the defence that most of us wanted to see at Wolves and, overall, I must say I felt quite positive about the team he selected. I suppose some can question Ole's role in a preparation that saw us outplayed so much in the first half, but, judging by his post match comments, it sounded to me as if he correctly identified where it was going wrong for us and, if he did read the riot act to his team at half time (I certainly would have in his position!), then it had the desired effect.
I say that while recognising that, although we were definitely better after the break, we still weren't that good, but I think at half time we were heading for a hiding and yet we were able to see out the last quarter of the game pretty comfortably – I'm prepared to give our manager some credit for that improvement.
Even during the fairly good opening twenty minutes, we moved the ball too ponderously and too many seemingly simple passes went adrift, but what was truly alarming was that how, from about the twenty minute mark, heads seemed to drop so quickly as Fulham upped the tempo and got in amongst us.
The character of the Championship hasn't changed in the year we've been away – it is still a league where virtually every team you play works as hard as they can for ninety minutes and you have to hope that some of your match winners (almost every team has three or four of them) can come up with something special that gives you an edge. At our worst, we do not compete or work as hard as the teams we are up against – it seems that some of our players believe that our, alleged, superior talent is all we need to claim the three points, but, as at every level of football, you've got to earn the right to be able to show that talent.
No one epitomised that attitude more than Kenwyne Jones who was back to his attitude of last season during the first half – he was awful and I don't think he could have complained if he had been taken off during the interval. Instead of that though, the opening seconds of the second half saw him chasing back about twenty yards to put a Fulham player under pressure and you thought "that's better". Rather like  his team, Jones wasn't great in the second forty five minutes, but he was able to impose himself on the game, while also giving the impression that he cared about what was going on.
The striker was able to see out the ninety minutes for the first time this season and was still closing down opponents in the final stages and, as well as that of course, he got the goal which gave us a point as he, first, won a header, and then moved on to a neat Mats Dæhli pass (the youngster and Matt Connolly were our best players on the day in my opinion) to score comfortably.
Jones and most of his ream mates had a much better attitude after the break (our passing was still poor much of the time though)  - something must have brought about this change and it seems to me that the most likely reason for it was what was said to them at half time. As the person who is responsible for what happens in our dressing room during the interval, I'm prepared to give Ole the credit for this, but, unless performances that offer some justification of our promotion favourites tag start appearing soon, then I fear he was only papering over the cracks yesterday.
I don't believe five league games is enough to conclude for certain that a team or squad isn't as good as everyone seems to think they are, but, if we get to, say, eight matches and we are still only seeing fleeting glimpses of quality, then I think it begins to become reasonable to ask whether this squad really is as good as it's built up to be and whether it has the quality to maintain an eight points from five games rate over the course of nine months?
If it turns out that such questions are justified then, although he was reasonably successful in fighting a fire yesterday, Ole is, I'm sure, going to be held responsible – he has said himself that this is his squad now and I hope for his sake that his players start living up to their billing soon.
* picture courtesy of http://www.walesonline.co.uk/