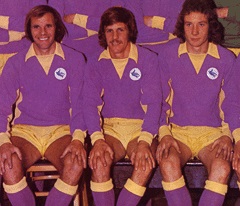 I didn't get to watch the television coverage of Wales' 1-1 draw at Cardiff City Stadium because I was among the sort of disappointing crowd (I've not seen an official figure for how many were there, but I'd guess it didn't run to five figures) that is becoming a recurring theme of the 17/18 season at the ground, but a listen to what was being said on Radio Wales at half time and after the match had me thinking that the game was a side issue with the real item up for discussion being Chris Coleman's future as manager of the national team.
Coleman's reaction at the final whistle was analysed in minute detail with talk about what his "body language" (why can't people just say "demeanour" like they used to?) was portraying, but am I out of step with how people are thinking when I say that I cannot really get into this great will he/won't he debate?
I'd like Coleman to stay and when I was asked whether he would, I replied that my guess was that it was 60/40 in favour of him doing so, but, essentially, my attitude is he'll either stay or go and there's nothing I can do to influence that decision one way or another – that being the case, I'd prefer to discuss the two football games Wales elevens played yesterday.
Well, as far as the senior team is concerned, that word "elevens" was not the best one for me to use because the match with Panama was the sort of friendly where the second half gets disrupted by a stream of substitutions which usually means that the moments to remember in such matches tend to come in the first half when it resembles what I'd call a proper game.
Last night saw Wales make six substitutions and Panama five (it felt like more!), but, to be fair, I feel the match kept the crowd's interest more than is usually the case under such circumstances.
If that opinion is correct, then I suspect the reason it is so is down to the experimental nature of the Welsh team. On Friday, three youngsters (Ben Woodburn, Ethan Ampadu and David Brooks) were thrown on for the last half an hour into a difficult situation with Wales a goal down to an impressive French side in Paris in a game where they had very much been second best.
While it would be pushing it to say that their introduction (it was Ampadu and Brooks' debut appearance for the senior team) transformed the match, it would be true that Wales looked a better side with them on the pitch than when they weren't there.
Therefore, with Bale out and Ramsey returning to Arsenal (to be replaced by a thirty three year old Andrew Crofts), I think it's probably fair to say that what selling power a friendly with Panama, coming so soon after another World Cup qualification miss, had was down to an interest in seeing how the young trio would perform from the start they has been promised beforehand.
The answer was that all three were at the heart of an impressive Welsh opening to proceedings – Woodburn has the biggest reputation currently, but, although not playing poorly, he was probably the quietest of the three. Ampadu patrolled the area in front of our back four with an authority and presence that belied his seventeen years, with that inexperience only showing perhaps in a somewhat rash challenge which earned him an early yellow card, but I liked the vision of some of his passing and the quick feet he showed on occasions – on this evidence, he'll be a fixture in the Wales team for a decade and more, always assuming he confirms his allegiance to Wales by playing in a competitive fixture soon.
The same proviso applies to Brooks who was the BBC's nomination for Man of the Match. The competition for places in the position Brooks operates best in is more intense when compared to the defensive midfield area that Ampadu operates in (in saying that, I wouldn't rule out the Chelsea youngster playing more games for Wales as a centreback than as a Makelele/Matic type midfielder), so he may not be the "fixture" that I feel his younger team mate will be, but he has really impressed me as a confident, skillful and effective operator out wide every time I've seen him this season.
With Tom Lawrence also starting the match in a bright and effective manner, there was a vibrancy about much of our early attacking play that we have not seen from a Wales team for some time, but I'm afraid that, once again, things tended to flounder somewhat when Sam Vokes became involved.
Vokes, who scored the winner at Southampton in Burnley's last game, has become a pretty effective performer at Premier League level in the last year or two, but he is one of those many players who look so much better when playing for his club as opposed to his country. His great goal against Belgium in that never to be forgotten Euro 2016 Quarter Final shows how effective he can be, but, generally, he looks a bit like a fish out of water in a Welsh team that isn't really set up to play to his strengths – nevertheless, last night when we did look for him in the air, Vokes' influence, as it often is in a Welsh shirt, was minimal.
Sadly, I had no confidence at all in Vokes finding the net from the penalty he took just before half time after Dave Edwards was bought down for what was a pretty obvious spot kick. Credit to visiting keeper Penodo for his save, but it was one of of those penalties hit at just the right height for a goalkeeper to think he should be saving if he goes the right way.
Vokes was replaced at half time by Tom Bradshaw, while the switch at the same time of Ben Davies for former City Academy member Tom Lockyer to give the Bristol Rovers man a first cap offered proof that Coleman saw the match as an exercise in giving some of his squad members a chance, as opposed to a fixture that had to be won at all costs.
Lockyer didn't do badly at all on his first taste of international football and the same could be said about midfielder Lee Evans (currently on loan at Wigan from Wolves) and wingers Marley Watkins (Norwich) and Ryan Hedges (Barnsley) who both had their moments in their first twenty five minutes or so of international action –  the introduction of the veteran Crofts for Ampadu rather went against the spirit of the evening and, although the Scunthorpe man made his contribution, I'd rather have seen Chris Maxwell getting a debut  for a few minutes in place of Danny Ward as our sixth change.
Hardly surprisingly given all of the changes, Wales weren't as fluid after the break as they had been at times in the first half, but the game still had a watchable quality to it and the home side were able to get a lead that I thought they deserved as reward for the overall edge they enjoyed for the ninety minutes when Lawrence sprinted down the left touchline, cut inside and fired fiercely across Penodo with his right foot into the corner of the net.
Panama always offered solid resistance and, on an individual basis, their players produced moments of high skill, but, being honest, I couldn't see where a goal was coming from for them. Wales survived a couple of free kicks in potentially dangerous areas as the match went into added time, but they looked home and dry until Panama came up with a high quality move and finish in the ninety third minute which rather punctured the feelgood factor around the ground.
Wales forced one last corner, but could do nothing with it and so had to settle for a draw. However, when you consider that the five matches played (four of them competitive) beforehand by Wales sides during this international break had produced five defeats, I suppose we should be grateful for small mercies.
There was a draw to for the Under 21s as well who followed up their loss to Bosnia at Bangor on Friday with a 0-0 draw with group leaders Romania at the same venue yesterday evening. I watched the first half of this game on S4C before leaving for the seniors match and left thinking that Wales, who had started the game well, but had come under increasing pressure as the half went on, were, probably, heading for another defeat against opponents that, apparently, had eight or nine full internationals in their starting line up. So, I was both surprised and pleased to learn that the match had finished as it did.
However, that feeling was to change when I discovered that Romania had two players red carded and then it felt like a great opportunity to make up ground lost in losing two of their first four games in the qualfiying group had been wasted by a Welsh team which, again, had City's Cameron Coxe and Mark Harris in the starting line up.
Unfortunately, on Monday Wales Under 19s made it three defeats from three in their mini qualifying competition being held in Turkey for the European Championships, with another single goal margin of defeat against Kazakhstan – this time by 3-2.
So, two draws and five defeats from seven matches hardly makes for a successful third international break of the season, but, at least, if, as I suggested in my piece on the France match, two or three of our players in the late twenties/early thirties age brackets are beginning to show signs of wear and tear on the International stage, three of our younger players (as well as a few others within the squad) have taken the opportunity they were given to suggest that they can come in and do a good job for Wales as we now turn to trying to ensure qualification for a second successive Euros Finals competition.