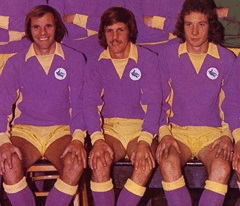 As I watched City's Under 23 side toil in vain to make an impression on a Bristol City team that were their betters in virtually all departments of the game at Cardiff City Stadium last night, it would have been easy to blame their 2-0 defeat entirely on a bizarre selection that saw them take the field with a trialist right back (I believe it was Matt Makinson of Blackburn – he did as well as any City player on the night) at centre half, a centre half at right back, three central midfielders who are all most effective playing a holding role, another central midfielder on the left wing, a right back/right wing back on the right wing and an attacking midfielder at centre forward.
It's fairly well known that at Ajax's successful Academy, young players are given game experience in all outfield positions in an effort to improve their development into what I'll call all round footballers. Therefore, it would be tempting to think that something similar was happening last night, but then you realise that, in one area of the pitch at least, those who picked the team had barely any choice but to go with the selection they made.
I don't like putting the word "diminutive" in front of James Waite's name virtually every time I mention him, but his size, or lack of it, becomes more of an issue when this natural central midfielder cum number ten is used, as he has been frequently lately, as a lone striker by the Under 23s.
It would be an exaggeration to say that Waite has to play against a couple of centrebacks who are twice his size when he plays up front by himself, but not much of one and it's also true to say that, based on what I've seen in the last two or three years, he is most effective as a goalscorer making late runs into the penalty area from midfield.
However, it's when you ask who could have played up top instead of Waite that you realise that, in the absence of Mark Harris and Ibrahim Meite (who has yet to score a goal for City at any level since he first played for the club in November I believe it was) after their time with the first team at Wigan, there were hardly any other candidates for the striking job.
Isaak Davies, who scored the winner for the Under 16s against Swansea after coming on as a sub on the weekend, is someone from the Academy ranks who has scored on a fairly regular basis at Under 18 level this season – I'd describe him as a striker first and foremost, but ask me to name another one among those who would be realistic candidates to have been included last night and, Harris and Meite apart, I can't think of any.
Fred Gounongbe has disappeared off the face of the Cardiff City world in recent months and it's hard to see Rickie Lambert as a candidate for the Development team at this stage of his career, so, with Davies not included last night, who was there who could play up front?
The lack of attacking options on the bench (there was a goalkeeper, three defenders and a winger) really brought home how few strikers we have below first team level at the club and as the best finisher  and the closest thing we had to someone who instinctively reacts and thinks like a goalscorer, you realise that it had to be the "diminutive" Waite up front.
Nevertheless, while accepting that it's not all about results at this level and that there has been something of a revolution below first team level at the club in recent months, last night's match still had a feel of a bunch of kids being thrown in at the deep end to sink or swim as they were, in many cases, asked to play in positions they were not too familiar with.
The revolution I mentioned earlier has seen the majority of those who started the season in our Under 23 and Under 18 sides released or in the process of being released. In the absence of any official statement from the club, it would be wrong of me to state the names of those who I believe have been let go as if it were a fact, but I will say the list keeps on growing and more players seem to have been let go than I first thought.
One name I'd not put on that list yet is Macauley Southam because he has continued to be selected for recent Development team matches, but he was not involved last night and it was very odd to see twenty one year old Jordan Blaise, who is the closest thing we have to an "experienced" Development team regular at the moment, only on the bench.
The squad was the youngest I've ever seen us field for a game at this level and with so many of the starting eleven not playing in their accustomed positions was, in my opinion, crying out for one or two more senior players to help guide them through what was always going to be a testing ninety minutes.
Yes, I accept and sympathise with the view that we shouldn't have expected much from our sides below senior level after Christmas – with so many players who are being asked to play against opponents who are a good bit older and bigger than them, it was never going to be about results, it's about trying to get more home produced players into the first team and this is not going to happen in the short term.
However, when you consider that, from memory, it took us until the game's three quarter point to have a goal attempt (I'm not talking about an on target attempt – we didn't have one of them – I'm talking about an attempt of any kind), you do wonder what was gained from last night's game in terms of player development. I accept that there might not have been much that could have been done in the forward positions, but it was always going to be a big test for the teenagers on show without many of them having the added disadvantage of playing out of position while not having many, if any, team mates with the sort of experience at this level to talk them through the process.
For the record, Bristol won thanks to a soft goal scored by their speedy and impressive left winger Jonny Smith (who was signed from Wrexham I believe) and a fine finish by Diego De Girolamo, who scored a hat trick in the first meeting between the teams this season and is exactly the sort of player who is familiar with playing at this level that we so lacked – that's not me wanting a return to the Tommy O'Sullivan and Theo Wharton days there either, it's me asking why are we making it harder than it could be for the fifteen, sixteen and seventeen year olds we are fielding at this level these days?
That first goal attempt I mentioned came from Cameron Coxe who was put clean through on goal just before Bristol scored for the second time, but the full back/wing back, who was Under 18 captain at the start of this season and is now one of our more experienced Development team members, was playing on the wing and was one of nine starting outfield players we had who I'd say were not familiar with getting chances like that at this level of the game, predictably shot wide. Jamie Veale had a free kick that went over and Waite lashed at a shot that went well wide, but that was it as far as any hope of a City goal went in their final home game of the season.
Having nominated someone who I believe is no longer at the club as my Under 18 Player of the season, I'll finish by saying that someone else who I'm not sure will be here next season impressed me most for the Development side – Marco Weymans was superb in the 7-1 win over Watford and was consistently good in most of the other matches I saw him play,