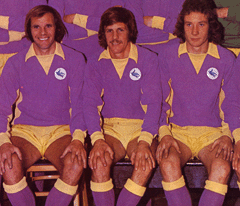 No disrespect to the man who is, almost certainly, going to be announced as our newest signing later today, but I would have thought that, as the season started, his name would have meant very little to your average Cardiff City supporter.
It certainly didn't to this one, but, having watched Solomon Taiwo play a prominent part for a Dagenham and Redbridge team that caused us quite a few problems in our 3-1 win over them in the First Round Carling Cup tie on 11 August, I can say that, based albeit on just that one match, we have signed a useful player.  Taiwo's stand out contribution was to fire in a tremendous driven cross from the right which made scoring a formality for his colleague Josh Scott. Now I know too much can be read into just one game and, as has been pointed out by others, signing a player just on the basis of one performance against us has not worked for City before (witness Gavin Gordon), but the vision and skill Taiwo showed to produce that undefendable cross was way above League 2 standards.
Predictably, there are those who have greeted this signing in a negative fashion as if we have somehow become too big a club to go looking in the lower divisions for new players, but, speaking for myself, I am pleased that we have not forgotten all about what has been a pretty profitable source of good signings for us in the past.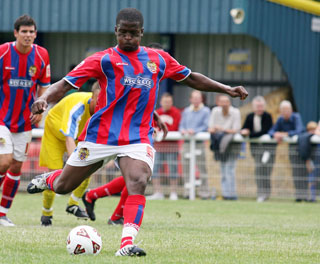 At first glance, Taiwo's CV looks distinctly unimpressive – a rejection by Millwall, then a succession of non league clubs in a short space of time and then sent off in his first two appearances for the club that brought him back into the Football League. However, dig a little deeper and you begin to see why City might have thought he could come here and do a job for us.
Firstly, Taiwo has come back from being rejected by a league club as a teenager – not many do that. Secondly, his experiences with the likes of Bromley, Maidenhead and Fort Wayne Fever (!!!) shows that he has sampled the game at a level which, I think I am right in saying, no other senior player on our books has seen – I am guessing therefore, that he will not be one who takes his career for granted like some of his new colleagues, perhaps, do.
Thirdly, Taiwo signed for Dagenham and Redbridge from Sutton United who, I believe, play two divisions below League 2 level and, within less than two years, proved himself good enough to start attracting the attentions of a club two divisions higher again. Whatever else he may be, Solomon Taiwo is a player making quick progress up the football pyramid and who is to say that he cannot go even further?