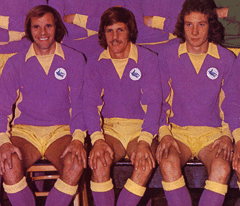 A few weeks ago on here I remarked that the 10/11 team's record had finally got better than the one from 06/07 which went storming clear at the top at the start of that season and that I didn't expect to see the team from four years ago go ahead of the current one again this season. Since then the 10/11 side seems to have come out in sympathy with their predecessors and it's only the fact that the 06/07 side was in the middle of a horrendous two month run without a win at this stage of their campaign that is keeping my prediction on track.
I'll stick to my opinion because I believe that the current squad has more strength in depth than the 06/07 did, but what I will admit is that when I said what I did, I had fallen into the trap of believing what the manager, squad and much of the media were telling us – that is that we had one of the most talented squads in the Championship (many were eager to tell us that it was the most talented). With our manager saying that he had been able to bring in all of his primary transfer targets during the summer, the word was that a Play Off place was not good enough this year – it had to be automatic promotion.
Comments like that elevated this season above any other under Dave Jones because I would say that, realistically, top six was the summit of our ambitions during his first five seasons. However, as we continue on our seven match run of woeful form and performances which has now seen us take one point (courtesy of a goal scored deep into added time) out of six against the bottom two sides in the division over the past eight days, I find myself asking, not for the first time, why is this season considered to be different from any other under Dave Jones? After all,we are getting the same sort of feast or famine stuff that we usually see (I suppose a difference is that, in my opinion, we weren't playing that well during our feast period) – I'm not even sure that it's true to say that the inflated expectations of the current squad are down to the fact that it is the highest profile one we have had under Dave Jones because the 07/08 one with Fowler, Hasselbaink and Sinclair had more big names in it.
Five weeks ago today, the good ship Cardiff City seemed to be sailing along serenely – as I mentioned earlier, I didn't think we were playing that brilliantly, but we were definitely picking up the results as we beat a succession of teams by going out with an attitude which, basically, said "you worry about us because we think we are better than you". However, that all changed on the day we played Swansea when our manager picked a team and formation based on fear of what the opposition may do (not only that, he dropped our most natural goalscorer into a deeper role which completely nullified his main strengths).
In many ways the devastating 6-0 defeat at Preston two seasons ago cannot be compared to Swansea's win at Cardiff City Stadium on 7 November (that was a match where our performance was not as bad as the result, whereas the opposite applied to the Swansea game), but I think the effect of that loss has been the same – over the past month or more, we have been second best to virtually every side we have played and confidence is ridiculously low for an outfit which, amazingly, is still occupying an automatic promotion place.
In an interview with the BBC after yesterday's unsurprising 1-0 defeat at Middlesbrough, Dave Jones pinned the blame very much on his defence and he has a point there because our inability to keep clean sheets (no 1-0 wins this season) means that we always have to score two to win a match, let's put this in context though. I'm pretty sure that I am not the only supporter who thought our defence was hardly top six standard, let alone top two, last season and yet since then what have we seen in the way of changes to that part of the team? What we have done is bring in a left back who is, in my opinion, worse than the one we had and a centreback who was, after nearly half a season, finally fit enough to take a place on the bench yesterday but still needs match time according to our manager – it also seems to be generally forgotten that the player who was, for me, our best centreback over the whole of last season has been farmed out on loan for the year, apparently for non footballing reasons.
If we aren't good enough defensively, and I don't think we are, then Dave Jones has to accept his share of the blame for that situation. The limitations of some of our defenders have been pretty clear for months or even years, not just for the last few matches and there is an imbalance of quality in the squad which we have had from September 1 when the transfer window closed – we might be top two quality in some areas of the pitch, but we most certainly aren't in others.
What is worrying is that in that interview Dave Jones does not seem to have much clue as to what needs to be done to turn things around – yes we need to defend better, but that was the case for much of the time when we were winning games so I don't see how this can be put down as the sole reason for our current malaise.
Talking about yesterday in particular, I must admit to being amazed that there was only one sub used – I know we didn't have many attacking options on the bench, but, surely, the player who is, arguably, the best passer of the ball at the club should have been used and, if you are chasing a game, why not use Adam Matthews who offers more going forward than our other full backs?
On a more general note, from what I have seen of our recent games, we are simply not passing the ball well enough. I think I must have been in a minority of one who thought that Steve McPhail was not playing badly against Preston when he got hauled off and, even if it is only a short term measure, it seems to me that he has to play to bring some order and calmness to a passing game which at the moment is seeing good footballers struggling to play the ball accurately over distances of less than ten yards.
Similarly, although the ploy of playing Peter Whittingham in his deeper "quarterback" role had it successes earlier in the season, it's not working now and I believe he has to be playing in a position closer to our forwards to try to give them the quality service that they are currently lacking. I would also give Danny Drinkwater a chance to play in a home match in his natural central midfield position (why on earth did he play on the left again yesterday?) and if that means that the below par Seyi Olofinjana needs to be left out then so be it.
Using Whittingham in a deeper role made it inevitable that we would not be getting as many goals from him as we did last season. Now I accept that what happened last year was a one off, but it seems to me that using Whittingham in his current role means that he might not even be able to match his scoring rate in previous seasons. With Chopra and Burke also not scoring as consistently as last year and Bellamy and Keogh hardly weighing in with the goals either, using Whittingham in his current position is looking like a luxury we cannot afford because we have become over reliant on Jay Bothroyd continuing his golden scoring period of September and October for our goals – if Jay stops scoring (and, leaving aside his injury, there are signs that this might be happening), where are the goals going to come from?
For three years I have been supportive of Dave Jones as he has proved those of us who thought he should go in November 2007 wrong, but it's hard to avoid the feeling that so much of what is happening at the moment is down to him. It's rumoured that the atmosphere in the dressing room has changed since that Swansea match – I don't know about that, but what seems obvious to me is that we don't look anywhere near as confident since that game when our manager decided to tinker with a winning formula. By his own admission, Dave Jones has the squad he wanted this summer and yet so many of the same old weaknesses remain – he keeps on telling us that this season is different from his previous ones at the club, now would be a good time for him and his players to start proving that.