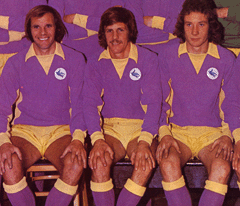 It depends on whether you are a glass half empty or a glass half full merchant, but yesterday afternoon Cardiff City were either given a stay of execution of ten weeks in an encounter with Her Majesty's Revenue and Customs (HMRC) or they embarked on the first step into a brave new world which will see them catapulted into the Premiership on the back of untold Malaysian millions!
As to which option is right, well, frankly, I haven't got a clue! I can set out my opinion and will do over the next 100,000 words, but, on the information we have at the moment, that's all it can be – an opinion.
It was strange reading how a number of posters on messageboards talked as if they knew precisely what was going on though when the news broke yesterday afternoon because, to the best of my knowledge, there had not been the merest hint of any action of this type being taken against the club because of unpaid tax bills from any of the sources that are generally considered to be "in the know". Despite all the rumours that have been doing the rounds recently concerning our financial situation, I cannot remember seeing anything about unpaid tax bills – of course, when a club is, allegedly, defaulting on it's electricity bill, then there is an implicit acceptance that paying the tax man may become an issue, but there had been nothing to suggest that an appointment in court was imminent.
I suppose the best thing to do is to spend a few sentences describing what happened in chronological order. The first inkling that something might be up came when someone must have noticed the club's name in this winding up list of tax debtors (City are number 19103/2009 on the list) due at the Companies Court. This led to a story which appeared on the Wales online football site and, from there, onto the messageboards where, hardly surprisingly, all hell broke loose!
However, this soon prompted a response from the club on their website which, on the face of it, nipped the story in the bud – in essence there was no story because the matter had all been sorted out in consultation with HMRC. Soon after that, there was more from the club as they confirmed that Dato Chan Tien Ghee (TG) had joined the board of directors. From here, we soon had media appearances by Chairman Peter Ridsdale in which he talked about the situation with HMRC and the impact that TG can have on the club – what he had to say to the BBC can be heard at this link .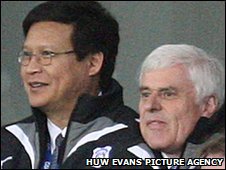 That is a break down of what happened in a period of about five hours yesterday, but, at the end of it all, what does it all mean to your average supporter? As said earlier, I am not the person to offer a definitive answer to that question and, to be frank, I think any City fan not directly involved in the situation who thinks that they can provide one is kidding themselves.
That. of course, does not stop us expressing our opinions and so here's my take (from a position of most certainly not being "in the know"!) on what has been happening over the past few months (because I'm sure that's the sort of time period we are talking about).
Firstly, I believe that everything that happened yesterday needs to be considered against the background of two things;-
1. We were only able to sell one player for a big money fee in the summer – I'm convinced that that we had to sell two if we were to keep our financial ship on a, fairly, even keel.
2. From the turn of the year, Langston would be able to take us to court over the terms of the loan notes debt as the eighteen month "cooling off"" period ordered by the judge in the original summary judgement case will have run out.
Dealing with point one, this meant that rumours of financial problems always had a degree of credibility about them and, although the fact that we were due in court so quickly came as a surprise, that we would have trouble paying our bills over the coming months should not have been a shock once no one came in for Joe Ledley in August and Ross McCormack's hamstring injury at Blackpool put the kibosh on any move for him.
With the second point, it seems to me that by pursuing the summary judgement case and then later trying to have that verdict overturned, Langston have certainly shown that they are not going to let the wellbeing of Cardiff City Football Club stand in the way of their pursuit of what they are owed.
Therefore, I feel that it is likely that the New Year would, and still possibly could, see Langston taking their case to the courts again and this time the cards almost certainly wouldn't have been stacked so heavily in favour of the club. Whatever, with Ridsdale and co, apparently, looking  to sell the club on now the new ground is up and running, the last thing they wanted was possible new investors being put off by the unsettling effect of further court cases.
That said though, my opinion is that a degree of uncertainty as they tried to negotiate a settlement with Langston wouldn't have been a bad thing from the club's point of view and, as I pointed out earlier, the failure to sell that second player meant that those negotiations were being carried out against a background of credible rumours about the club's financial problems – knowing that there would be a chance of ending up with nothing at all for them as their unsecured debt got swallowed in a possible administration action would surely have concentrated a few minds on the Langston side.
The scenario set out above would have been a very bleak one for the club though if they didn't have the prospect of possible Malaysian investment to fall back on and what has been significant to me is that. right from the start, Peter Ridsdale has been so optimistic that such investment would be forthcoming. Indeed, there have been times when I have heard him talking as if the whole thing was a done deal when I wished he would rein in a bit because TG might not want his business being put in the public domain like that.
However with TG now on board, I find myself wondering whether negotiations with the Malaysians were always further advanced than we were led to believe? Indeed, there are increasing suggestions that TG is, essentially, a front man for some serious money in the form of his business partner Vincent Tan who currently sits at number ten in the list of Malaysia's richest people.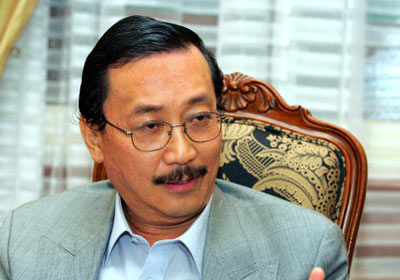 Peter Ridsdale is adamant that the threat from HMRC no longer exists and with him also talking about us being debt free within twelve months as well as being in a position to invest on the playing side during the January transfer window, it would need some major investment to put the club into such a position when you consider how much it owes various parties. To be in the position to be able to do that suggests that TG isn't the only player involved here and, just as the rumours about our financial problems had the ring of truth to them I would say that, increasingly, it looks like someone like a Vincent Tan could soon become involved.
For some reason, I have always had a good feeling about the Malaysian connection and (this time at least!) it looks like I might just have been right. However, it's certainly not time to start counting chickens yet – although  the size of the list of tax debtors before the court supports Peter Ridsdale's contention that what happened yesterday was, essentially, a rubber stamping exercise, the fact of the matter is that the case was not thrown out or dismissed, it was adjourned for ten weeks so, as things stand, the threat from HMRC is still in place.
Also, although Peter Ridsdale keeps on telling us that a settlement with Langston is imminent (to be fair, TG's decision to accept a seat on the board seems to back this up as well), nothing has been signed yet and so, as of now, it seems to me that we will be going into 2010 with the possibility of being taken to court over two different matters concerning our finances hanging over us.
Whether I am right or wrong in my guesswork though, what I can say with certainty is that I for one am once again left with a sour taste in my mouth as to how the ordinary supporters gets treated by the money men at my club. A few weeks ago Peter Ridsdale trumpeted the frozen season ticket prices for five years idea as some sort of gift from the club to the fans, but yesterday's events firmly puts that particular piece of Ridsdale spin into perspective! Now I am not saying that the deal isn't a good thing for punters who can afford to buy their season tickets before Christmas, but what we didn't get told was that, at the moment, there is a degree of risk involved in giving the club your money.
I purposely paid for the two season tickets I bought by credit card, but I am sure that there are many who didn't use that method to purchase them so, for them there has to be at least a small doubt as to whether they will end up getting their ticket or their money back. Apparently, this doesn't bother anyone at the club and I can't help wondering whether we would have got any acknowledgement at all from them yesterday regarding the court case if it wasn't for someone noticing the name Cardiff City on that court list or would they have just kept on accepting payments by cash, cheque and debit card while not telling anyone that we were the subject of a winding up order?
For nearly ten years supporters have been treated like pawns in a chess game by the money men at the club. Maybe it has always been the case and it is just that we are all more aware of what goes on because of the twenty four hour access that the Internet provides, but, I for one am tired of all the ego's, intrigue and bullshit now and would just like to get on with watching my team play safe in the knowledge that we have a reasonably secure future.
However, thanks to Messrs Hammam, Ridsdale and a few others, I'm not sure if I will ever feel like that again. Where once there was a, perhaps, naive enjoyment of what happened on a Saturday afternoon or Tuesday night to be followed by a day's worth of reaction to the game, now supporting the club has become a twenty four hour a day, seven day a week thing with the next crisis never more than a few hours away.
The uncertainty caused by those who only see Cardiff City as a money making exercise has, I believe, bitten deep. Although I can only speak for myself here, even if someone like Vincent Tan comes in with his millions and we find ourself becoming an established   Premiership club over the next few years, I honestly don't think I will enjoy it as much as I should do because a part of me will always be thinking "what's going to happen when he's gone?". It was great for a couple of years under Sam Hammam when we used to say "go get him Sam" if someone was available at £1 million plus, but as some obscure rock combo once put it, "We won't get fooled again".