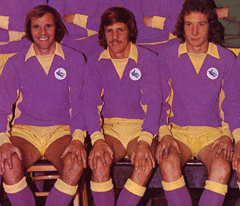 The transfer window closed at 6 o clock yesterday evening with none of the feared last minute high profile departures of players in the last year of their contracts. Although in an ideal world, the futures of players such as Bothroyd, Whittingham, Burke, Blake, McPhail and Matthews would have been sorted out by now with them signing new deals, the fact  that (barring loan deals prior to a permanent signing in January which, I suppose, cannot be ruled out entirely) they are all still at Cardiff has to be a good thing – you would like to think that the next few weeks will see at least some of those who could move for nothing next summer signing new deals.
There was some movement out of the club yesterday as Anthony Gerrard signed for Hull on a season long loan deal which means that he and Seyi Olofinjana will be representing their new clubs when they clash at Cardiff City Stadium in ten days time when club football resumes after the current International break. Gerrard's departure completes a rapid fall from grace at Cardiff for someone who was, arguably, our best central defender last season and comes amid rumours of a falling out with the management and of him returning to pre season training above the target weight set for him by the club – as I say, this is all rumour, but he certainly didn't look like his old self in the League Cup tie with Burton I watched and, apparently, he didn't have the best of matches in the League Cup defeat at Peterborough either.
Gerrard joins Ross McCormack in heading out of the exit door at Cardiff with the striker cum wingers move to Leeds being completed in time for him to make his debut for his new club as a sub in their 1-0 win at Watford on Saturday.  Surprise has been expressed at the widely quoted fee of £350,000 that Leeds paid for McCormack, and, when you consider that a year ago Hull were bidding nearly ten times that much for him, then it has to be admitted that, potentially, Leeds have got themselves a bargain. However, at virtually no time in the intervening year has McCormack showed anything like the form which led clubs to think in terms of paying a seven figure sum for him. Yes, McCormack didn't always seem to have a fair crack of the whip recently, but his reaction to being left out was disappointing – it's all very well hinting at "dark forces" being behind his departure from Cardiff, but there was no one else responsible for the well publicised court case he was involved in last year or the personal fitness issues which, increasingly, seemed to effect his performances.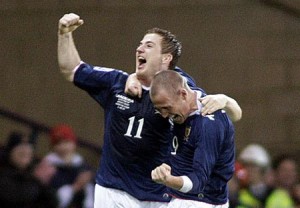 With all the comings and goings over the past few months, it's easy to lose track of how much our squad has changed from the one that fell at the last hurdle last season in the race for the Premiership. In the transfer window just closed, we lost the following players who featured in the first team last season;- Peter Enckelman (St. Johnstone), Mark Kennedy (Ipswich), Tony Capaldi, Anthony Gerrard (Hull), Joe Ledley (Celtic), Kelvin Etuhu (back to Man City), Riccy Scimeca (retired), Warren Feeney (Oldham), Josh Magennis (Aberdeen), Aaron Morris (Aldershot) and Ross McCormack (Leeds). Coming in for them have been;- Tom Heaton (Man Utd), Lee Naylor (Celtic), Martin John, Seyi Olofinjana (Hull), Danny Drinkwater (Man Utd), Jason Koumas (Wigan), Craig Bellamy (Man City) and Andy Keogh (Wolves) with the last five named being loan signings.
So what do all these changes have our squad looking like currently? Well, firstly, eleven players out (as well as a number of youngsters and certain unlamented off field members of staff leaving) makes a pretty big hole in last season's wage bill and, secondly, despite all of the talk of more options for Dave Jones this season, the truth is that, barring an amazing breakthrough by a member of our Academy this season we have fewer players to choose from than we did last season.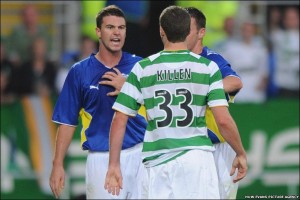 Compared to last season I would judge this year's intake as follows;-
Goalkeeper – the replacement of the increasingly error prone Enckelman with Tom Heaton (who has done well in his two matches so far) represents a definite improvement in my book.
Defence – we'll miss Mark Kenedy's influence on and off the pitch, but with Kevin McNaughton looking back to his best (injuries permitting), Adam Matthews, hopefully, continuing to develop, Darcy Blake being used there more and Lee Naylor coming  in, I think we can be a bit stronger at full back than we were. As for centreback, Gerrard and Blake were the best combination we had last season in my book and with one gone and the other, possibly, not seeing much action in that position, we have to be weaker in this area than we were.
Midfield – although his stock has definitely fallen with some since he left us, I still think Joe Ledley was a quality player at this level, but I'll readily admit that, so far at least, we are missing him far less than I thought we would. This is almost entirely down to the Drinkwater/Olofinjana axis which has made such an impressive start to it's association with Cardiff City – concerns over our central defence have to be tempered by the knowledge that, up to now, our two new central midfielders are making it very hard to get at them. With Peter Whittingham becoming more versatile, last season's most creative player still to make an impact this time around and another player in Jason Koumas who has, consistently, been one of the best around in this league when he has played in the second tier to be added to the mix, I can't see any logical reason for arguing that we have a worse midfield this time around.
Attack - I'm sure there will be times when people will say "if only we hadn't sold Ross McCormack" over the next few months. It's also true to say that Andy Keogh has found goals hard to come by at this level in the past and it shouldn't be forgotten that Michael Chopra will be missing for a significant portion of the campaign, but, even allowing for all of this,  we look stronger up front this season – Bothroyd's scoring goals, Keogh is a quality all round player at this level and we have a midfield that looks capable of weighing in with the goals.
On the face of it then, we look a stronger outfit than we did last year and I think it is safe to say that not one City fan genuinely felt a month ago that we would be able to bring in the quality new players that we have done as well as keep all of the players whose contracts run out nest summer. It also needs to be said that in the one area where I feel we are weaker, the likelihood is that we will be signing new players. There is a reserve team match arranged this afternoon in which Chris Riggott the talented if injury prone former Derby and Middlesbrough defender will get the chance to prove he is deserving of a contract and you can't help thinking that, barring further injury problems, he will be signing for us soon. Riggott (who turns thirty today) is an out of contract player whose availability is not effected by the transfer window closing and the same applies to Calum Davenport who has also been linked with City – surely, the decision to release Gerrard was made in the knowledge that one or both of these players would be signing for us?
My analysis above of the four main parts of the team shows that I believe that we have a stronger squad this time around than we did last year when we came so close to going up and you may have noticed that I made no mention of Craig Bellamy in that analysis. I feel that our squad is, arguably, stronger before you even consider the merits of a player commonly considered to have been right up there with the best in the Premiership last season and in the two games he has played so far, all of the signs are that Championship defences just don't know how to cope with him – it could be argued that he created both of our goals at Portsmouth without touching the ball!
When you add the Bellamy effect to what already looks a pretty potent mix then it's easy to understand why there is so much excitement around at present. I read articles like this one by Nathan Blake  and threads on messageboards about us not losing a single game all season and think calm down, all you are doing is ratcheting up the pressure and expectation, but then I stop and consider how our squad compares with others and I have to admit that as of now, even without the centreback I think we need, I wouldn't swap it with any other in the Championship – we have a great chance this season.